Middlesbrough's George Friend on the secrets of a successful season
Last updated on .From the section Football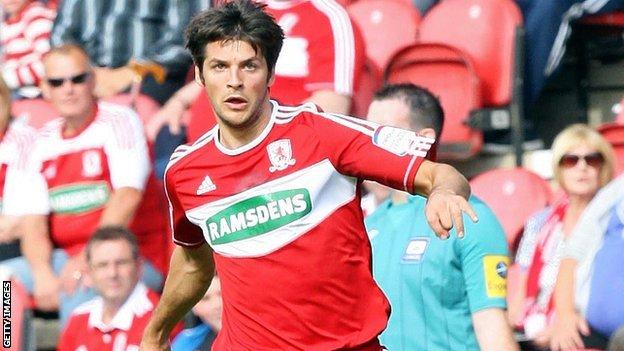 Relegated from the Premier League at the end of the 2008-09 season, Middlesbrough have since finished 11th, 12th and seventh in the Championship.
But Boro's promotion prospects look brighter this season. Third in the table after a strong start, hopes are high that Tony Mowbray's side can begin next season back in the Premier League.
Middlesbrough defender George Friend, who joined the club from Doncaster in the summer, explains to Football League Friday why he thinks the club have done well so far this campaign.
George Friend on Boro's current campaign
Whatever the view elsewhere in the country, Middlesbrough's strong start to the Championship season comes as no great surprise to those of us within the club. Third in the table with almost half the season played is, for the players, only what we had expected of ourselves.
In the coming months, we are hoping to maintain this high standard.
The Championship is considered one of the most competitive leagues in Europe, and supporters of Boro can rest assured that staff, management and the entire first-team squad remain focused on achieving our May 2013 targets. We are anything but complacent.
There have been times this season where we have managed to produce a strong unbeaten run - as when we won six straight league and cup games in October and November - but when we do experience defeat, there is a real belief that the next game is another opportunity to climb back up the table.
It is an outlook similar to the one I experienced at Wolves when I joined and we gained promotion to the Premier League in 2009.
Our manager at the Riverside, Tony Mowbray, plays a huge role in Boro's success. He and his coaching staff put hearts and minds into every match, whether it's Bury away in our first-round Capital One Cup tie or at home to Sheffield Wednesday, live on TV and in front of 28,000 fans.
Our training is heavily possession based, with high-intensity keep-ball sessions combined with a mixture of crossing/shooting drills and small-sided games. With a lot of strong, technically gifted players at the club, this possession-influenced training and style of football suits us.
Tactically I have noticed that the management are highly skilled in selecting the starting XI best suited to face upcoming opponents. That may sound obvious, but since I arrived I've been struck by the fact that, win or lose, there is no hesitation in changing personnel or formation after a game.
Unlike some clubs, for us it is never set in stone that we will play a rigid 4-4-2; throughout the season there is every possibility that at the end of the week in training the manager will work on a variety of team shapes.
At Gillingham away on a Tuesday night in the Capital One Cup, for example, we won while playing a 3-5-2 formation, yet three days previously we beat a strong Crystal Palace side at home deploying a 4-4-2, changing into a 4-3-3 formation.
Being able to vary formation is made easier because of our strong, talented squad, which also means competition for places is fierce. Players out of action are champing at the bit to make an impact - players like Belgium international Faris Haroun, who has played well for us in various midfield and attacking positions.
Every squad member understands they will contribute in some way in the course of the season, given the competitive and congested nature of the Championship. One illustration of this is the fact we've had 19 different scorers already this season, with chances converted from all areas of the pitch.
From my first-hand experience in the dressing room and around the training ground, what is most notable on a day-to-day basis is the camaraderie and team spirit, a vital component for any group wanting to achieve success.
Behind the scenes, first-team players interact with the youth team, creating a good working environment. This month, recently joined scholars will be performing their very own Middlesbrough FC 'X Factor' in front of the senior players. Apart from being highly entertaining, it promotes team-building and allows team spirit to flourish throughout the club.
We are a tight-knit group, based on respect for each other and everyone appreciating the hard graft and commitment needed to be successful in this league. There are no arguments when personnel are replaced, or preferential treatment when matches are won or goals are scored. Every team-mate is striving to work together with the same mind set, targeting the collective goal.
It's refreshing and enjoyable to be part of a squad of this nature, after previously experiencing tougher times in my final season at Doncaster Rovers, culminating in relegation to League One last season.
The Championship contains many big clubs, all of whom would consider themselves to be of Premier League standing, and all will be just as intent on promotion this season.
We've shown so far that we are certainly good enough to beat anyone. Consistency - and the good fortune to keep the majority of our squad fit - will give us our best chance.
All of my team-mates are highly motivated and aware that it is not individual players but the squad, and a squad mentality, that provides the basis upon which to build solidly for the future.
BBC Sport will be taking a closer look at stories from outside the Premier League before every weekend league programme in our Football League Friday features.