Euro 2020: Michel Platini's plan polarises opinion
Last updated on .From the section Football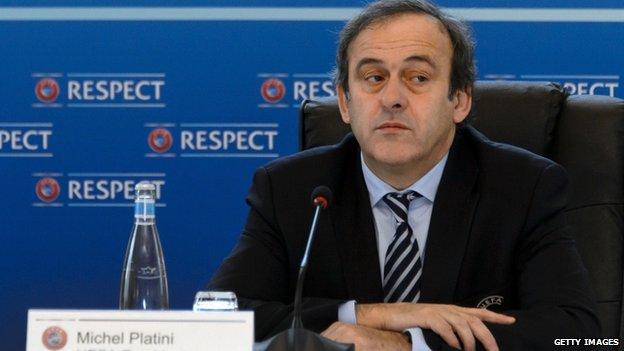 A "Euros for Europe" was how Uefa president Michel Platini described it. "A big party on the continent."
The Frenchman's plan to hold the prompted a number of far less complimentary responses.
Many saw it as an example of Uefa's disregard for ordinary fans, driven by money and the need for television revenue.
Others claim it is a cynical decision designed to help Platini win support in his bid to become Fifa president in 2015.
But not everyone agrees with that view. "It's a great idea," former England midfielder Owen Hargreaves told BBC Sport. "I'm surprised they haven't come up with it earlier."
He highlighted the fact that while it takes six hours to fly across the United States - which hosted the 1994 World Cup - it typically only takes "one or two hours" to fly between European cities.
Marcel Van Der Kraan, a Dutch football journalist, went even further: "It's the best thing that's happened to football. Football is for the people, it's for the fans. You want as many people from as many countries to enjoy that."
There is no point pretending Uefa has arrived at the idea as part of some grand master plan - this is far from Platini's Euro-vision. The truth is that the bidding process for Euro 2020 was a disaster.
At various points, 10 bids were put forward (Turkey, Netherlands, Belgium, Germany, Scotland/Wales/Republic of Ireland, Azerbaijan/Georgia, Serbia/Croatia/Bosnia, Czech Republic/Slovakia, Romania/Bulgaria and Romania/Hungary all expressed interest) but when Platini indicated his preference for Turkey in March, support evaporated.
As well as being embroiled in a major match-fixing scandal, Turkey is also bidding for the right to host the 2020 Olympic Games.
These factors meant their bid was no longer deemed viable. The bidding process was extended but Uefa's earlier decision to increase the number of competing nations to 24 also raised the cost of hosting the event.
In this age of austerity, it was simply too much of a burden for one country to bear.
Platini, with few other options open to him, sold the idea of a pan-Europe tournament to Uefa's executive committee and it was passed without the need for a vote. Much will now depend on how the idea grows. The devil will be in the detail.
The format and the number of host cities must be clarified. There have been early hints from Uefa that regionalised hubs might be used for group games, with final decisions on the stadiums set to be made in early 2014.
England, were they to qualify, might play their group games in Spain, for instance. In theory, the Barcelona's Nou Camp, Real Madrid's Bernabeu and the Mestalla in Valencia could host those matches and few England fans would grumble about that.
A more likely scenario might see England play group games in Paris, Cardiff and Amsterdam. The opportunity for fans to see England in large stadiums, with more tickets available and in cities that are accessible and familiar would appeal both in terms of ease of travel and cost.
At Euro 2012, the largest distance between venues was 971 miles - the equivalent of London to Lisbon.
Mark Perryman, a spokesman for England fans' groups, told BBC Sport: "Purely in terms of the travelling time, if England was to qualify for 2020 and were drawn to play in London, Paris, Brussels and Amsterdam - that is considerably less travel time and less costly than travelling halfway across Ukraine last summer."
There is no doubt this plan will fundamentally alter the feel and character of the international football tournament as we know it. Since 1930, when Uruguay hosted the first World Cup, these competitions have fallen largely to one nation. No continental governing body has hosted a tournament across more than two countries and Fifa has ruled out repeating the experiment of the 2002 World Cup when South Korea and Japan co-hosted.
Until 1980, the European Championship only required the "host nation" to put on the semi-finals and final, with matches up the quarter-finals involving home and away legs. A pan-European tournament will undoubtedly lack identity, as well as the national flavour and fervour that Brazil, for instance, will bring to the 2014 World Cup.
Perryman said tournaments are distinctive because of their hosts. "What makes these tournaments so special at the moment is that you are part of that country for two, three or four weeks. It puts a powerful stamp on it.
"To a certain extent I have an open mind about it but I do feel what we are going to lose is more valuable than what we are going to gain.
"What we are going to gain is that for four weeks in 2020 an entire continent will be taking part in this tournament. An entire continent will feel part of it to some extent. But at the moment, I am not sold.
"Platini has said this is a one-off. The trouble with that is that one-offs that are deemed to be a success, financially, tend to be repeated."
Recent history shows the pitfalls of one nation hosting a European Championship.
In 2004, while Portugal came close to winning the tournament on home soil, they paid a heavy price. Many of their top clubs have sold shares in the economic rights to their players in order to service debts they accrued rebuilding stadiums. It is estimated Benfica alone owe around £161m, having rebuilt their Stadium of Light.
The financial legacy is one aspect but there are other issues to consider, according to former FA executive director David Davies.
"Of course we have seen what it is like when an individual country is totally and utterly engaged," Davies told BBC Sport.
"But we have also seen what happens when an individual country goes out of the competition at the end of the group stage, and it isn't."
The Football Association is likely to bid to host the semi-finals and final, with Uefa considering awarding those games to the same city, as long as they can be played on three different grounds.
A number of smaller nations, unable to dream of mounting a bid to host an entire tournament, may also be given a chance to stage matches.
But there is no question that something of the romance of the international tournament as we know it will be lost.