Sporting spotlight: Owen Hargreaves
Last updated on .From the section Football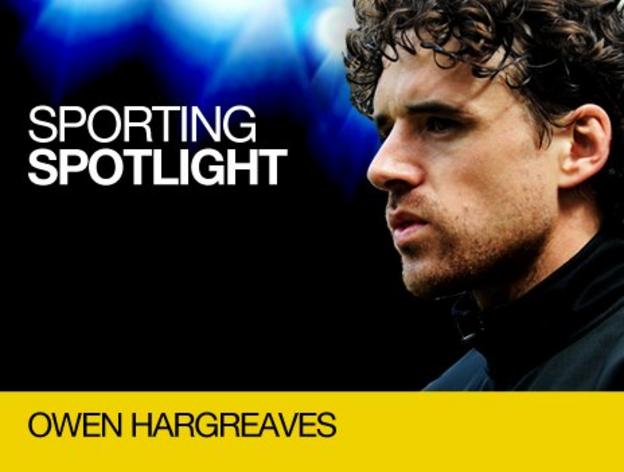 Battling with injuries, learning from Sir Alex Ferguson and growing up with Michael Jordan as his hero, BBC Sport puts 31-year-old former Manchester United and Bayern Munich midfielder Owen Hargreaves under the spotlight.
How is your fitness? I am fit but having focused so much on football since I was 15, I am just taking a step back. I was blessed, I had such a wonderful start to my career but at the age of 27 it all kind of went in a different direction.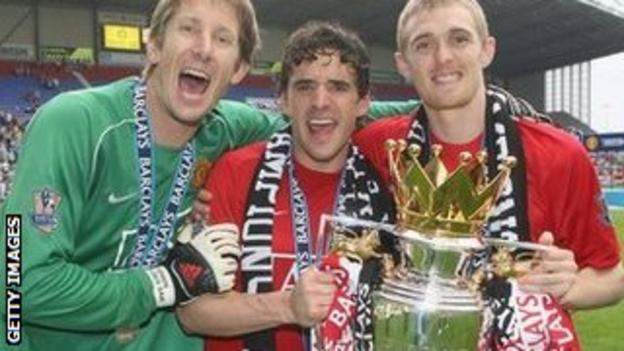 Have the injuries made you look at life differently? I grew up playing football, I loved it. I never really did it as a job but the game has helped me travel and learn new things from different people, coaches and personalities. The injuries have been tough but it has been probably the best learning curve anyone could have had. I am thankful for that.
You have worked under some of the best managers in the game, have they inspired you to try coaching? Up to the age of 27, I would have said no. But then after spending so much time out injured and looking from the outside in, I have begun to think it might be nice to be a manager. I like the idea of working with impressionable young people - a lot of very talented kids go by the wayside.
Did you ever get the hairdryer from Sir Alex? No (smiles).
But you must have seen it in action? He loves the game, still does. He is passionate and that is why it happens - because he cares and he wants to turn something around. The majority of the time he is very focused on football and says things in a calm manner. But like in any industry, sometimes a boss needs to set the tone for everyone else.
What are your passions away from the game? I love golf. Having the injury impacted on my life in so many other ways. I wasn't able to do a lot of things I wanted to do and that is why I haven't really played this year. It has given me the opportunity to do things I really wasn't able to do for so many years.
Do you watch a lot of sports away from football? I love all sports but I watch a lot of NBA basketball - I have a big hoop outside my house. As a kid I used to play five hours a day. I also played a lot of ice hockey growing up in Canada and I still enjoy watching that and American Football on a Sunday.
So your sporting heroes growing up weren't footballers? No. Michael Jordan was my hero. That is why I wore the number 23 at Bayern Munich when I was 16. I didn't watch football, I grew up with basketball. I also really enjoyed watching Deion Sanders in the NFL.
So when did you realise you had a talent for football? It was in the family. My dad still plays and still wins awards for the best player of the tournament, even though he is almost 60. My oldest brother had my dad's ability as well. He probably should have been a pro but never made it for many reasons. I just wanted to be like them, so I followed in their footsteps.
Where feels like home to you? Home is where your family is; where you grew up. I would say home is Calgary, but I have felt comfortable and at home everywhere I go.
Do you miss Canada? I would certainly consider moving back there to raise a family. I was born in Canada and had a great childhood but I have spent so much time in Europe and I have developed roots. The problem is I have developed roots everywhere - Germany, the UK.
What about a spell in Major League Soccer in the United States? Yes. They want me to go and play over there. It is a big move, you have to decide do you want to make the move, a big change. There are so many things I could do there and it would be nice to spend time in Canada.
What other passions do you have? I love great restaurants. Because I have travelled so much and had so many different influences I suppose my interests are pretty varied. Having lived in Munich for so long, from the age of 15 to 26, I learned so much about food that I would never have experienced as a kid in Canada. I also love music.
Finally, what are your thoughts on Twitter? Likely to join? I knew of Twitter before it was even big. Because of the North American influence, a lot of my friends were way ahead of the curve, as they normally are in North America. It is a great platform for fans to be able to interact with players, but once you have an audience you need to keep tweeting and most people don't have that many interesting things to say. A lot of it is rubbish but a lot some people do have a lot of interesting things - but that isn't every day, five times a day. For certain things it is terrific, but I think it is nice not to talk too much.