Fans group eyes seats on Motherwell board
Last updated on .From the section Football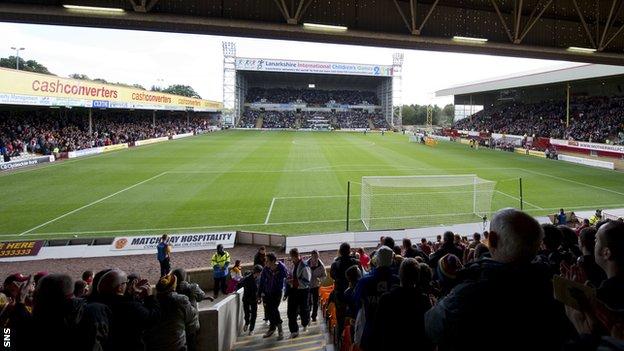 Two Motherwell fans could be elected to the club's board early next year.
That news emerged as the Well Society laid out its supporter-ownership vision at a meeting at Fir Park.
The supporters' group has been handed a 15% stake and been told by the club that there are immediate vacancies for two directors.
Now the Well Society plans to elect two members to join the Scottish Premier League club's board in the opening weeks of 2013.
Members have raised almost £400,000 since January and will receive another 5% of the club's shares when they hit their next milestone of £500,000.
They will assume a controlling stake when they hit the £1.5m mark.
Fan ownership was made possible when former chairman John Boyle gifted the club his 73% shareholding.
The money raised by fans to take over this stake will act as a safety net for the club during periods of cash shortages.
Well Society chairman Graham Barnstaple said: "We have been working in close conjunction with the club since being elected six weeks ago and they are very keen for two members to join the board as soon as an election process is finalised.
"We are also urging more fans to join the revolution and formulating a plan to encourage corporate membership of this pioneering community ownership scheme.
"This is a unique opportunity to financially safeguard the club, to ensure it is run by those with its interests firmly at heart and to allow Motherwell to continue to play at the highest level.
"Recent events at Rangers and Hearts have highlighted the potential dangers of allowing one man to control a club's destiny and we have the chance to make sure similar problems never occur at Fir Park.
"Hearts fans rallied to fend off an imminent danger to their club's existence, but it is no less important that we raise the money needed to take over our club and secure its long-term future.
"We urge all Motherwell fans to rise to the challenge."