Michael Laudrup cool on Swansea Champions League bid
Last updated on .From the section Football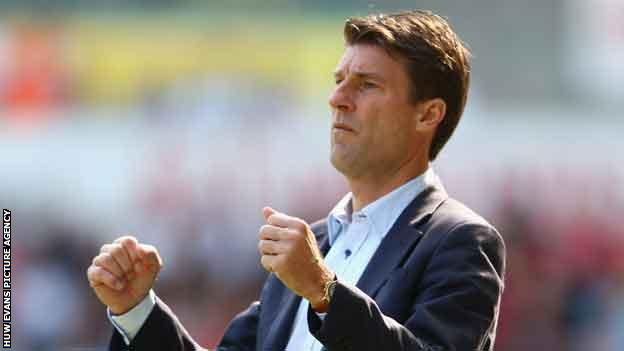 Manager Michael Laudrup has dismissed the notion that Swansea City can realistically target a place in next season's Champions League.
But asked about Champions League prospects, Laudrup said: "No, not at all… because there are other teams who will fight for that.
"It wouldn't be logical for a team like Swansea to play for such places."
Swansea's best top-flight finish was the sixth place achieved during the 1981/82 First Division season and they would need to finish in the top four to qualify for next season's Champions League.
Laudrup scored 37 international goals, winning 104 Danish caps, 28 of them as captain.
In 2006 he was named the best Danish player of all time amid a career that included starring roles at Juventus, Barcelona and Real Madrid. In 1999 he was named the best foreign player in Spanish football in the previous 25 years.
He was also the only player to win the Spanish league five times in a row playing for two different clubs, Real Madrid and Barcelona, and also won league titles with Juventus and Ajax.
He has previous managerial experience at Brondby, Getafe, Spartak Moscow and Real Mallorca and succeeded Brendan Rodgers as Swansea boss in June 2012.
Since then he has guided the Swans to six wins and five draws from 15 Premier League starts and also saw them win 3-1 at Rodgers's Liverpool in the Capital One Cup in October.
Former Wales midfielder Mickey Thomas told Radio Wales Sport he felt the Swans were currently playing the best football in the Premier League and chairman Huw Jenkins has said a European place should be a target.
But Laudrup warned against European expectations, adding: "I look at the points and obviously I'm very pleased with what we have until now.
"If we are sixth, eighth or 10th right now it's not so important. We are only 15 games in, there are still 23 to go and it's tight.
"I looked a couple of weeks ago and the position looked good.
"But when you start to see the teams below, what points they have, or above in this case and it's very tight.
"In three or four games it can change completely. I think it's best for all of us just to take one game at a time and look at the points we have."
Ahead of Saturday's home game against Norwich, Laudrup says Swansea's prospects will be easier to judge in the spring, saying: "In December, you can't do that."