Man City v Man Utd: Is the title already a two-horse race?

By Phil McNulty
Chief football writer
Last updated on .From the section Football360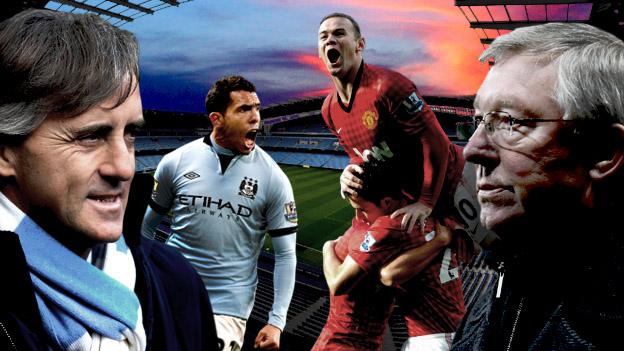 We may only be in the early days of December, but already Manchester City and Manchester United are threatening to turn the pursuit of the Premier League title into a two-horse race.
Chelsea's interim manager Rafael Benitez speaks with optimism about his new team's chances of troubling the top two but the danger is growing that everyone outside a single city will be rendered an irrelevance in a title context.
The gap between Chelsea in third place and City in second is already seven points, while leaders United are another three points clear.
And if those hoping to mount resistance were not concerned enough by the prospect of the pair pulling further away, they will be even more worried by the fact it has been done without either City or United - who meet for the first time this season at Etihad Stadium on Sunday - approaching anything like their best.
Those in the Premier League used to make less-than-admiring glances in the direction of the Scottish Premier League as Celtic and Rangers regularly turned the division into a two-team procession - and yet there are now signs that this could become the reality south of the border.
Neither United manager Sir Alex Ferguson nor his City counterpart Roberto Mancini will be completely satisfied with what they have seen this season - so what does this say about those who find themselves well off the pace?
Ferguson has been thinking out loud about his defensive woes since the 4-3 win at Reading last Saturday - comparing the antics of his rearguard to children's television programme "Cartoon Cavalcade" and even threatening to play himself as the antidote to the problem.
It was United's season in microcosm. The brilliance of Robin van Persie, aided on this occasion by Wayne Rooney, provided the safety net for Ferguson's faltering back four.
But he knows City's high-quality attack, led by Sergio Aguero and Carlos Tevez, will be only too happy to take advantage of such generosity, admitting: "It is a worry. If we perform like that on Sunday, God knows what will happen to us."
A healthy goals-for column may have United top of the table, but it is easy to see why Ferguson is so unhappy at conceding 21 goals already in the league.
Since Ferguson's arrival at Old Trafford in 1986, United have only twice conceded more league goals after 15 games.
At the same point in 1996-97 they had let in 22 goals, while in 2001-02 they had shipped 27.
While United were champions in the former, they only finished third in the latter, 10 points adrift of Arsenal and three behind Liverpool.
Now they face Aguero, who has the best minutes-per-goal ratio in Premier League history among players who have scored 20 or more goals. The Argentine has scored every 118 minutes since his arrival in the top flight at the start of last season.
He will need no second invitation to exploit vulnerability in United's defence, a situation not helped by lengthy absences for Phil Jones, Chris Smalling and, crucially, captain Nemanja Vidic. Will Ferguson be able to resist the temptation to play him on Sunday?
United's firepower has sustained their season so far and the numbers add up for them too. Javier Hernandez has a scoring rate of one goal every 120 minutes in his Premier League career while Van Persie, of players to have scored at least 100 league goals, has the second best average, scoring every 137 minutes.
But Sunday's clash will be about so much more than the numbers game. City will want to make a statement about their status as champions while United will want to remind their neighbours that they do not intend to slip up this season.
Mancini's side have shown resilience in domestic action but the spine of the team has lost reliability and firepower this season. Key elements including goalkeeper Joe Hart, captain Vincent Kompany, midfield powerhouse Yaya Toure and the wonderfully gifted David Silva have not reproduced the consistency of the victorious 2011-12 campaign.
They are, however, still undefeated in the league and have a chance to move back level with United. The league standings say much about what both managers have brought to their clubs.
United have the comfort of their smooth progress into the last 16 of the Champions League to lift their confidence. For City, a dismal exit with only three points from their six group games means retaining their title comes into even sharper focus.
Mancini will understand the importance of repeating last season's success - which included a 6-1 win at Old Trafford and a 1-0 victory at home - now the Champions League adventure has been cut short, and with no Europa League to act as a distraction.
There is a long way to go to the final fence but the two horses in position to win the Premier League will hope to take a significant stride in Sunday's derby.