SPL & SFL working group mull over league reconstruction plans
Last updated on .From the section Football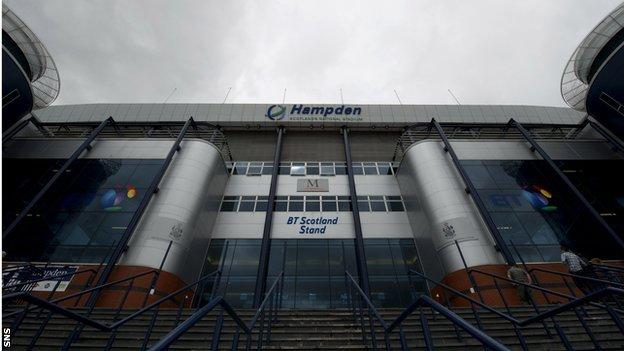 Scotland's league bodies will set up "a working party" to further assess league reconstruction plans discussed by the Scottish FA's Professional Game Board.
The Scottish Premier League is making the case for two leagues of 12.
The Scottish Football League, 12 of whose members the SPL wants to attract, were represented at the meeting.
"The first meeting of the working group will take place later this month and will also include representatives of the Scottish FA Board," said the PGB.
"The PGB are greatly encouraged by the willingness on both sides to engage on the many areas of common ground and also in their commitment to implementing change.
"After the working party have reached consensus on a final set of proposals, they will be presented to all clubs across SPL and SFL for consideration."
The working party will consist of representatives of six SPL clubs: Celtic, Hearts, Aberdeen, Kilmarnock, Dundee and St Jouhnstone, with representation from the SFL yet to be nominated.
SPL chief executive Neil Doncaster, his SFL counterpart David Longmuir and two as-yet unnamed SFA representatives, likely to be chief executive Stewart Regan and president Campbell Ogilvie, will also be in the group.
SPL plans for reconstruction would involve asking the SFL to disband and merge with them to create a new governing body or invite applications from the SFL clubs, with applicants' league position the key factor.
The proposals would relax criteria for SPL entry, including its ban on artificial surfaces.
The SFL currently operates three leagues of 10, with the majority of its clubs running part-time operations.
It organises the Scottish Communities League Cup and the Scottish Challenge Cup and its profile has been boosted by the presence of Rangers in its Third Division.
However, the SFL has its own plans to boost the game in Scotland, involving a merger with the SPL.
On 14 November, its 30 member clubs voted unanimously for a three-league structure of 16-10-16 teams for season 2014-15.