Hereford: Bulls fans bring back memories, says chairman Keyte
By Ged Scott
BBC Midlands Sport
Last updated on .From the section Football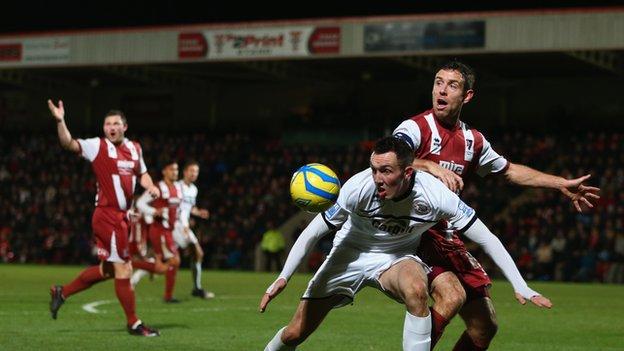 Hereford United chairman David Keyte says the support of the Bulls fans against Cheltenham at Whaddon Road on Monday night took him "back 40 years" to the club's FA Cup glory days.
The Bulls were roared on by a 1,353 sell-out section of away support in the 5,070 crowd as they drew 1-1 to earn a second round replay at Edgar Street.
The winners will play Everton in round three - and Keyte is already on a high.
"The crowd were superb. It took me back 40 years," he told BBC Sport.
Memories of Hereford's famous third round replay win over Newcastle United in 1972 are triggered almost any time the Bulls play in the FA Cup.
But, given the club's current precarious finances, Sunday's draw pairing the winners of the Cheltenham-Hereford tie with a top flight side has already got them truly dreaming.
"It would be one of those huge days, to get a Premier League club at Edgar Street," Keyte told BBC Hereford & Worcester.
"I'd rather that we had been drawn away at Goodison Park. But we'll just have to draw with them and then get the replay up there.
"But we've got to beat Cheltenham first, don't forget. We're only at half-time."
If Hereford are to repeat their famous run past Newcastle to the fourth round 41 seasons ago (the first of their eight journeys to the last 32 of the Cup), then Martin Foyle's men are going to have to summon the same sort of team spirit they showed on Monday night when they levelled within four minutes of going behind before battling their way to a deserved 1-1 draw.
"We were never going to lose that," added Keyte.
"We've got a squad who want to play for each other and don't know how to lose.
"When Martin Foyle first came for his interview and we told him what his budget was going to be, he just shrugged his shoulders and got on with it.
"He found a squad of players, which was then decimated in October, when he had six first teamers out.
"And, since then, our financial situation has been well publicised. We have sometimes had to keep them waiting for two or three days to be paid. But it's brought them together.
"In fact, it's brought all of us together as a club, and the people of Hereford."
Having earned another vital cash bonus by having their first round win over former Bulls boss Graham Turner's Shrewsbury Town televised on 3 November, generating a combined £38,000 in prize, gate and TV money, they more than doubled that on Monday night.
They were due £70,000 in TV funding alone from the Cheltenham game (which was covered by ESPN). And, with their share of the gate receipts to come, not to mention the prospect of the replay being televised too, Keyte admitted: "The tills are chinging.
"We've done 5,070 and, with the TV coverage too, we've probably cleared £100,000 tonight."
But the real prize is a further £130,000 in TV money if they do win the replay, now that the third round tie with Everton has been chosen by ESPN to be shown on Monday, 7 January.