Q&A with Kevin Gallacher
Last updated on .From the section Football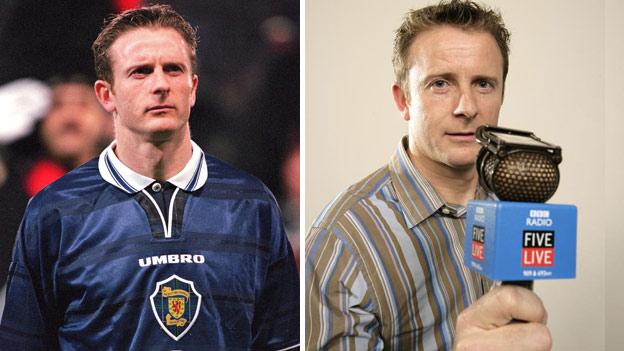 Former Scotland striker and now football pundit Kevin Gallacher has helped BBC Sport Scotland launch a new feature where our audience submit the questions to top sporting figures.
Here are Kevin's answers to a range of questions about Scottish football.
Thanks to everyone who took part.
We'll have another Q&A with a sports star soon to take your questions.
Enjoy...
"Would Scotland be better off turning to a former manager like Walter Smith or Alex McLeish or going for somebody new and fresh, a Gordon Strachan perhaps? I don't see either option as being a particularly bad one!" Paul Thompson
I think we have some very good coaches in Scotland. Walter and Alex have both enjoyed their time but to progress we must move on. Gordon Strachan is a choice I like. He's experienced within the Scottish Premier League and maybe ready for a different challenge with the national side.
"What did you make of [former Dundee United manager] Jim McLean and what is your favourite anecdote about him?" TheMightyShed
Wee Jim was ahead of his time in coaching. He always wanted the best out of everyone even when they couldn't get to where he wanted them to be - that's why he was a passionate and driven manager. I scored three against Dunfermline and he nailed me to the wall. He told me I was a "greedy little s..." and if I passed the ball more we would have won by more!
"What were your best and worst memories of the Dundee derby?" IvanGolacIsMagic
I loved the Dundee derbies. Knowing the likes of Tosh McKinlay or Bobby Glennie were going to try to kick me into the stand kept me on my toes! I lived with my Uncle Tommy & Aunt Cathie Gallacher for most of my early derby years. The house was split between both clubs, and the down side meant that one side of the house was happy and the other was sad. Generally, Uncle Tom and the Dundee contingent wouldn't talk to us for days.
"Hi Kevin, when you were playing Barcelona in the 1987 UEFA Cup how did it feel to score that goal? And did you know United are still the only team with a 100% competitive record against them?" Artic Arab
Scoring against Barcelona was an unbelievable feeling; the publicity that followed was massive. When the ball hit the net it was the first time I didn't know how to celebrate, I was numb. I had a bit of luck and didn't know how much it meant to everyone. Being unbeaten against them in competition is not a bad record!
"You were my favourite player at Blackburn during their golden era. What is your impression of the current state of the club? Do you think we are now heading in the right direction?" Nick
It's been a disruptive 18 months at Blackburn, new owners, manager, and change in running the club operations. There is now something in place to take the club forward. There is a lot of hard work to be done but we still need the results on the pitch. I believe there is a squad that, with a couple of new faces in January, can at least get to the play-offs.
"Should Scotland switch to summer football and take the winter off like in Russia? It seems like more games are getting cancelled every year." Harry Hotspur
Russia has a guaranteed three months of winter snow so they need to have the break. The only problem we have is we don't know when our worst weather is going to happen. Summer football might be nice but there are a lot of things to take into consideration, i.e. World Cups, Euros - if we qualify!
"Do you think it has harmed Scotland not playing England regularly? It feels like a whole generation has missed out on the fun of the rivalry, as well as a generation of players never participating in one of the best games in international football." Dalemac25
No, I don't think it's harmed Scotland not playing England, it's heightened the passion for supporters to get the game back on. One of the most fiercely contested fixtures would still be taken by today's clubs and players as a friendly and call-offs would no doubt spoil it. I say bring it back.
"Did you ever have an offer from Celtic? And, if so, would you have signed?" Will Adair
As a kid until the age of about 25 I had ample opportunities to sign for Celtic. I wanted to make a name for myself and not just be the grandson of the legendary Patsy. It took a little bit longer than expected but I could only have done it away from Scotland where no one knew my footballing background.
"Why are so many people begging the SFA to approach Gordon Strachan if he hasn't achieved much at all in management?" Mehmetinho
Wee Gordon is everyone's favourite for the job. He is an experienced manager with good knowledge of the game. Success in management comes in different levels of achievement, depending on the club/country size and talent at your disposal.
"What squad do you think are the better set of players - the lads you played with (especially the squad that qualified in '98) or the present day squad? Are there any personal faults of yours in the dark blue that keep you awake at night?" Inappropriateopinions49
I am biased but I think the suad of '98 were a very under-rated team. The counter-attacking style of football suited the players at that time and got us to a major competition. I sleep very well, though probably not getting Roberto Carlos's shirt after the Brazil match was a mistake. Oops, forgot I had him in my pocket! Ha-ha!