Champions League adventure for Malaga's Oguchi Onyewu
Last updated on .From the section Football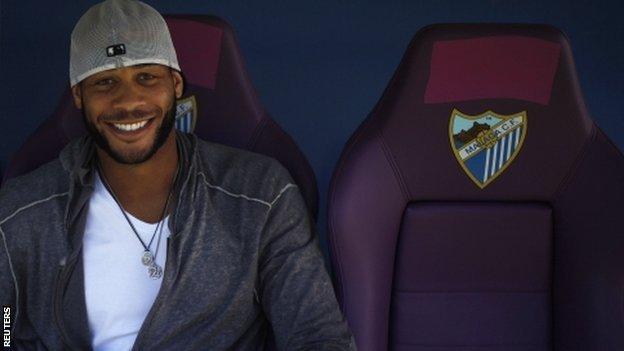 Back at the end of the summer, not many people would have backed Malaga to make the last 16 of the Champions League. Even fewer would have expected to see Oguchi Onyewu there with them.
But the Spanish side have not just survived a traumatic year where financial problems saw star players go unpaid and then sold, they have flourished.
Manuel Pellegrini's team came through their play-off with Panathinaikos and are already guaranteed to finish above AC Milan at the top of Group C. Not bad for their first crack at Europe's elite club competition.
Things have also turned out well for Onyewu, who suffered one of the lowest moments of his eventful career at the end of last season when Sporting Lisbon told him he was surplus to requirements.
The much-travelled United States international centre-back had been given the cold shoulder before, at Newcastle United and AC Milan, but this latest setback came after a successful campaign where he had put his career back on track. It was hard to accept.
On the face of it, an offer of a season-long loan at Malaga, who had been busy selling star players like Santi Cazorla, Salomon Rondon and Joris Matijsen to stay afloat, and started the season with a 16-year-old striker in Fabrice Olinga, might not have been appealing. Onyewu saw it differently.
"I had other options in different countries and I knew about the financial circumstances at the club but I was intrigued by the project," Onyewu told BBC Sport.
"They reassured me there would not be any of the issues of last season. Once I cleared that up, it became a no-brainer.
"I thought I'd be a fool not to move from Portugal to Spain, and go from the Europa League (Sporting knocked out Manchester City on the way to the semi-finals last season) to the Champions League."
It was a big step up for Malaga too - they had only ever competed in the old Uefa Cup once before, a decade ago when they reached the quarter-finals after qualifying through the InterToto Cup.
But the Andalucians remain unbeaten in their group, having taken four points off both Milan and big-spending Zenit St Petersburg. Their final game is at home to Anderlecht, who they beat 3-0 in Belgium, on Tuesday. Then the draw for the knockout stages on 20 December awaits.
Onyewu has struggled to dislodge Malaga's first choice centre-back pairing of Martin Demichelis and Weligton since his arrival on the last day of the summer transfer window but featured in two of those European matches, coming on for the final moments of a win over his old Italian club and helping secure a point in Russia.
"I wouldn't say it has it has been easy but we have got our results," he explained. "Now we want go as far as we can - we don't want this Cinderella story to end just yet."
There is no way you would call Onyewu's own career path a fairy tale, but it has taken more twists and turns than most.
The Washington DC-born defender with Nigerian roots has played for eight clubs in seven European countries since cutting short his degree to move to Europe and join Metz in 2002, including the top flight in France, England, Italy and now Spain.
It seems fitting that when he resumes his studies next year, he will major in languages and international trade - down the years he has been involved in plenty of both.
"The only place in my resume I am missing is Germany," the 30-year-old laughs. "But I think I prefer the warmer weather at the moment."
Not all of his moves have gone well but Onyewu has clearly learned a lot along the way, on and off the pitch, including an understanding that his future is not always his to decide.
"There is an extreme part of life experience that I got from being a professional footballer," he said. "Firstly from the fact I moved to a different continent when I was so young and essentially grew up on my own.
"After that, jumping from country to country and immersing myself in the culture - learning the languages I have and meeting the people I've met - is something no-one can take away from me.
"If you had told me 10 years ago, that I would be able to speak French, Italian and Portuguese, I would have laughed at you."
Onyewu smiles when he describes understanding 'Geordie' as being a different challenge altogether but in truth he did not get much of a chance to pick up the north-east dialect during a short loan spell at St James' Park in the 2007 season. Sam Allardyce decided not to sign him permanently when it ended.
"If I did it again, I would do it very differently," Onyewu says in regard to his stint in the Premier League.
"I definitely would not have gone on loan and I would not have done the transfer in January. More so than anywhere else, it requires a certain time for adaption because it is played at an extremely fast pace. I did not get that time."
There have been other obstacles encountered during his travels that Onyewu has been able to deal with himself. The way he did so marks him as different from most of his peers.
In 2009, he sued Anderlecht defender Jelle van Damme for alleged racist abuse during a game for Standard Liege, with the aim of bringing the issue into the spotlight.
"I did not press charges to gain any sort of monetary return," Onyewu explained. "I did it to build awareness of the problem.
"I dropped the whole court case because he made a public apology and spoke to me, and that is all I ever wanted."
That was not the only time he made headlines around Europe. After moving to Italy to join Milan, he missed virtually the whole of his first season through injury. His reaction in 2010 was to offer to play for the Rossoneri for free.
"Some people told me I was crazy. The most important reaction I was looking for was from the club. They were very appreciative, and that reaffirmed the reason I was doing it."
Onyewu is hopeful that at Malaga - owned by Sheikh Abdullah bin Nasser al-Thani, a member of the Qatari royal family - he will not have to play for nothing any time soon.
He is happy with life on the Mediterranean coast and aims to make his stay at La Rosaleda Stadium a permanent one.
"A lot of times in my career I have been frustrated, annoyed and upset about how it was going but at the end it always worked out for me," Onyewu added.
"That's how I am right now. As angry as I was to have to leave Portugal, I have found myself in an even better situation here in Spain.
"Life is a journey and, if you are brave enough to ride it, it is going to take you where you need to be."
Whether that destination turns out to be Wembley for the Champions League final in May 2013 remains to be seen, but for Onyewu - and Malaga - the adventure continues.