Dietmar Hamann goes under BBC Sport's Sporting Spotlight
Last updated on .From the section Football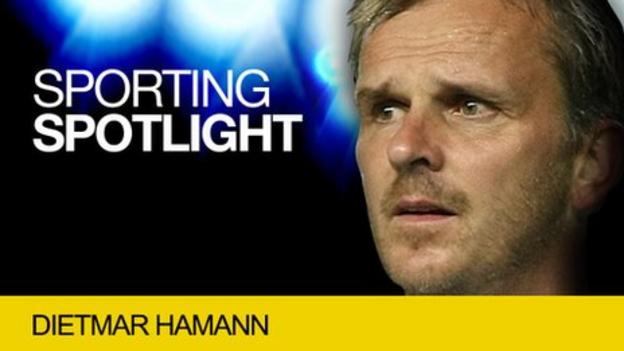 Former Liverpool midfielder Dietmar Hamann, 39, talks about his role in the 2005 Champions League final and his love of cricket as he goes under the Sporting Spotlight.
What do you do now that you aren't playing?
I am doing some TV work and finishing my pro-licence coaching qualifications, which will be done in May or June. I want to finish that and then work with senior players of a first team.
Who was your toughest opponent?
Patrick Vieira. He was very strong, very powerful. He could pass, tackle and could score as well. He was the best all-round midfielder in my time and they did not come better than him and Roy Keane.
Who was the best player you played alongside?
I was lucky to play with some great players but Lothar Matthaus, who won the World Player of the Year, was an outstanding individual and he stood out. He was talented and dedicated. He worked harder than anybody else and that is why he won numerous trophies, including the World Cup as captain for Germany. The way he went past players, you could see how much he had worked on his technique. He was the complete footballer.
Lionel Messi or Cristiano Ronaldo? And why?
You could have made a strong case for Ronaldo to win World Player of the Year this time more than in the past because he won the league with Real Madrid, did well in the Euros with Portugal and was unlucky to lose in the semi-final of the Champions League on penalties to Bayern Munich. I would have given it to Ronaldo.
What was the highlight of your career?
It has to be the 2005 Champions League final. To win the biggest prize in club football with a club that made its name in the competition years ago after being 3-0 down. At half-time, we thought we had lost the game and we had to pick ourselves up and play for pride. I don't think we believed we could do it but stranger things have happened.
Some say you coming on for Steve Finnan changed the Champions League final and was the turning point in the game?
We played a slightly different formation in the second half which worked better. I am not saying I changed the game by coming on because you need everything to go your way and fall into your path.
Rafa Benitez is now Chelsea interim manager. What was he like to play under?
He was always calm as a manager, not one to lose his head. He was always very thoughtful and pragmatic, knowing what needed doing and it was the same during half-time of the 2005 Champions League final, but I did not hear much of that team talk because I was out on the field doing my warm-up.
You also played for Manchester City. Did you get a sense of the rivalry between them and United?
I played in a few derby games and it is a big rivalry in the city. One season we did the double over them after such a long time and it was great to beat them at home and especially at Old Trafford when we were doing well in the league. It was special and not too many teams can claim to have done the double over them. It is a big rivalry but a respectful one in the way that the two sets of fans treat each other. It was good to be a part of.
Which sporting icons would you invite to dinner?
Tiger Woods, Sachin Tendulkar and Michael Jordan.
Are you a big cricket fan?
Since I came to England, I have picked up a great interest in the sport. I enjoy watching it and Kevin Pietersen is a tremendous player.
What do you think about footballers using Twitter?
I enjoy the use of Twitter but I would not be on it if I was still playing. I don't see the point of a player being on. I get abuse on it at times but you get used to it.
What's the best bit of advice you've ever had?
Work hard and don't give up!
Finally, are you able to put to bed any false rumours that you have been told or read about?
It is a myth that we could hear the AC Milan players celebrating at half-time during the 2005 Champions League final. A lot of stories came out but I did not hear them and I don't think anyone else did.