Sporting Spotlight: Rob Jones
Last updated on .From the section Football43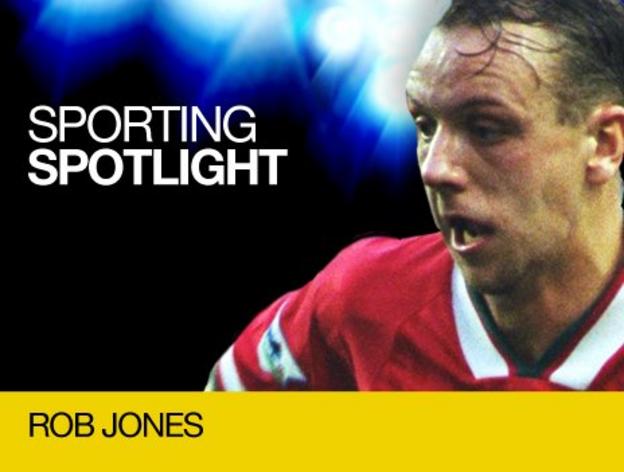 Former Liverpool and England defender Rob Jones tells us about football's most daunting debut, retiring at the age of 27 and making a fortune out of nursery schools as he goes under the spotlight...
Tell us about your Liverpool debut. Was it a baptism of fire?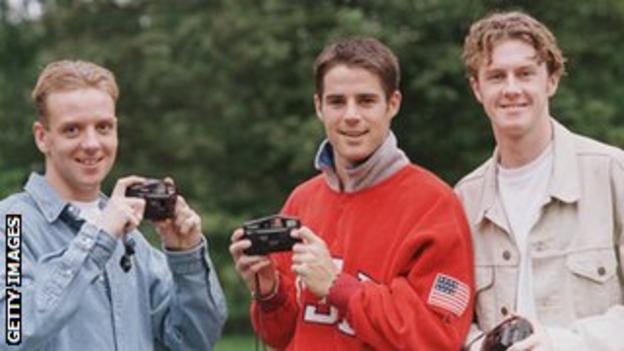 You could say that! I played a game for Crewe in the old fourth division on a Wednesday night. Next day I got a call from our manager, Dario Gradi, and he said Liverpool wanted to sign me. I'd always been a huge Liverpool fan and still used to watch them from the Kop at Anfield, so it was like a dream come true. Then on the Friday, Graeme Souness picked me up from home and drove me to Liverpool's Melwood training ground. On the way he casually said: "We're playing Manchester United on Sunday and I'm thinking of putting you in." I thought "is this really happening?"
How did the rest of the Liverpool squad react?
I think they were as shocked as me! They had probably never heard of me and must have wondered what the hell I was doing there. For me, it was unreal, because Ian Rush, Steve Nicol and John Barnes were my heroes. I trained on the Friday morning, signed in the afternoon and then we travelled to stay in a hotel on the outskirts of Manchester on Saturday. I was very shy and nervous and just kept my head down. Luckily I was sharing a room with Mark Walters, who was a nice, quiet guy.
What do you remember about the match?
Walking out at Old Trafford and hearing the roar of 45,000 fans. The biggest crowd I'd played in front of before was about 4,000. I just told myself to try and blank it out and play my game. And as if things weren't difficult enough already, I was marking Ryan Giggs! Trying to keep up with him was unbelievably difficult. He was as fast with the ball as without it, which I'd never encountered before, had fantastic close control and could twist you inside out. But I did ok. Sky TV were showing the game live and made me man of the match.
How did your life change afterwards?
When I went into training the next day fans were suddenly asking for my autograph and the other lads were now talking to me. I think I'd earned their respect.
What was the atmosphere like in the Liverpool dressing room back then?
It was a time of transition to be honest. You had the established players, like John Barnes, Ronnie Whelan, Ian Rush and Steve Nicol, and the new ones like Dean Saunders and Mark Wright. There was some friction between the two groups and not everyone was getting on. We were also struggling to continue the success of the past.
Tell us about your England debut?
It was against France at Wembley in February 1992. Alan Shearer and Martin Keown made their debuts as well. I think France hadn't been beaten for two years, but we played really well and beat them 2-0. I found myself up against Jean-Pierre Papin a lot of the time, because he kept drifting out to the left-hand side from the centre. Again, I was nervous but I did OK.
Who was the best player you ever played with?
I'd have to say Steve McManaman. He used to play in front of me for Liverpool and we had such a good understanding. I could pass the ball to him and bomb on, or stay and let him do the work. We tore some teams apart on that right side.
How much did you earn as a footballer?
My first contract at Liverpool was £500 a week, double my wage at Crewe. I just wanted to sign for Liverpool so the money didn't matter to me at all. When I first played for England I got a renewed contract from Liverpool. The most I was ever on was £7,000 a week, which would be nothing at all to today's players.
When did your career end?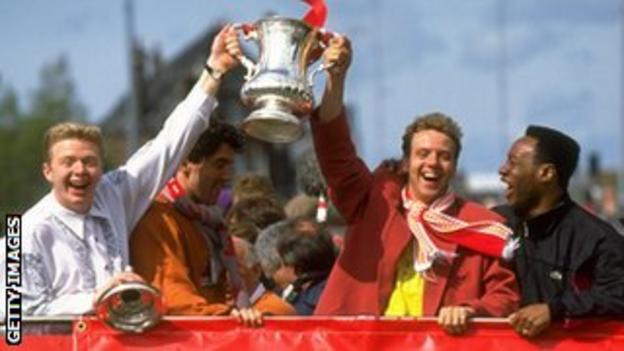 I was troubled by injury throughout my career. Graham Taylor was great and rested me for Euro '92 because I had shin splints. Then I fractured a vertebra and missed four months. It always seemed to be big injuries. The terminal problem was with my knee. I first noticed it against Celtic in the Uefa Cup, but carried on playing, just hoping it would go. I went to different surgeons and had several operations, but it just seemed to get worse. In the end Gerard Houllier let me go when my contract expired. Harry Redknapp wanted to sign me for West Ham and took me on a trial, but the knee just couldn't take it.
How did you cope with retiring at the age of 27?
Suddenly I wasn't going into training any more, which was all I'd ever known. There was no banter with the lads, no wage coming in and a lack of purpose in my life. I'd wake up in the morning and not know what to do.
Was there a turning point?
Steve McManaman, who was playing for Real Madrid, booked me and my wife on a plane to Madrid and showed us round the city. That got me out of the house and took my mind off things. It was there that me and my wife sat down and said "what are we going to do with ourselves?" She had always wanted to get into childcare, so we decided to open a nursery. When we got home, she went to college and got her qualifications and I found a suitable property in Stockton Heath. That was the start of our business.
How is the business going now?
Really well. We've got several nurseries in England, and have now opened franchises in the United Arab Emirates. I've also just written an autobiography, called Robbed. People had asked me to do one before, but I didn't think I'd done enough to make it interesting. Hopefully now people will find the life after football stuff worth reading.
Do you have any involvement with football?
I play in the Masters football series for Liverpool, along with Stephane Henchoz, Phil Babb, Patrik Berger, Robbie Fowler and Vladimir Smicer. We've all put on weight but still do ok and recently won the Malaysia tournament.
Rob Jones was talking to Simon Austin.