Sporting Spotlight: Frank Sinclair
Last updated on .From the section Football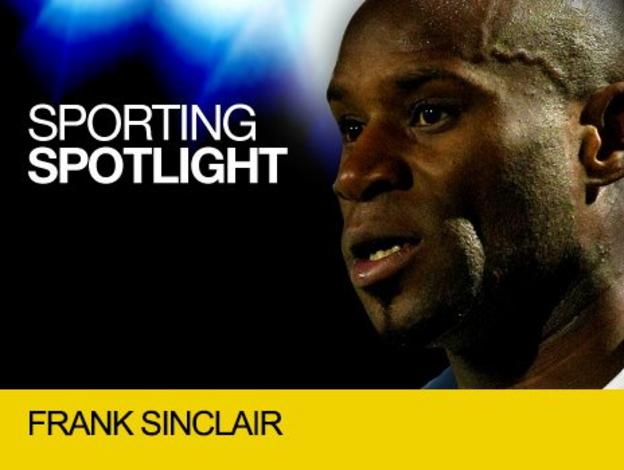 Former Chelsea defender Frank Sinclair, 41, talks about own goals, bizarre celebrations and the Reggae Boyz as he goes under the Sporting Spotlight.
You started your career with Chelsea - were they the team you followed as a boy?
I joined the club as a young lad and supported the club too. I was brought up in Clapham, South London - just over the river from Stamford Bridge. It was my team from the age of nine and the first match I saw was at Stamford Bridge.
As a teenage black player in the 1980s, did you experience racism? If so, how did you deal with it?
Not personally. But black players at the club got a hard time when I was a youngster watching games. They got a hard time from their own supporters as well as away supporters. It was hard to see as a young kid and I dealt with it by speaking to players and getting advice from the likes of Paul Canoville, who wrote a book about his experiences.
What's your favourite memory of your Chelsea career?
One of two really. Winning the FA Cup in 1997 - Chelsea's first major trophy in 30-odd years - was a special time. And scoring in the 1998 League Cup final, my last game for the club, was great as well.
Some Blues fans might say their favourite memory is the time you celebrated scoring against Coventry in 1997 by dropping your pants. What sparked that celebration?
It's not a bad explanation! Basically I knew my first daughter was going to be born around the time of the game, but she held out and I was able to play. So I thought if something happens in the game that I could get on the front and back pages of the papers then it would be on her birthday. It worked out stupendously because I scored the goal, did the celebration and I was on the front and back of all the papers. She was born on the Sunday so it all worked out well.
Did you feel a weight of expectation after becoming Leicester's £2m record signing in 1998?
Not really. The manager there, Martin O'Neill, was brilliant with the players. I was under no pressure - he made me feel 100% confident in my ability.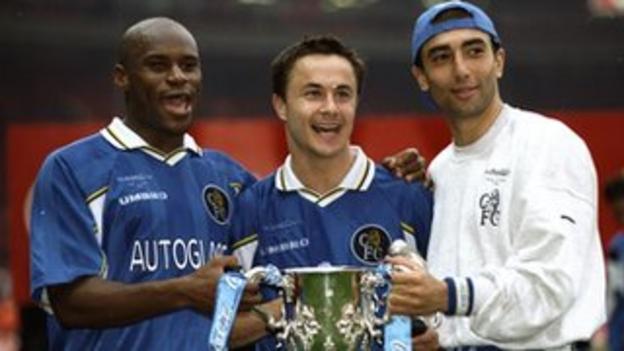 What do you think your career will be best remembered for?
At Chelsea, probably scoring in my last game in the cup final and for being part of the evolution of the football club when we started to bring success back. In football generally, for a few own goals which I got a bit of stick for!
You held the record for scoring the most Premier League own goals - how did that make feel?
I just took it on the chin. I had plenty of confidence in my ability and sometimes you get some things wrong. They are not always your own fault but it is part and parcel of being a defender.
Were you relieved to see your record surpassed by Richard Dunne?
I didn't even know it had been! That shows how much attention I paid to it. Good on him, though.
Which own goal are you most embarrassed about?
Probably the one against Middlesbrough. Ian Walker was Leicester's goalkeeper and I tried to hit a backpass from about 35 yards. But I slipped and it went in. That was the most painful one because we ended up going down that year.
Best player you have played alongside?
Gianfranco Zola.
Best player you have played against?
Mark Hughes.
Best mate in football?
Eddie Newton.
How did your international career with Jamaica develop?
I have Jamaican parents but I wanted to play for England - that was my dream. I was involved with one squad under Terry Venables but it never quite happened. I was playing the best football of my career when the 1998 World Cup came around, had just won the Cup Winners' Cup with Chelsea, and was still not involved with England. Jamaica came up and I thought an opportunity like that might never happen again so I took it.
What was the Reggae Boyz' dressing room like?
Incredible. I don't think I can talk about too much of the things that went on in there! We had some great characters and a mixture of home-based Jamaican players and English lads playing in the Premier League. We had a great team and went to the World Cup.
Describe the feeling of playing in a World Cup?
It was brilliant being a Reggae Boy. Not many teams go to the World Cup for the first time and manage to win a game, but we did that by beating Japan. It was like a carnival atmosphere every time we played. It's a memory I will take to my grave.
Are you on Twitter?
Yes - @FrankMSinclair. Originally I thought I wasn't into that sort of thing - I've never been on Facebook. But I got involved because I thought it would be good for the media work I do with Chelsea TV. I've enjoyed it ever since.
Frank Sinclair was talking to BBC Sport's Jonathan Jurejko