Transfer window: The perils of recruitment in the Premier League
By Alistair Magowan
BBC Sport
Last updated on .From the section Football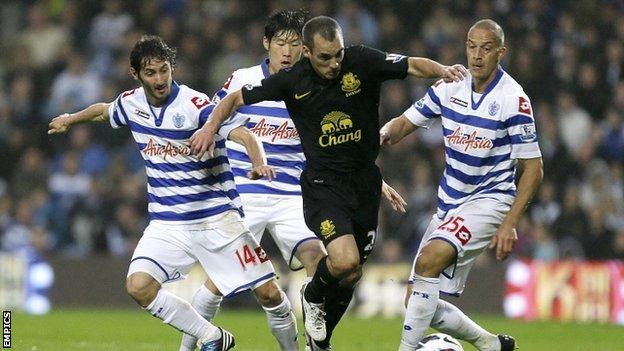 If ever a club offered a cautionary tale about the limitations of simply throwing money at a problem, then it is Queens Park Rangers this season.
Since the club won promotion to the Premier League 20 months ago under Neil Warnock, 23 players have been signed by Warnock and successor Mark Hughes - both since dismissed - yet the club survived only by the skin of their teeth last season and are bottom this time round, having taken 17 games to record their first league win.
New boss Harry Redknapp will now expect to put his own stamp on the team in the January transfer window, but his predecessors' experiences demonstrate that mass recruitment has its dangers and no amount of preparation can guarantee a player will be suited to the rigours of England's top flight, whatever their credentials.
QPR defender Ryan Nelsen noted as much before Redknapp was brought in.
"I'm not a big fan about talking about talent among a squad," said the New Zealander. "When the pressure is on, you can be the most talented player in the world but when the microscope goes on you, talent goes out the window."
So just how much planning can a club do to ensure the player they sign is the right one?
At a discussion chaired by sports data company Prozone at Manchester City's Etihad Stadium recently, the short answer seemed to be - plenty.
Prozone logs specific data for activities such as passing, dribbling, shots and saves in matches across 37 countries, covering 250 clubs and 80 competitions and Nottingham Forest boss Alex McLeish, who has also managed at Aston Villa, Birmingham and Rangers, told BBC Sport: "The biggest thing is that it saves you hopping on a plane to South America to watch a player when you can see videos up close with statistics to back it up."
But the likes of McLeish, West Brom's outgoing technical director Dan Ashworth and GB Cycling performance director David Brailsford - named coach of the year at this month's BBC Sports Personality of the Year awards and knighted in the New Year Honours list - also agreed with Nelsen's comments that accurately accounting for a player's character is still uncharted territory.
So services like Prozone are not the complete answer, as McLeish admitted.
"Looking back, sometimes you rush signings that weren't the right choice for that particular club," he said. "You can have all the statistics in the world on a player but the most difficult part of the recruitment is when the individual is not of the same mentality. That's when you find it really hard."
Understandably, McLeish is loath to name his "mistakes" in the transfer market, preferring to point to the likes of Scott Dann, Roger Johnson and Barry Ferguson as successful acquisitions during his time at Birmingham.
The Scot also revealed that at Birmingham he was offered the now West Brom striker Peter Odemwingie for £7m before their local rivals bought him from Lokomotiv Moscow in August 2010. McLeish explained: "In his last three years he was being played as a wide man and we got a false impression that he had regressed a little bit."
Given that Odemwingie's goals helped keep West Brom in the Premier League the following season, it highlights the need to marry "gut feelings" with statistics, McLeish says, and underlines the uncertainty of the transfer market.
So difficult is it that heading to the Football Association in a similar position in the summer, reckons player recruitment is the area where he spends most of his time - albeit, on recent evidence, very successfully.
The former Baggies academy director employs four full-time staff in recruitment plus part-time scouts, and has overseen signings that prove his system is working. Midfielders Youssuf Mulumbu and Claudio Yacob, plus defender Jonas Olsson have all impressed at The Hawthorns despite costing less than £1m combined.
But Ashworth looks back on his coaching appointments at Albion with most pride, having brought Roberto Di Matteo, Roy Hodgson and Steve Clarke to the club to work under him in a more European-style structure.
He is careful to point out that, even though his staff work tirelessly to capture the right players, it is the head coach who makes the final call.
The 41-year-old admitted: "Some signings have been a bit lucky, some you have a gut feeling about where perhaps you don't have the time, and with others the opportunity comes up where you didn't know that they would become available.
"So for some of them you don't do as much due diligence as you would like and take an educated gamble. Others will be assessed for a period of time and we will watch them several times, use reports and DVDs and have meetings about them."
Under Ashworth's guidance, West Brom have resisted the sort of wholesale changes seen at QPR.
"In any team sport there has to be a period of time where players can get used to each other and the manager has to understand how the team functions together to work out what his best team is," he explained. "Unfortunately in the Premier League, managers don't tend to get that sort of time."
Cycling chief Brailsford might appear an outsider to the football world, but says he has spoken with several football chairman and is mischievously coy about a potential future in football.
In any event, he is adamant that his dedication to sustained improvement at both British Cycling and Team Sky can be replicated in any field, including football.
Moreover, the 48-year-old believes that football has statistical information available that is superior to cycling - although he warns it could lead to mistakes.
"If you understand the demands of the event and therefore what you are looking for then there is more chance you can then trawl a massive amount of data to find what you need," Brailsford said.
"If you are not sure what you are looking for and you are just going into the data to see what you can find without an absolute clear end-point, then you are going to be way more challenged.
"The perfect scenario is where there is a great dialogue between those on the recruitment side and the analytics and sports science side so it's very much working together. No one element provides the full answer - that lies someone between all three or four parts of the information system coming together.
In front of a captivated audience of Premier League and Football League officials, Brailsford concluded: "Football is so task-focused and you are trying to get the task to be successful so quickly that everything becomes about delivering in the here and now and making that happen."
No wonder, then, that a desperation to improve can sometimes lead to the wrong blend of players - as QPR have found out.