Chelsea: Rafael Benitez takes flak for Roman Abramovich

By Phil McNulty
Chief football writer
Last updated on .From the section Football806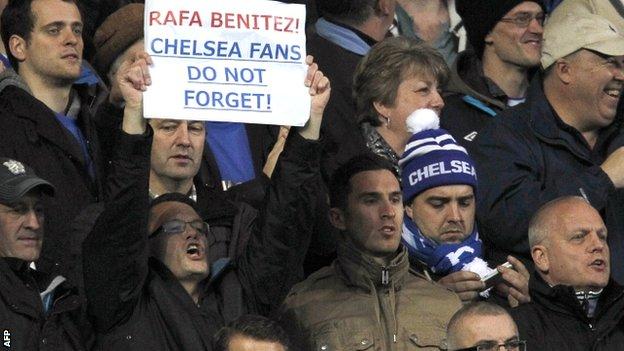 The pact of silence and subservience Chelsea's fans have made with owner Roman Abramovich ensured Rafael Benitez walked straight into a wall of hostility at Stamford Bridge.
Abramovich's decision to sack Roberto Di Matteo six months after winning the Champions League offended many Chelsea fans - but it almost qualified as a populist move compared to his replacement with Benitez.
Benitez's time at Liverpool made him a figure of derision and dislike at Chelsea. It was the result of an acrimonious rivalry with Jose Mourinho and his outwitting of "The Special One" in 2005 and 2007's Champions League semi-finals and the 2006 FA Cup semi-final, plus some barbs many of their supporters remember only too well.
This history meant the introductions were always going to be awkward when the interim manager met his new fans for the first time when Manchester City arrived at Stamford Bridge on Sunday.
However much Benitez claimed he turned a deaf ear to his reception, nothing could have prepared him for the sound and fury that greeted him as he made his way through the tunnel to his place in the technical area prior to kick-off.
Chelsea have lost most of their capacity to surprise - but the venom aimed at Benitez carried an edge that was a shock even to those expecting the frostiest of welcomes.
And yet, while Benitez, received a warmer greeting from Manchester City's contingent than he did from Chelsea's fans, no voices were raised against Abramovich. No banners or chants suggesting the Russian was not welcome at Stamford Bridge. Nothing.
Abramovich dismissed Di Matteo and brought in Benitez - but any Roman revolt always stops short of the owner's executive box. This is the deal that has been made. If any of his behaviour meets with disapproval, it is suffered in silence for fear of causing offence.
So, during Stamford Bridge got as close to rebellion as it is ever likely to get but no anger could be heard rising up against Abramovich. The whole weight of the flak descended painfully on to Benitez.
The brutal truth is that so many Chelsea supporters have enjoyed so much of what Abramovich's money has brought and bought them in the shape of the Champions League, Premier League titles and FA Cups that his approach is simply accepted - and you suspect supporters of many other clubs who state their own disapproval and scorn would be exactly the same.
Benitez, in certain situations, has a very thick skin but his suggestion he did not understand chanting that ranged from general disapproval to brutal abuse as he stood out in his technical area sounded very much like making the best of a very uncomfortable job. He would have to be constructed from stone not to have felt the impact of such personal criticism.
Stamford Bridge was a cacophony of jeering while the PA announcer, no shrinking violet with a microphone in his hands, struggled to make his point that a minute's applause was about to be observed for the late former Chelsea manager Dave Sexton.
Indeed, the show of respect for Sexton saved Benitez as attention rightly turned to the great old servant of Stamford Bridge rather than the unpopular new arrival.
Abramovich was as unmoved as ever as he looked on. If he cares about what he witnessed, no-one outside his inner circle will ever know - and Benitez was his shield anyway.
Benitez happily accentuated the positive of a clean sheet and a point against the champions but it was his opposite number Roberto Mancini who explained the only way Chelsea's new manager can reverse a popularity rating that is well into minuses: "Win, win, win, win, win...every game."
You would not place too much money on even this being enough to convince Benitez's detractors.
When a manager is not even given the first minute of his first game before being loudly and viciously acquainted with the disapproval of his own supporters, it is hard to see what he can actually do to win them over even before he tries to convince Abramovich to ditch the word "interim" from his title.
A banner draped from The Shed Stand read "Rafa Out - Fact." Posters held up stated: "In Roberto We Trusted And Loved. In Rafa We Will Never Trust. Fact." There were others.
The other fact is that Abramovich has chosen his man and no matter how loud the dissenters shout and whether they like it, they are stuck with him until the owner decides otherwise. This is the law at Stamford Bridge.
In an undistinguished game, in which Manchester City were marginally the better side, Benitez's tactical side will take pleasure from a Chelsea team that looked reasonably well organised but there was little else to savour on a thoroughly joyless day all around.
And those hoping Benitez could offer instant restorative powers to his old Liverpool marksman Fernando Torres were to be disappointed. Perhaps his first question could be: "Why so sad Fernando?"
Torres simply looks a dejected and miserable figure and that is before you even analyse why the snap and threat has gone from his game. Benitez's Chelsea were clearly under orders to get the ball longer and faster to Torres - but it was a ploy greeted with more gratitude by Manchester City captain Vincent Kompany than the striker.
Benitez is likely to spend his early days introducing more pragmatism to Chelsea's play. He will be happy to sacrifice some of the gloss from the side Di Matteo was managing to ensure greater reliability and durability.
And then, with perhaps a tweak or two in January, it will simply be a matter of following the Mancini mantra of "Win, win, win, win, win...every game."
This is the deal Benitez has made with Abramovich - and the deal Chelsea's fans have made with Abramovich in exchange for success.