Mark Hughes: QPR's patience finally runs out with manager

By Phil McNulty
Chief football writer
Last updated on .From the section Football128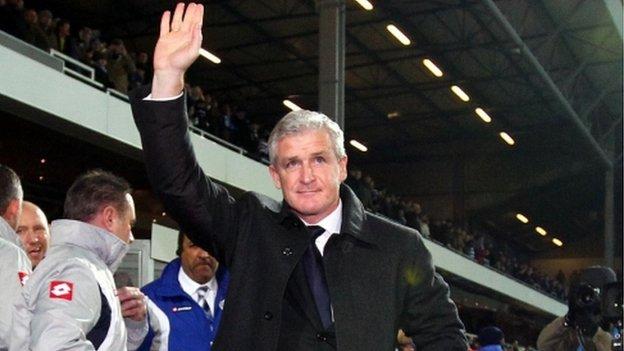 Mark Hughes's short spell at Queens Park Rangers has been so undistinguished that even stewards were being jeered by waiting fans as they left Loftus Road's main entrance last Saturday.
It was an example of gallows humour at its finest - but the dismal 3-1 defeat by relegation rivals Southampton was no laughing matter and made the exit of Hughes, who was 11 months into a two-and-a-half-year deal, inevitable.
The manner of the loss and the toxic atmosphere surrounding it proved the final straw for QPR owner Tony Fernandes, who had Tweeted "for the one millionth time" last Friday that Hughes would not lose his job, and his cohorts.
Fernandes had provided a public shield against mounting criticism of Hughes but there was no protection against a record of no wins and only four points from 12 games that has left QPR cut adrift from safety at the bottom of the Premier League.
The meeting with Nigel Adkins's side was labelled "El Sackico" on the basis the loser would be unemployed in short order and for Hughes the title has proved sadly prophetic, although he strangely had to wait six days before an official announcement was made.
When Hughes abruptly left Fulham at the end of his contract in June 2011 it was, in the words of his trusted advisor Kia Joorabchian "to go to a club where he can fight for titles and win championships."
Aston Villa and even Chelsea were mentioned as possible destinations but Hughes was tempted to QPR by the ambition and vision of new owner Fernandes as replacement for Neil Warnock, harshly sacked after taking the club into the Premier League.
Instead, a man never minded to hide his high ambition and credentials has seen his managerial reputation suffer serious damage in a chaotic and singularly unsuccessful tenure in west London. The decision to walk away from Craven Cottage now looks desperately ill-advised.
QPR escaped relegation last season thanks to notable home wins against Liverpool - 3-2 after being two behind late on - and Arsenal, but Hughes then saw fit to embark on a complete restructure of his squad. The results have been nothing short of disastrous.
Hughes arrived at Loftus Road on a tide of goodwill and seen as the man with the desire and contacts, especially through Joorabchian, to fulfil Fernandes's desire to establish QPR in the upper reaches of the Premier League.
Instead, he had such a torrid time that he was the main target for fury on his own ground as QPR were swept aside by Southampton. Hughes felt the full volume of fans' displeasure while the players he had brought in - performing abjectly and without heart and fight - were vociferously told "you're only here for the money".
When fans do not like the manager it is a major concern. When plenty of the players are equally unpopular with supporters someone almost always has to go. It is usually the manager and so it proved.
Fernandes had never been anything other than fiercely loyal to his man but the lethal combination of supporters in open rebellion and a season that leaves QPR in their current perilous position is a lethal one for a manager. It stretches the patience of even the most understanding owner and Fernandes has broken under this understandable strain.
Fernandes will feel embarrassment at having to go back on his oft-tweeted word but business is business. A lot of investment has gone into his appointment of Hughes and a lot more will go out with relegation. He had to act.
Hughes needed prove he could build a managerial model at QPR after a somewhat nomadic managerial existence which took him from Wales to Blackburn Rovers, Manchester City, Fulham and then on to QPR.
Instead he adopted an almost scattergun approach. A prime example was the signing of former England keeper Robert Green, who arrived from West Ham on a reported £50,000-a-week deal last summer only to see his days numbered after a poor performance in the 5-0 home defeat by Swansea City on the opening day of the season.
Green only played four games before being replaced by Brazilian veteran Julio Cesar and his QPR career looked over under Hughes. Other signings such as Park ji-Sung from Manchester United, Jose Bosingwa, Real Madrid midfielder Esteban Granero and Cameroon international Stephane Mbia from Marseille have not altered the course of a thoroughly miserable season.
Having placed so much faith and finance in Hughes, Fernandes was then placed in the position where relegation was unthinkable - and yet results under the Welshman were starting to make it look inevitable.
The choice of former Tottenham manager Harry Redknapp as Hughes's successor looks a formality but will not provide an instant cure to the problems faced by Fernandes.
It is highly unlikely Redknapp, for all his man-management wiles, will be hugely impressed by the selection of hired hands left behind by Hughes. If and when his appointment is confirmed, Redknapp will almost certainly embark on another major reconstruction of QPR's squad less than a year after the last one.
The decision to put Hughes in charge has proved an expensive mistake for QPR and both could take some time to recover from it. As legacies go it is a poor one and Hughes's long-held ambition to claim another job at the top of the game may have a long wait.
Friday's decision was on the cards from the moment Mike Dean blew his final whistle at Loftus Road last Saturday - but the pain will not disappear instantly for QPR and Fernandes.