Portsmouth fans battle for control of their club
Last updated on .From the section Football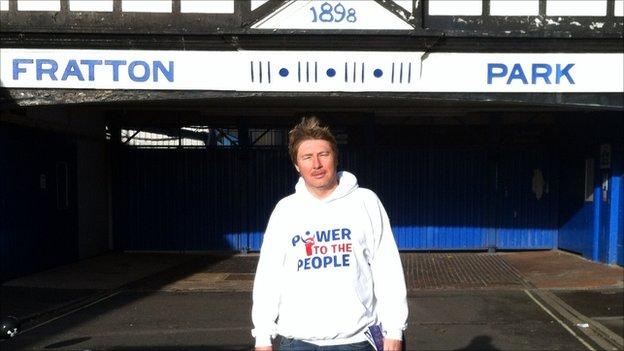 This week we have handed Football League Friday over to the fans.
Micah Hall is an independent blogger, freelance journalist and lifelong Pompey fan.
On Thursday he parted with £1,000 in a bid to create the largest community-owned club in Britain and prevent them from being liquidated.
His pledge is expected to be one of thousands that will help the Pompey Supporters' Trust complete a takeover of the stricken club.
It is nearly the end of a long journey for thousands of Pompey fans, like Hall, who have fought so hard and dedicated their lives to try and gain control of the club they love in the face of an opposing bid from former owner Balram Chainrai.
He tells us what it is like to have finally bought a stake, why he has done it and what he expects to get his for his money.
Why are you buying a stake in Portsmouth FC?
"For me, this is about my kids, who all have Pompey in their names. What would they say to me if I left the club to die, or labour on in the wrong hands?
"It will take at least a decade to rebuild the infrastructure of the most neglected club in Britain, and only the fans plan to be around for that long."
What did it feel like to finally do it?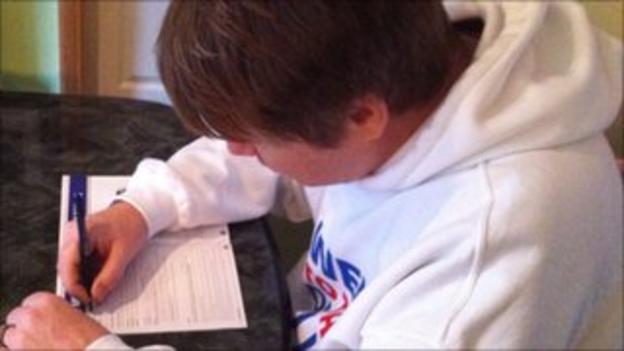 "Vindicated. It was an amazing feeling to transfer the money. We have had to fight for the club, from the streets to the blogosphere. Marching under the banner of SOS Pompey we had to look the Premier League in the eye and demand a stricter Fit and Proper Person's test.
"We had to change the rules of football. It worked, because whatever they say, Portpin (Chainrai's company) was unable to pass the Owners and Directors test we demanded. Personally, with the help of the magnificent writers of Pompey Bloggers Anonymous, we exposed the people and practices of those who had wormed their way into Fratton Park or sought to, and the journey has taken me to some amazing places, calls from law enforcement agencies, lawyers, secret sources etc etc."
Is £1,000 a lot of money to you?
"In August I took voluntary redundancy from a senior management role in a large corporation and threw myself full time into the struggle for Pompey. It's a large amount from a dwindling pot that has Christmas, numerous birthdays and quite a few mortgage payments to cope with. Oh, and food, even if it comes down the list after Pompey.
"My wife will find out about this from reading this article, so don't be surprised if I am added to the long list of Pompey fans who have a petition for divorce with 'Portsmouth Football Club' featuring prominently under 'unreasonable behaviour'.
"It's a lot of money for many people but there are many other ways to contribute."
What do you hope to get from your share?
"The share will buy me the one thing we have fought for over years; transparency. There has been very little of it at Pompey in my lifetime, for one simple reason; you don't grant transparency when you have something to hide. Whether it's eye-watering losses, insane loans at stupid interest rates, serial ineptitude or more recently, the actual ownership, influence and backgrounds of the people running the club. It is high old time we knew who was running the club and what they are doing.
"All fans will be able to give their input to the club through formal channels. It will be our club, to listen to us and speak to us honestly.
"No sensible person would buy a share in Pompey if they plan on making a quick profit."
What would it mean to you, a lifelong fan, to own a stake in the club you love?
"Finally, the chance to fulfil the club's potential. Our catchment area remains awesome. During the recent decline we have still managed to get a couple of hundred thousand different Pompey fans through the doors of our decrepit but much-loved stadium.
"The club needs to be rebuilt. It has to have solid foundations before it can afford the sort of players we all want to see. But Pompey fans are smart, dedicated, and indomitable. We weren't deterred by the enormity of the challenge of taking control of the club, we aren't scared by the prospect of rebuilding it."
What does it mean to the fans to take back control of the club?
"In the last few days I've spoken to people previously unconnected to the club and as usual they have expressed their amazement at the support, the atmosphere and the patience of the fans. We are so proud of our club and each other.
"Watch out football, Pompey are back. Power to the people!"
BBC Sport will be taking a closer look at stories from outside the Premier League before every weekend league programme in our Football League Friday features.