Man City's Champions League exit leaves Roberto Mancini unfazed

By Phil McNulty
Chief football writer
Last updated on .From the section Football493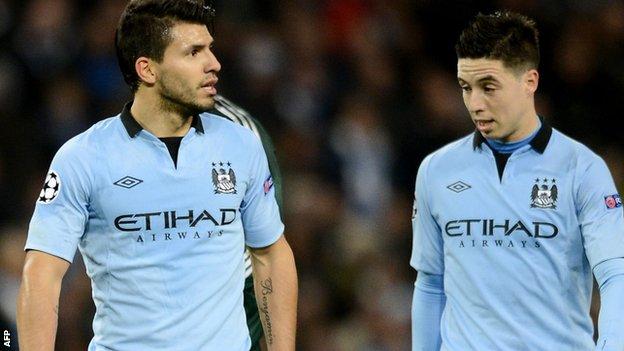 On the day fellow Italian Roberto Di Matteo discovered winning the Champions League was not enough to guarantee longevity at Chelsea, Wednesday evening could have been an uncomfortable time for Manchester City boss Roberto Mancini.
If Chelsea's manager can be shown the door by a ruthless, big-spending owner only six months after the greatest night in the club's history, what might the future hold for Mancini after a second successive exit in the group stage?
Manchester City's left them with a meagre three points from five winless games - and will once more leave them with their nose pressed up against the window when the fight for big prize reaches the knockout phase in the new year.
But Mancini was ready for the question, and rightly so. City's Abu Dhabi owners operate to a different set of rules than Roman Abramovich and they support a manager who brought City their first title for 44 years last season and currently has them top of the Premier League.
"I don't fear this," he said. "If we think we can win the Champions League after two years we are crazy."
Here, too, Mancini has a valid point. No amount of investment can guarantee a Champions League victory. Just ask Abramovich, who took nine years of writing cheques before an almost freakish turn of events led to triumph against Bayern Munich in the Allianz Arena in May.
What cannot be dismissed, though, is the fact that this has been a dispiriting Champions League campaign for a club of such high ambition. City's group was tough but they have looked desperately unconvincing.
It may be "crazy" to think of Champions League victory in your second year but it is not insanity to expect more points than City have delivered. Even the frequently derided consolation prize of the Europa League is a long shot with a final game away at impressive Borussia Dortmund to come.
Indeed, Dortmund's 4-1 win over Ajax in Amsterdam on Wednesday provided brutal context for City's own efforts. Mancini's side were well beaten in the Netherlands then held to a draw at the Etihad.
Mancini's own record in the competition will once again be under scrutiny. He has won only three of 11 Champions League games at City and only had a 53% win rate from 36 matches at Inter Milan.
Lessons must be learned because better will be expected, demanded indeed, on the fairly safe assumption that City will be back here next season and with every chance they will have just as tough an assignment in the group stage.
So what will be required if City are to finally break into the elite knockout group they eventually want to make their permanent home?
Mancini and his players could start by remembering how they performed in the second half here against Real Madrid - albeit Jose Mourinho's side should by then have been over the hills and far away after an opening onslaught that could have brought a handful of goals.
But once Mancini cut short his three-man defensive strategy on the not unreasonable basis it was being ripped to shreds every time Real attacked, City played with spirit, a measure of conviction and a belated sense of urgency.
Another fatal flaw has been the concession of cheap goals and this game was no different, Maicon nodding off to allow Karim Benzema to steer in Angel Di Maria's 10th-minute cross with ease. It was the sort of moment that has scarred City's Champions League effort and a solution must be found.
City must also eradicate periods of Champions League games when they switch off and drift for minutes on end. Their quality may allow them to survive these spells in the domestic game but Europe's finest teams have been unforgiving - concentration is key, along with becoming more streetwise.
Good home results must be base camp on the journey towards the last 16 but City have rarely looked comfortable on their own territory, with all their home games drawn.
Mancini will hope City's players have at least benefited from another year in the competition. Too often even the big names have looked ill-at-ease, unsure of their place at this level.
One player who looks perfectly at home is David Silva, arguably the finest performer on either side on Wednesday and someone who will make a key contribution if City are to finally take the next step. Maybe, with the benefit of hindsight, City should have pursued another A-list signing to add extra momentum to last season's title winners.
Were Scott Sinclair, Jack Rodwell, Maicon and Javi Garcia going to make the big difference in the Champions League? Clearly not and Mancini may now regret that top targets such as Roma's Daniele De Rossi or Javi Martinez were not pursued with greater vigour.
All these factors will tax Mancini whenever the Champions League failure is mentioned - but City are in their infancy in this tournament and a look at the Premier League table confirms this is a club and team in good health.
There is no doubt, however, that City's owners will expect better. And Mancini will know that next time he plots a Champions League campaign.