Roman Abramovich hard to satisfy at 'dysfunctional' Chelsea

By David Bond
BBC sports editor
Last updated on .From the section Football481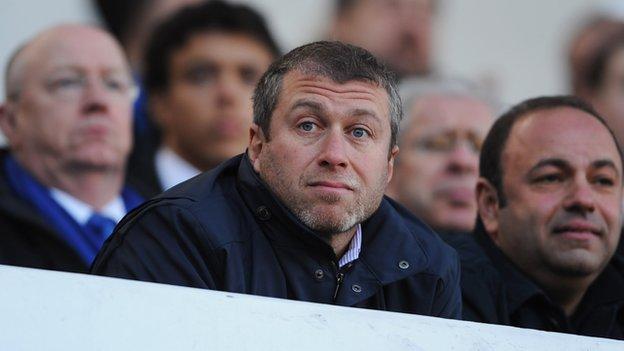 Roberto Di Matteo, Chelsea's latest managerial casualty, was sacked by chairman Bruce Buck and chief executive Ron Gourlay during a lengthy meeting at the club's training ground in Cobham in the early hours of Wednesday morning.
With Chelsea now facing a difficult battle to qualify for the knockout stages of a competition Di Matteo had won six months ago, even the protective cover of that achievement could not save the Italian.
Most of the players had dispersed but there were still one or two around as the meeting wound up and it became clear that Di Matteo had just become the eighth manager dismissed by Abramovich during almost a decade in charge at Stamford Bridge.
But even before the Chelsea squad arrived back from Italy, it was, sources say, self evident that another big change was on the way.
Abramovich, as is his style in these circumstances, was not on hand, either in Turin or in Cobham, to personally deliver his latest controversial decision. Instead, a statement was released just after 9am on Thursday that announced Di Matteo's sacking and included the line that the now ex-manager would always be "welcome at Stamford Bridge". How generous.
On the face of it, this looks like another knee-jerk reaction by an owner who seems to be continually searching for the magic footballing formula - a manager who cannot only deliver the biggest trophies but do it with a bit of style, too.
Not so, the club will say. Results under Di Matteo were going the wrong way for a while. He was, after all, a stop-gap replacement for Andre Villas Boas. And despite winning the Champions League last season, the questions were not focused on where he would take the club after that historic moment but whether he would still be in charge to steer them into the next phase of the club's development.
Tensions had obviously been rising. There were reports of Di Matteo and club captain Petr Cech giving the team a dressing down after the weekend Premier League defeat to West Bromwich Albion.
But it is my understanding that off-the-field issues played no part in Abramovich's thinking. This was again down to results and a desire, on the part of the club's hierarchy, to make a change before things got any worse.
In the rarefied world Abramovich inhabits - second guessed by everyone, questioned by no-one - this sort of thinking masquerades as strategy. For the truth is that Chelsea appear a dysfunctional club, unable to steer a clear course through the messes of their own making.
Take the Mark Clattenburg racism controversy. The truth of what he said to Chelsea midfielder John Obi Mikel may never emerge, but serious questions will be raised as to why Chelsea allowed such a poisonous allegation against the referee to reach the Football Association without any proper evidence, if, as seems likely, he is cleared of any wrongdoing this week.
As with the failure to sack John Terry as captain after he was found guilty and banned by the FA for racially abusing QPR's Anton Ferdinand, Chelsea's executives seem unable or unwilling to check the power of the players and are forced to act out the whims and wills of the owner.
Maybe Abramovich is right. Chelsea's trophy cabinet is certainly far better stocked than when he took over in July 2003 and few could argue they are not major European players. But for all the success, Abramovich seems harder and harder to satisfy.