West Bromwich Albion are tenacious at home - Boaz Myhill
Last updated on .From the section Football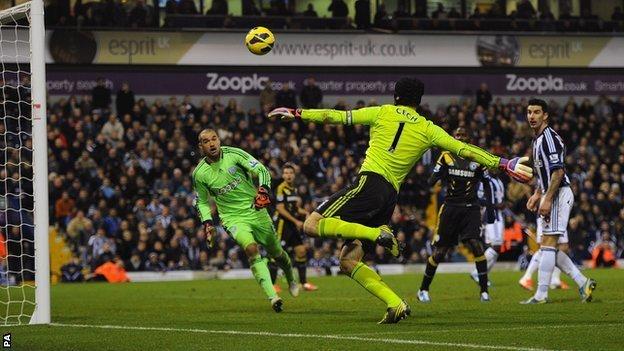 Losing a Premier League game at The Hawthorns has already been deemed sufficient cause for embarrassment for Chelsea to sack two managers this year.
But one thing that Roman Abramovich may have overlooked is that West Bromwich Albion can boast this season's second-best home record in the Premier League.
And that home form under new boss Steve Clarke seems sure to claim more scalps.
"We've set out our stall here and done very well. You don't get an easy game against us," said keeper Boaz Myhill.
"And that's how we want it to carry on throughout the season."
It might have all been different for the Baggies had the Premier League's top scorer Luis Suarez not repeatedly faltered on the first day of the season when his missed chances opened the door for a 3-0 Albion home win over Clarke's previous club Liverpool.
But, on the back of that, aside from losing in the League Cup at home to Liverpool in September, Albion have grown in confidence and proved almost unstoppable on home soil since.
The one exception was last month's 2-1 home defeat by Manchester City when, after outplaying the champions, they were cruelly stung by two goals in the last 10 minutes.
But six wins in seven home league games adds up to 18 points - a haul bettered only by City themselves.
And Myhill, who made a string of good saves against Chelsea last Saturday after being drafted in for his first home Premier League appearance following Ben Foster's groin injury, attributes a good portion of their success to the atmosphere generated by Albion's near-capacity 25,000 crowds.
"I'm sure that will be one of the things people miss when they finish playing football," Myhill told BBC WM.
"There's nothing else like it. You feel the supporters' excitement. And you feed off it.
"There was some silly dancing going on in the dressing room after the game as everyone was so excited."
Myhill is insistent that Albion's consistency proves they are no flash in the pan and that, having reached the top four at such an advanced stage of the season, there is no reason why they cannot stay there.
"We've lost just one game in the league, which was unfortunate to say the least," he said.
"And it's up to us to continue that.
"It's been the same all season. That's why we are where we are.
"We're a solid, well organised, very hard-working team, epitomised by Shane Long, who runs his socks off every week.
"It would be easy for us to take our foot off the gas but, with the competition for places that the manager has built here, you can't really do that.
"We've got a couple of good players for every position, which is how the top managers all over the world want it."