Steve Clarke: West Brom boss steps out of the shadows

By Phil McNulty
Chief football writer
Last updated on .From the section Football134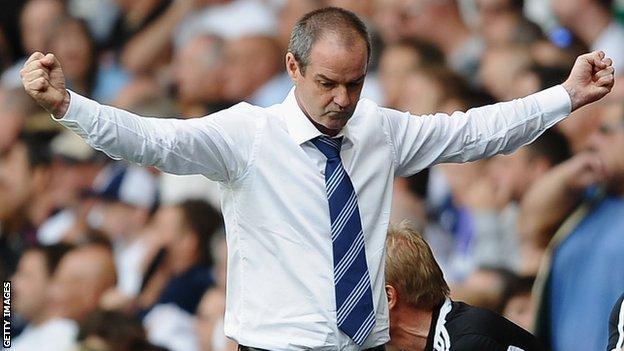 Steve Clarke's best work has been done in the shadows of a selection of iconic football figures - now West Bromwich Albion are reaping the benefits as they sit proudly in the Champions League places.
After moving away from his traditional role as a right-hand man to succeed Roy Hodgson as head coach at The Hawthorns following the latter's elevation to England manager, Clarke has overseen Albion's best start to a Premier League season.
The highly respected 49-year-old Scot served under Ruud Gullit at Newcastle United, Gianfranco Zola at West Ham United, Kenny Dalglish at Liverpool and most notably with "The Special One" Jose Mourinho at Chelsea.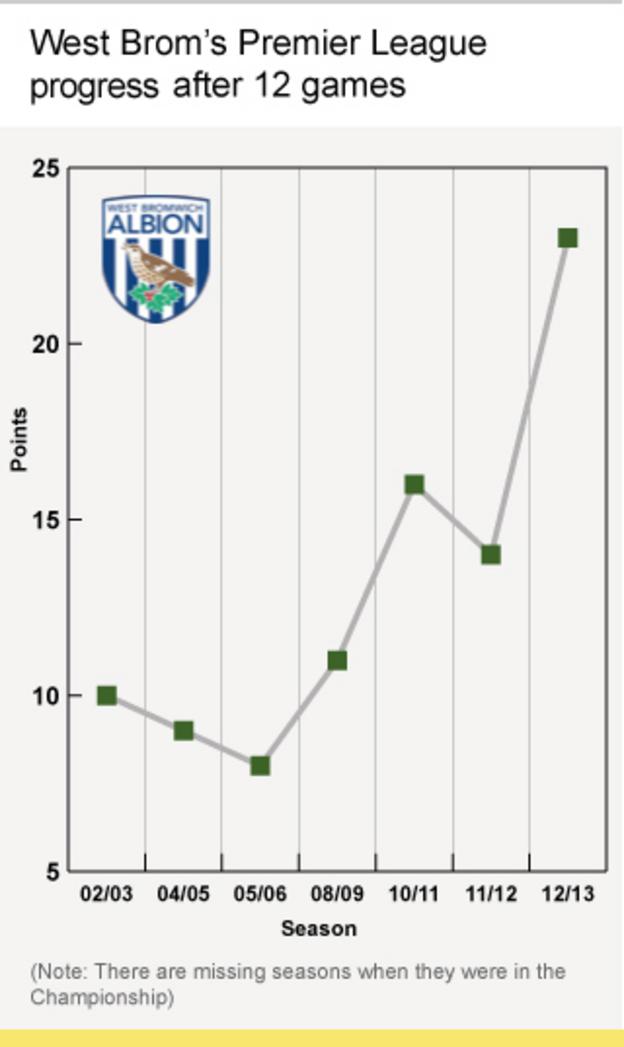 Now he is his own man and has proved a resounding success in his short career as Albion manager, Saturday's 2-1 win over Champions League holders Chelsea moving them into the top four behind Manchester City, Manchester United and the Londoners.
Clarke may have a low public profile but this should not be confused with timidity or lack of passion. This is a man willing to stand up to Mourinho and question his decisions, a move only made by the strongest characters.
Pat Nevin played alongside Clarke at Chelsea and has got to know him well over the years, telling BBC Sport: "Knowing him as a player it was a stick-on he would go into management.
"He is a modern coach and they get jobs as managers now. He is a strong, steely personality - probably the closest to him in that regard is David Moyes at Everton.
"He is not known as a bundle of laughs but he has got a classic Scottish dark sense of humour. I always liked his sense of humour and we get on very well. Clarkey is honest, trustworthy and has integrity. This is what you get from him as well as all that coaching ability and experience.
"Steve has great respect within the game. You only have to look at the people he has worked with. At Chelsea he would have been on the training ground as much as Mourinho, carrying out the orders.
"This is a man who would question Mourinho - and a man Mourinho respected so much that he allowed him to question him."
Nevin recalls a prime example: "Chelsea were playing an FA Cup tie at Newcastle in 2005 and were losing at half-time. Mourinho did his classic three players off, three players on at the interval.
"Steve asked Mourinho 'do you know what you're doing?' to which he replied 'yes I know what I'm doing'. Steve's worry was that someone might get injured and sure enough Wayne Bridge soon got injured and Chelsea lost with 10 men.
"He asked Jose again at the end if he thought he had done the right thing. Jose insisted he had because it was the only time it hadn't worked - and Steve will have learned from that as well, make no mistake."
Nevin adds: "And no-one should forget his input when Chelsea reached the Champions League final in 2008. People say Avram Grant got them there but I would dispute that.
"If Steve's name is left out of that I find it unacceptable because, although Avram played his part, Clarkey understood what was needed after Jose left. He has got real pedigree."
Clarke arrived at West Brom to find a club built on solid foundations by chairman Jeremy Peace after a 10th-place finish last season, surrounded by the fine work done by former boss Hodgson as well as sporting and technical director Dan Ashworth, who will follow a similar route to the Football Association next summer as director of elite development.
"The sporting director takes a lot of the traditional management stresses away from Steve," Ashworth tells BBC Sport.
"That's how the club is structured and Steve's main responsibility is to coach the players, manage the team and put them together on a Saturday to get as many points as he can.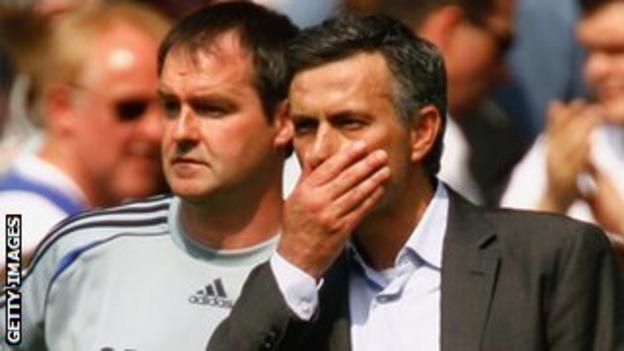 "You never quite know how people are going to take to that transition to a place where the players are knocking on his door and asking 'why am I not playing?' and ultimately setting the team up.
"I suppose that was a little bit of a gamble with Steve but any player signing is a gamble or a manager that you take on. There are plenty of managers who have succeeded at some clubs and failed at others, so there is an element of risk."
Clarke has gone about his work quietly, without fuss and - so far - very successfully.
It is not in Clarke's nature to get over-excited, even after a win such as that against Chelsea. On Sunday morning he was back in front of the video screen at Albion's training headquarters off the A34 near Walsall preparing for this weekend's trip to Sunderland.
Clarke has resisted any temptation to make wholesale changes to his squad and back-up team, a continuity that is serving him well, although Argentina international Claudio Yacob has proved an important addition and on-loan Romelu Lukaku has been a threatening presence since his arrival from Chelsea.
West Brom coach Dean Kiely believes the signs were there in pre-season that this was a campaign that could see the Baggies establish themselves as a Premier League force.
"There was a good feeling around the place in pre-season," says Kiely. "Steve had come in as a new manager, which always creates optimism, but we had finished 10th and 11th in the previous seasons so that had reinforced to the players and staff that we were a decent Premier League team.
"Having those thoughts and feelings is one thing but winning games is another. We have made a very good start to the season. We are now well into it after 12 games and we're up there in fourth.
"From my point of view, whether it was as a player or now as a coach, you want to be surrounded by top coaches and managers. Roy Hodgson fitted into that category when he was here and now we have Steve Clarke.
"It was an unusual situation because normally a new manager comes in when a club is in a precarious position and struggling. Steve inherited a team that finished 10th after Roy left but that brings its own pressures.
"He is a top coach, very thoughtful, diligent and works extremely hard."
Management may be new to Clarke but Kiely underlines the coaching prowess and devotion to preparation that dovetail with his new responsibilities.
"What has impressed me so much is that sometimes on the training ground you may think sessions are put on to fill time or pass the time of day," says Kiely. "You never get that feeling under Steve. There is a purpose behind every single minute.
"The way the sessions are set out and the manner of them are very impressive and Steve sets the tone. He is genuine, very open and honest and demands that the players and staff work in the same way."
Away from the training ground, chairman Peace has also shown a sure touch in ensuring the club no longer suffers from the "yo-yo" effect of regular promotion and relegation.
Kiely adds: "In the past when West Brom had a tag as a yo-yo club there were lots of people urging the chairman to spend more money but he has run a tight ship. This club and the current situation has been built carefully and in the right way.
"There have been cases of clubs throwing money at it but there has been no structure. You need longer to build something and the chairman, Roy Hodgson, Dan Ashworth and now Steve Clarke have all been responsible for that.
"As a player or coach you are not privy to what goes on around the boardroom table but it is reassuring to know the people in there have the club's best interests at heart."
And the appointment of Steve Clarke, the willingness to select a first-time manager who was previously only known as a coach, is so far proving another wise move.