Brand Beckham: Where next for pioneer David?
Last updated on .From the section Football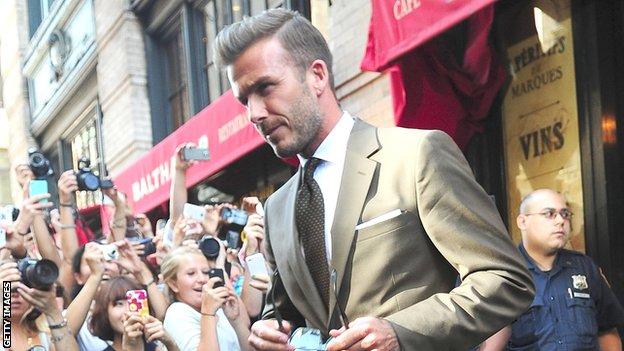 The David Beckham story refuses to fade to black.
Even as the man himself gets older and a little more sore in the mornings, his popularity grows by the day - and the brand plays on.
The easy option would have been to extend his contract with Los Angeles Galaxy for another year. His family are happy and settled amid the kind of Hollywood splendour Beckham could only have dreamt of as he grew up in Leytonstone, East London, where his father, Ted, was a gas engineer.
The family home in Beverley Hills sits next door to Jay Leno's residence and 20 minutes from the Californian beaches. Who would want to leave all that behind? But after five years in Los Angeles, to stay put would also mean standing still - and Brand Beckham has never done that.
The 37-year-old is weighing up a slew of offers from France, Australia, the Far East and others in the United States. Beckham's appetite for the game remains and so, it would appear, does the desire from all corners of the globe to offer him multi-million pound contracts.
"Every brand needs to keep itself relevant and the Beckham brand is no different," says Andy Milligan, brand expert and author of Brand It Like Beckham.
"There are three threads to Beckham's enduring appeal. The first is that it's based on universally popular values - dedication, style and an almost old-fashioned sense of respect. It's hard to think of a country or group of people to whom those do not appeal.
"The second is that he has earned recognition on the biggest, global stages, be it top-flight football, international fashion or the A-list celebrity scene.
"The third is that he has made very shrewd choices that have created a coherent story: Manchester, Madrid, LA and Milan both in fashion and football terms make narrative sense, as does his move from captain of his country's football team to cheerleader for its sporting ambitions.
"On top of all that, he endures because he's authentic. You can't fake, force or fudge what he does, the way he does it for the length of time that he's done it."
The accusation levelled at Beckham throughout his career has been that he has been wanted as much for his ability to shift replica shirts as for his skill in delivering a football with that celebrated right boot. That his fame exceeded his talent and he was worth more to a club off the field, than on it.
On the field, he has found success at every turn and continues to do so. On Sunday, he helped the Los Angeles Galaxy to reach an unprecedented second consecutive cup final to ensure his contribution to Major League Soccer (MLS) can now be measured in goals and assists as well as dollars and growth.
He leaves Galaxy having helped raised the league's average attendance to 18,000, while the cost of a new franchise is up to an average of about £26m, four times higher than on Beckham's arrival in 2007.
From 2013, there will be 20 teams, six more than five years ago, while the calibre of ageing players being linked with moves to the league has improved in recent years, with Rio Ferdinand and Frank Lampard the latest names to be linked a move to the States.
Don Garber, the MLS commissioner, admitted even he understimated the Beckham effect. "David coming to MLS was a statement to a really broad global audience that MLS was serious, that we were a legitimate business," said Garber.
"It also said to a global market of soccer players that, 'Hey, if it's good enough for David Beckham, it's probably good enough for me.' He has been great for our league and for our game but I have to say I underestimated the power of his celebrity by a long shot."
On the field, Beckham rages against the dying of the light. But off it, business is booming for Brand Beckham.
According to the 2011 accounts for his company, Footwork Productions, Beckham paid himself £13.3m on top of his £2.5m salary from Los Angeles Galaxy.
Contracts with the likes of Armani, adidas, Samsung and Diet Coke helped to raise £15.2m in 2011, from which Beckham took his salary. That figure does not include joint income, such as the Beckham fragrances, and his wife's own considerable earnings through her designer clothing company.
It is expected earnings in 2012 will be higher still. The estimated worth of Posh and Becks, Victoria and David, is £190m, rising by £25m in 2011.
Beckham has always known what he wants - and mostly, by force of personality, he has stubbornly hunted down his targets.
As a 10-year-old, he won a Blue Peter skills competition. That in turn led him to the Bobby Charlton Soccer Schools and set in motion his professional career. He also dreamt of playing for Manchester United, of course.
His next dream came on an England trip to Georgia. Sitting in his bedroom while watching the Spice Girls on Top of the Pops, he decided that he was going to marry "the one with the legs". Perhaps his most daring ambition was to believe that he could have it all - the showbiz lifestyle and the career of a brilliant footballer.
When he left Old Trafford in 2003, United were the world's biggest club in terms of commercial revenue and Real Madrid were fourth. When he left the Bernabeu in 2007, the Spanish giants had moved to the top of the chart, having more than doubled their revenue.
Coincidence?
"Beckham has come to epitomise the modern footballer's ability to become a huge force commercially and as a brand, said Dan Jones, from Deloitte's Sports Business Group.
"His ability to attract increased revenue to whichever club he has played for is almost unparalleled and it has been fascinating to watch as his career has followed, almost exactly, the trajectory of the boom in English football post Euro 96. In terms of his next decision, nothing would surprise me."
This time last year, Beckham was giving serious consideration to an offer from Paris Saint-Germain. The club, owned by the Qatar Investment Authority, retain their interest and any offer would be an enticing chance to return to European football, to perhaps win another domestic title and even compete in the Champions League.
In return, the Qataris would get a valuable global ambassador with the controversial 2022 World Cup on the distant horizon.
But for all his commercial might, the defining reality of Beckham as a brand and as a person has not been the glitzy superficiality that his critics suggest but his durability.
He triumphed for Manchester United in their 1998-99 Treble-winning season after enduring national vilification for his sending-off against Argentina at the World Cup finals in 1998.
He battled his way back into the first team at Real Madrid after he had been forced to train with the reserves by manager Fabio Capello. Then he made a triumphant return for England after being dropped by Steve McClaren in 2006.
Now Beckham is beginning to contemplate his future beyond the game and the dilemma of what a global icon does for a living once the game that made him famous is no longer there. He has always run a mile from suggestions he might become a manager, but there is a desire to take up an option to buy into his own MLS franchise.
But that is for the future. For now, Beckham has one last decision to make.
There may yet be a twist in the tale.