Hughes fighting for QPR's survival - and his own

By Phil McNulty
Chief football writer
Last updated on .From the section Football319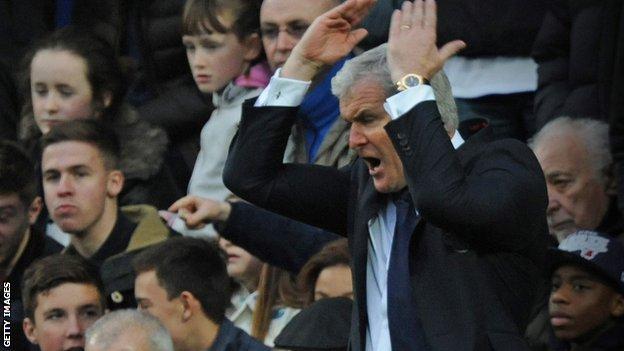 Queens Park Rangers owner Tony Fernandes has risked repetitive stress injury as well as a large portion of his personal fortune in support of Mark Hughes.
Fernandes, admirably interactive with the club's supporters, has barely stopped using his Twitter fingers to publicly back Hughes since a sticky start to the Premier League season descended into full-scale crisis.
He was in action again on Friday when he tweeted "for the one millionth time" that Hughes would be allowed time to fashion something resembling a winning formula out of the wholesale, expensive summer reconstruction of QPR's squad.
Number one million and one was not so positive in tone - nor should it have been after a desperate, abject surrender in the 3-1 defeat by relegation rivals Southampton. QPR are now four points adrift at the bottom of the table, the only club in the Premier League or Football League without a win.
After a display which had QPR supporters demanding the manager's dismissal and telling the players "you're only here for the money", Fernandes sounded downcast and who can blame him?
"I feel gutted," started his next Twitter pronouncement. "I have put my heart and soul into this with my other shareholders. And done all we can to give support to players and all management. I can only apologise to the QPR fans. We keep fighting."
Whether this represents a subtle shift in Fernandes's position remains to be seen but Hughes should regard himself fortunate that QPR's fans are not deciding his future, such was the animosity aimed towards the technical area and the pitch on Saturday.
In a game light-heartedly (although not for Hughes or his Southampton counterpart Nigel Adkins) labelled "El Sackico" because it was perceived the loser might be out of a job, the Saints were convincing winners.
Amid the obvious focus on Hughes, it would be utterly remiss not to acknowledge the superb performance of Adkins's team, and in particular their positive attacking attitude from first whistle to last.
They were an accurate mirror of their manager's approach, never making a backward move even when Junior Hoilett's strike threatened to stem the momentum created by first-half goals from Rickie Lambert and Jason Puncheon.
Roared forward by 3,000 followers unstinting and vociferous in their admiration for Adkins and their team, Anton Ferdinand's late own goal gave the scoreline an air of reality.
For QPR, Hughes and Fernandes, the only stench was coming from a club staring straight into the face of a crisis with an owner facing a huge decision.
Adkins was awash with support from well before kick-off while all Hughes heard was the equivalent of a loud, resounding raspberry from the increasingly rebellious QPR fans.
Post-match, Hughes bristled with the old defiance and fight that were part of what made him such an outstanding player. But the words sounded hollow when placed against the background of the league table and even the ever-supportive Fernandes must surely be casting a very worried look to the future.
Does he veer from his chosen path and ditch Hughes or does he keep faith with a manager he has backed every step of the way, emotionally and financially? QPR's Premier League future hinges on it.
Of course the shadow of the unemployed former Tottenham manager Harry Redknapp lurks, with one banner inside Loftus Road reading: "Harry Come And Save Us."
QPR will need some saving on this evidence - and the reality would be that even if Fernandes made this apparently populist move the odds are that he would then be asked to embark on another complete refit of a squad that looks unfit for purpose.
Sacking Hughes and appointing Redknapp, in line with some fans' wishes, would be a very expensive business for Fernandes and those alongside him in the Loftus Road boardroom, but so would relegation.
On Saturday, the players assembled by Hughes carried the appearance of hired hands, many not appearing to have the stomach for the fight, certainly judging by their timid efforts. Physical presence and aggression have long been regarded as a given in a Hughes team, which will make the manner in which they were swept aside by inventive, bold Southampton even more alarming.
The difference could not have been more stark: one manager advancing onto the pitch at the final whistle to take acclaim for a wonderful display of attacking football, the other swiftly down the tunnel with derision ringing in his ears.
QPR's porous defence, disorganised midfield and ill-served attack - and you could go on even more about their deficiencies - represented an open invitation to Southampton. They did not pass it up.
Hughes claimed on the morning of this debacle - and that was what it was - that every club he has managed has been in a stronger position when he left than when he arrived. It is a claim he would struggle to substantiate should he meet a swift end at QPR.
He will hope Fernandes sticks to his word on stability because Hughes himself, let alone QPR and Fernandes, cannot afford to have this failure on his record. He left Fulham at the end of his contract in June 2011, clearly feeling he had bigger fish to fry. It is a decision that has yet to be vindicated.
Hughes, perfectly understandably, jealously guards a reputation forged in football's great arenas, but it is taking a hefty battering.
These will be defining days for Hughes, Fernandes and QPR. It will no doubt be embarrassing for Fernandes should he go back on his many public pronouncements and there is little question his instinct is to stick with the man he believed could make his dreams become reality.
He must weigh those factors up against whether he really believes Hughes is making progress. It is a responsibility that will weigh heavily on him in the coming hours. Fernandes also prides himself on being in touch with the mood of the fanbase and they let him know in very vocal terms that the mood was black as they drifted into the west London night on Saturday.
When Hughes left Fulham abruptly, it was time to prove he could establish a managerial model and stick with it after a somewhat nomadic existence since moving into the dugout. His trusted advisor Kia Joorabchian stated on departure: "He wants to go to a club where he can fight for titles and win championships."
He has rarely looked further away from such lofty ambitions than he did at Loftus Road on Saturday. Yes, he in a fight - but it is for his very survival.