How Kevin Blackwell's trash talking shook up his Bury squad
Last updated on .From the section Football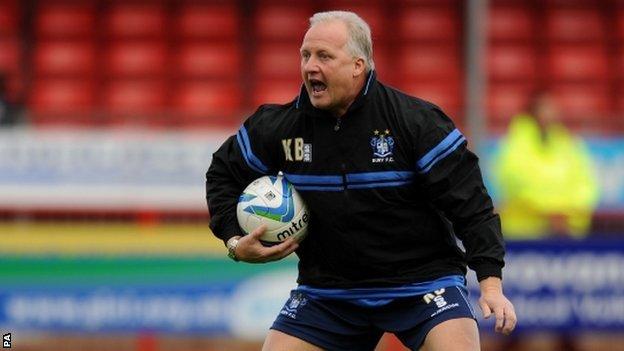 On the face of it, calling your players "garbage" in a news conference only days into your new job does not sound like the brightest move by any manager.
But Bury boss Kevin Blackwell knew exactly what he was doing when he threatened to bin off his squad at the end of September, after taking charge with the Shakers winless and rock bottom of League One.
"I was quite critical of quite a few of the players after we lost my first home game to Swindon and some people told me I was being a bit harsh," Blackwell told BBC Sport. "I just said 'look, I'm trying to find out who will sink and who will swim'.
"I had never come down as heavy before, but I had to look at the situation I found the club in.
"It wasn't a rash comment after a game. We were already seven points adrift of safety, had not kept a clean sheet and were shipping more than two goals a game. Everything that could have been wrong was wrong, so there was no good pussyfooting around.
"I needed a response and quickly because I knew that otherwise we would have no chance of catching up. Normally I would have put my arms around the players and tried to build something, but I didn't have time for that. I had to do what I thought would be the quickest thing to make a difference.
"Also, I didn't say they were total garbage, I just said some of the signings were garbage and I didn't mention any names. I wanted all the players to question whether I was talking about them, and to show me I was wrong."
Fast-forward seven weeks and they have done exactly that. With the Lancashire side on the back of a run of four wins from their last five games, nobody would suggest that Blackwell's idea was a rubbish one.
And it is appropriate that the Gigg Lane side are reaping the rewards, because it was a qualification that the 53-year-old picked up during his first stint with the club 13 years ago that has helped to motivate their recent revival.
Blackwell was a forward-thinking goalkeeper coach under Neil Warnock when he began a diploma in sports psychology at Newcastle University in 1999.
"I did it to understand why players are good one week and terrible the next," Blackwell explained. "I thought it would help me when I became a manager and it opened my eyes to the power of the mind. Unless you are strong mentally, it does not matter how big, strong or quick you are as a player."
That diploma was only the start of Blackwell's footballing education - he went on to be Warnock's assistant and to manage Leeds, Luton and Sheffield United in his own right but also holds Warwick University's Certificate in Applied Football Management, and has spent his time between full-time football jobs travelling the world coaching and visiting clubs to learn new techniques.
His mantra of leaving no stone unturned has also seen him visit blue-chip companies to speak to executives about their operational methods and, for his successful Bury interview, he compiled a double presentation detailing where the club was at, and where it should be, in areas as diverse as scouting, recruitment and IT.
He is already improving the Shakers' training facilities but he has learned the hard way that he might not be at the club long enough to carry out all the plans he has put in place.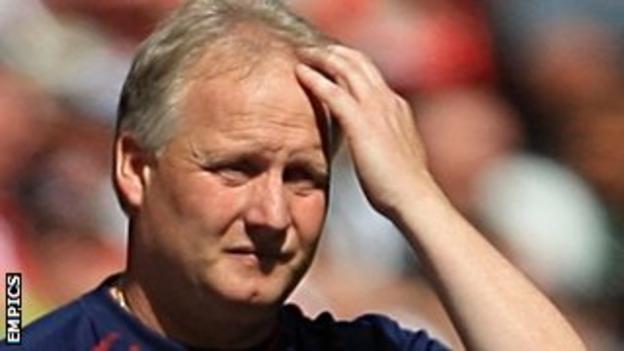 "I think everyone recognises that I put together teams that are very well organised," Blackwell added. "But, wherever I have been manager before, I have had to deal with clubs who are on their backsides, losing players and money too.
"I know that on average a manager has a tenure of between nine and 14 months and often they are sacked before they can think about a long-term plan.
"I want to keep putting things in place that will be here for 15 or 20 years but, in the short term I need to get us to safety so I am in a better position to build. You have to do that in bite-size chunks, one bit at a time."
Blackwell might be forgiven for wondering what he is doing at the foot of League One in the first place. Twice as a manager he has been one game away from the Premier League, losing Championship play-off finals with Leeds in 2006 and the Blades in 2009.
"I said before my last one that losing those games is bad for your managerial health, and I was right," Blackwell said.
"On both occasions it came down to one game but I had finished third on each occasion. It does rankle with me because I feel I could be managing in the Premier League now - I could have been there six years ago and who knows what could have happened, I might be at Real Madrid now.
Blackwell's last comment is made with his tongue in his cheek but it is clear his background in psychology is not just useful for inspiring his players - he also benefits from the power of positive thinking and believes he is capable of maintaining the upturn in Bury's fortunes.
"I have had plenty of frustration as a manager but I have never doubted myself," he said.
"How can I? If I had a set of results that left me down the bottom and in relegation trouble then you could say I failed but no-one can accuse me of that.
"I have got a 44% win-rate over 300-odd games as a manager. I think can manage and I think I have proven that. Arguably keeping Bury in this division is my biggest challenge and people told me I had no chance when I took the job.
"I was told it was a thankless task but nobody is saying that now."
BBC Sport will be taking a closer look at stories from outside the Premier League before every weekend league programme in our Football League Friday features.