Margate's main sponsors Construct Stadia liquidated
Last updated on .From the section Football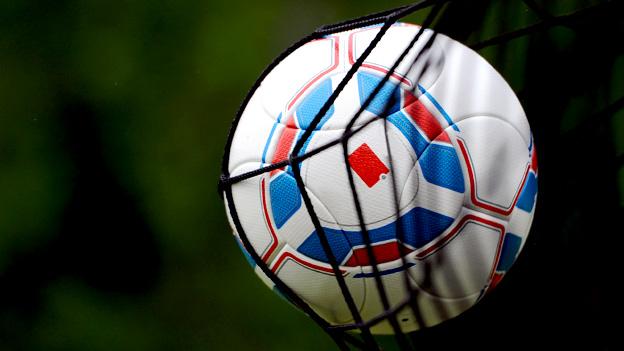 Margate Football Club have been dealt a major financial blow after their main sponsors Construct Stadia were forced to enter liquidation.
The Ryman Premier League side will not receive any of the sponsorship package owed to them this season.
"Short term it will have an implication," Margate chief executive Cliff Egan told BBC Radio Kent.
"It's probably the loss of a quarter of our commercial income. The board are working hard to try and plug that gap."
He added: "We're between a rock and a hard place at the moment. We're not sure which way to go.
"We can either offer somebody half a season, or offer half a season and next season which may mean we'll have to put back people we're already talking to.
"It's not the best situation."
Margate's Community Programme sponsor Palm Bay Garage has also entered administration, forcing the club to return their community vehicle as part of the deal.
With Margate third in the league, just a point behind leaders Hampton and Richmond Borough, Egan is trying to remain positive.
"The only process we will go through is to try and find somebody to replace Construct Stadia," he said.
"In the short term that will affect the club but I don't want to get too down about the whole thing.
"The club is in a good position. We turned a profit last year and in the last three to four years. We've worked hard to get the club financially right."