Outstanding Steven Gerrard deserving of 100-cap milestone

By Phil McNulty
Chief football writer, BBC Sport
Last updated on .From the section Football593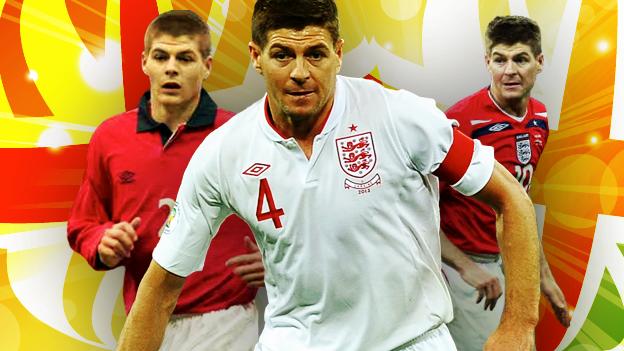 Steven Gerrard will swell the ranks of an elite and illustrious group when he wins his 100th England cap in Stockholm's Friends Arena on Wednesday.
Gerrard is set to wear the captain's armband in the friendly against Sweden as he joins Billy Wright, Bobby Charlton, Bobby Moore, Peter Shilton and David Beckham as only the sixth England player to reach a century for his country.
The 32-year-old has been Liverpool's inspiration over more than 600 appearances - and while his successes for his only club have never come close to being replicated with England, Gerrard can be justifiably proud of reaching this rare landmark.
Gerrard travels to Stockholm as the only member of England's so-called "Golden Generation" - a title tarnished by the passage of time and persistent under-achievement - guiding the new young breed such as Arsenal's Jack Wilshere, Manchester United midfield man Tom Cleverley, teenage Liverpool team-mate Raheem Sterling and Crystal Palace's emerging tyro Wilfried Zaha.
It will be a special moment for Gerrard, not only to be hitting 100 caps but also doing it as Roy Hodgson's England captain, an honour he holds permanently after standing on the sidelines throughout the musical chairs and subsequent turbulence that accompanied former coach Fabio Capello's switches between Rio Ferdinand and John Terry.
England boss Hodgson, who managed Gerrard briefly at Liverpool, has a respect for the player that runs so deep he regards it as an honour to be the manager awarding him his 100th cap.
Hodgson said: "Anybody who gets 100 caps for his country has got to be one hell of a player. During those 100 caps there will be times when he wakes up after a game to the headline 'Mr Fantastic' and there will be times when he wakes up to headlines 'You Let Us Down'.
"That's the nature of the business but during his captaincy at Euro 2012 and since he has been excellent on and off the field. He is an outstanding, mature thinking football man. I'm delighted I'm the manager when he gets that 100th cap.
"What makes him a good captain is his ability, which gives him enormous respect in the group. What gives him a heads-up over a lot of people is his maturity, his total dedication to football and the fact that he's prepared to give his time to other young players, to champion their cause and speak to them."
Gerrard can reflect on an England career that has never carried less than 100% commitment, despite some outside observers wrongly casting doubt on his passion for the cause.
It has not brought him the satisfaction of a major honour and his 65% win ratio is probably the sort of mark this perfectionist and self-analysing individual would give his 100 caps if asked for an overall examination mark.
He has Champions League, Uefa Cup, FA Cup and League Cup medals to decorate his Liverpool career, but as an England player it is likely that becoming one of a select group to earn 100 caps will be his major achievement.
In a hotel in downtown Chisinau before England's recent World Cup qualifying win in Moldova, Gerrard revealed he still harbours hopes of the "miracle" of winning the 2014 tournament in Brazil. The incentive remains despite the disappointments.
He is not a flag-waving or cheer-leading captain but the hunger for England success is still there for a man who is popular and highly-respected by all within England's camp.
In his 7,604 minutes on the pitch as an England player since being given his debut by Kevin Keegan against Ukraine in May 2000, Gerrard has filled every midfield role and even deputised at right-back, where he was used by Liverpool before becoming the club's central figure and inspiration.
Such milestones make this a time for reflection and Gerrard has endured lows to go with his highs. A groin injury forced him to miss the 2002 World Cup in Japan and South Korea - a bitter blow as his England career highlight was his goalscoring role in the memorable 5-1 win against Germany in Munich in a qualifier for that tournament.
The great missed opportunity at international level for Gerrard and his generation came at Euro 2004 in Portugal. Inspired by a teenage Wayne Rooney, England were as good as any team in the competition only to lose unluckily to Portugal on penalties in the quarter-final of a tournament eventually won by Greece.
Gerrard's own summer was overshadowed by then Chelsea manager Jose Mourinho's intense pursuit of his services, which acted as a distraction. It would have paired him with England contemporary Frank Lampard at club level and might have solved the still unanswered question about whether this lavishly-talented and consumately professional duo could form an effective midfield partnership.
Even his eventual installation as captain was delayed too long in the opinion of many, including this observer. Capello's belief that Gerrard was too timid for captaincy was another of the Italian's misjudgements.
Gerrard is a quiet, introspective figure away from the field, which may come as a surprise to those who have watched him drag teams behind him almost single-handedly on occasion - but this should never be mistaken for timidity.
He was one of the few successes of England's abject World Cup campaign in South Africa in 2010, doing a fine job on and off the field after taking over the captaincy following Ferdinand's knee injury.
Gerrard should have been given the armband permanently then and certainly after more success in the Euro 2012 qualifiers against Bulgaria and Switzerland in September 2010. Instead it went back to Ferdinand before he was unceremoniously removed for the reinstatement of the previously sacked Terry the following March - a decision that eventually led to Capello's resignation.
Subsequently Gerrard was a victim of a bizarre episode, even by England standards, when caretaker manager Stuart Pearce overlooked him for the captaincy in favour of Tottenham's Scott Parker for the Wembley friendly against the Netherlands in February.
He kept his counsel and regained the post from Hodgson. Gerrard now has the job and barring injury or dramatic loss of form will keep it through until Rio in 2014. Testimony to his enduring quality came when he was England's only player included in Uefa's "best of Euro 2012" squad.
Gerard Houllier, his former Liverpool manager and the man who gave him the club captaincy in 2003, has no doubts about his qualities, saying: "He is a winner and still has this urge to drive the team on. He leads by example, giving a lot of himself to the team.
"He likes responsibility. He likes it when people trust him and this enables him to be even better."
There are still some who question Gerrard's worth and contribution to England over more than a decade, whether the fires for success with country rage as intensely as those that burn for his club.
If he actually felt this was worth an answer, Gerrard can point to 100 England caps as his most eloquent response - a remarkable feat by an outstanding player.