Roberto Mancini: Manchester City manager's record in Europe
Last updated on .From the section Football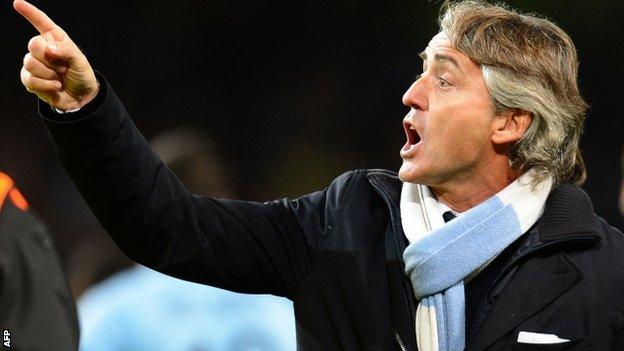 Manchester City manager Roberto Mancini's record in Europe has come under scrutiny as he faces another early Champions League exit.
Despite a career littered with domestic success, the Italian has never guided a side beyond the competition's quarter-finals in six previous attempts - with City and Italian clubs Lazio and Inter Milan.
Here we look at Mancini's managerial record in Europe and analyse what has gone wrong.
Mancini in Champions League
Mancini conceded City's Champions League ambitions were effectively "finished" after a 2-2 home draw with Ajax on Tuesday.
City have two points from four matches and must win their two remaining games against Borussia Dortmund and Real Madrid to have any hope of going through.
If they fail to qualify, it would be the third time Mancini has managed a side which has exited at the group stage. He has twice gone out in the last 16, and made it to the quarter-finals on two occasions.
How was he viewed in Italy?
Mancini guided Inter Milan to three successive league titles but could not take them beyond the last eight in Europe.
He did reach the semi-finals of the Uefa Cup with Lazio in 2003 before they were knocked out by Porto - then managed by Jose Mourinho - who went on to reach the final and beat Celtic.
While he suffered four consecutive exits in the early knockout stages with Inter, three were clouded in controversy.
The 2005 defeat by AC Milan was marred by crowd trouble with flares thrown on to the pitch by fans in the second leg. Although Inter were already 3-0 down on aggregate, the tie was abandoned and awarded to their arch-rivals.
In both of the following years, Inter were knocked out on away goals. Villarreal scored a dubious late goal in 2006 while an ugly brawl followed their 2007 exit in Valencia.
"There was a sense that something screwy always happened to mess him up and he did reach the Uefa Cup semi-finals with a not very good Lazio side," says Italian football expert Gabrielle Marcotti.
Two years after Mancini left, Inter won the Champions League under Mourinho.
"If you look at Mourinho's record in the Champions League at Inter, he actually got more stick initially because they were terrible in the group stages, but then things picked up," adds Marcotti.
"Mancini's football was more expansive, a passing game, while Mourinho brought more counter-attacking and long balls. Six of the guys who started for Mourinho in that final had been with Mancini, but the front four was entirely new.
"I would say Mancini was admired as a a manager in Italy but not someone who was universally adored."
What do Manchester City fans think?
Despite the prospect of a multi-million pound squad going out at the Champions League group stage for the second year running, many fans appear to be behind Mancini.
"He won the Premier League last year and the FA Cup the year before. We are not playing well, but we've had quite a few injuries," says Tommy Muir, secretary of the Cheadle branch of the Manchester City Supporters' Club.
"There's an over-reaction because of the result on Tuesday night. We are undefeated with six wins and four draws in the Premier League.
"There is a problem in Europe. We are not quite used to the way the opposition play - and if you give the best players in Europe a sniff, they will take the chance. We are attacking teams and they are just breaking away and scoring."
City have been transformed since a takeover by wealthy owner Sheikh Mansour four years ago. The FA Cup win in 2011 was their first trophy for 35 years, and they are in the Champions League for only the second time.
"People have got to live in the real world and think about where we've come from and how long success has taken other teams," adds Muir.
"We are only in the third year of being a massive club. It's a case of bedding in players who might not get on together straight away. It's a learning curve"
What can Mancini change?
City need to tighten up at the back and develop a mentality suited to getting results in Europe, says their former striker Darius Vassell.
"With the players they have, they should definitely be doing better. In Europe they don't have an identity at the moment," says the ex-England international.
"They need to have a base defensively, and be more secure at the back. Rather than the end-to-end stuff we are used to in the Premier League, maybe they need to shut up shop in Europe knowing they have got the players that are going to score goals.
"If it's 0-0 at half time and they have attacking players on the bench, they are going to have a chance against any team."
Is experience an issue?
Mancini has pointed to his side's lack of European experience, but while some English clubs have struggled in their first two Champions League seasons, others have thrived.
Manchester United, Newcastle and Arsenal failed to get past the group stages, but Chelsea and Liverpool made the last eight in their first season. Leeds reached the semi-finals at the first attempt, as did Chelsea in their second appearance.
"Manchester City are a bit inexperienced playing together in Europe and the mistakes they've made are things they have to learn from very quickly," says Vassell.
"This is a learning period for the players, the staff, the management team. They should on paper be doing a lot better than they have done."
City's current side does include Carlos Tevez, who lifted the Champions League with Manchester United in 2008, and Yaya Toure, a winner with Barcelona 12 months later.
Is Mancini's position under threat?
City recently appointed former Barcelona technical director Txiki Begiristain as their director of football, joining new chief executive Ferran Soriano, who was also at Barca.
It has prompted speculation linking the club with Pep Guardiola, who quit the Spanish side in June and is considering his next move.
"I don't think right now City believe there is a better option than Mancini before the end of the season," says Marcotti.
"Guardiola is the shadow hanging over everybody, but he might not make up his mind up until March or April at the earliest about what he's going to do - and there will be a lot of competition.
"The biggest mistake a club could make is to say 'We are going to wait for Pep.' You don't know what he wants to do, where he's going and it's not 100% that he will be better than what you already have."