Nigel Adkins has earned the chance to revive Southampton
Last updated on .From the section Football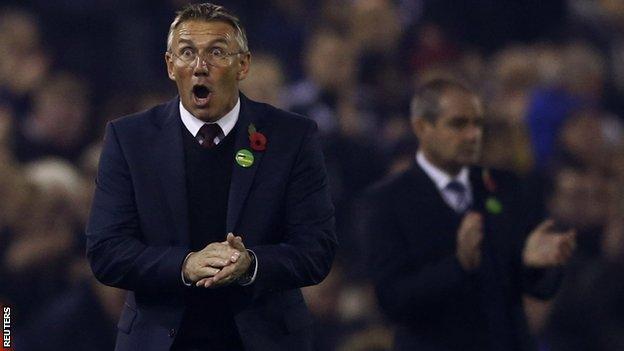 It was one of the more original and witty chants to ring around a football ground in many a year: "Who needs Mourinho, we've got our physio."
Nigel Adkins was the man who inspired it, having made the implausible leap from Scunthorpe physiotherapist to Scunthorpe manager.
These days the 47-year-old has his hands full massaging egos after a rise that has taken him from the Glanford Park treatment room to a Premier League manager's office at Southampton.
Despite successive promotions, taking Southampton from 22nd in League One to the Premier League in less than two years, the vultures are already circling over the top-flight's basement team.
After a seven-year absence, it has been a torrid start to life back in the top division for Southampton. The fixture computer was not kind in scheduling both Manchester clubs in the opening three games, but eight defeats in the first 10 league matches has led to a growing sense of unease in the boardroom.
After lengthy discussions on Tuesday, Adkins was backed to continue as Southampton manager but he has been left in no doubt by chairman Nicola Cortese that nothing less than Premier League survival will be enough.
Much will depend on the next two matches, at home to Swansea on Saturday and away to Queens Park Rangers a week later.
Former Southampton defender Francis Benali believes Adkins deserves more time.
"It hasn't been an easy time for Nigel," he told BBC Sport. "But the success the club has enjoyed under him in the last few years has been incredible.
"This was always going to be an altogether bigger and tougher challenge and there is a lot of work to be done. I am sure Nigel would be the first to admit he has made mistakes this season but I would like to see him given more time."
Cortese is a demanding character. The Italian, who comes from a background of banking in Switzerland, recognised the potential of the club three years ago, when they were in administration, and conducted the deal to buy the club for Swiss billionaire Markus Liebherr. Liebherr died two years ago but Cortese retains a fierce desire to keep alive the dream of making Southampton one of England's top clubs.
Adkins is the man tasked with realising that dream and must do it with the vibrant, young team that Cortese craves. It is the biggest challenge of the former Scunthorpe manager's career, having first won promotion as an 18-year-old boss of Renbad Rovers (the name of the team's founder spelled backwards) in the 1980s.
The former Liverpool trainee goalkeeper took Renbad from the Birkenhead Sunday League fifth division through the fourth, third, second, first and premier divisions. Back then, he wrote the programme (a piece of A4 paper folded in half), drove the minibus and even helped clear dog mess from the pitch before some games.
He achieved further success as a manager with Bangor, winning the Welsh League for two of only three times in their history, but a degree course in physiotherapy at Salford University signalled a change of direction and led to a job in Scunthorpe's backroom team.
A full decade followed as the team physio at Scunthorpe before Adkins was handed the manager's job when Brian Laws left for Sheffield Wednesday. He went on to win two promotions in four seasons before Southampton called.
Benali added: "It is a different challenge now for Nigel. For the past few years it has been very positive, good results and promotions. But in the same way that winning becomes a habit, losing is a habit too and that requires a big effort to turn it around.
"Southampton don't have a divine right to be in the Premier League but it is crucial that the club stay in the top flight, most notably for financial reasons."
Southampton supporters chanted relentlessly in favour of their manager at The Hawthorns on Monday, The back four was once again found wanting but no manager can alter that until the January transfer window.
For those looking for positives, Adkins has moulded Southampton into a young, progressive and largely home-grown side that has scored more goals than Liverpool and only one fewer than Arsenal. That and they have played six of the league's current top seven and only one of the bottom seven.
Cortese is close to his manager, he trusts him and likes him. Long-term thinking is key to his outlook but with the winter closing in and points at a premium, chairmen have historically become nervous as the first payment of Premier League broadcast money lands in the accounts and they realise what they can't live without.
Adkins, who has a diploma in psychology as well as a degree in physiotherapy, is a deep thinker and a prolific reader. He will have thought long and hard about his future. But what has prompted Cortese to grant him more time is that Southampton are in the Premier League largely because of Adkins.
Now he must show he has the potential to grow in stature as his young team find their feet in the top-flight.