Mark Clattenburg complaint takes Chelsea's focus away from pitch

By Dan Roan
BBC sports news correspondent
Last updated on .From the section Football640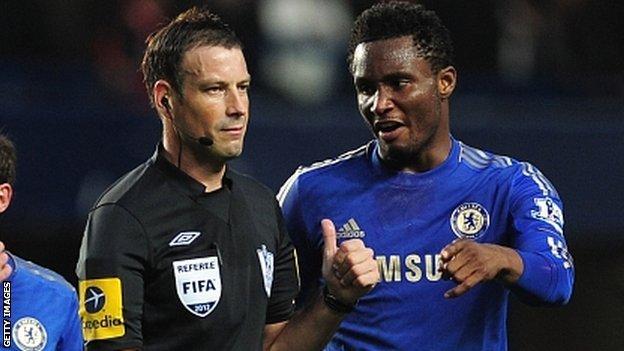 Chelsea have much more to contend with this week than simply matches against Shakhtar Donetsk and Liverpool.
Players, coaching staff and administrators from the London club will also face visits from both Football Association and Metropolitan Police investigators as the two organisations probe what was or was not said by referee Mark Clattenburg at Stamford Bridge on 28 October.
Those discussions will decide whether Clattenburg should be charged after complaints he used towards Chelsea's Nigeria international midfielder John Mikel Obi.
With the FA under pressure to avoid the extended, drawn-out nature of the John Terry racism controversy, the intention is that the very final witness interview to be conducted - Clattenburg's - will take place at the end of this week or the beginning of next.
Having spent Monday in talks with his employers, the Professional Game Match Officials (PGMO), about a possible return to refereeing this weekend, Clattenburg was described to me by someone close to him as "sanguine" about the joint decision to
My understanding is that the official intends to return to action the following weekend, even if he is charged.
Given the apparent lack of video evidence and reliance on witness statements, a criminal charge is regarded by those supporting him as very unlikely but the possibility of an FA charge is harder to predict.
Newcastle-based Clattenburg, who refereed his first Football League match as a 25-year-old in 2000, has two distinct careers on the line:
His refereeing, culminating in his dream of officiating at the 2014 World Cup in Brazil.

His ambition to become a lawyer, for which he has been studying part-time since 2008, when he was suspended by the PGMO following allegations concerning business debts.
But there is much at stake for Chelsea this week, too.
The backlash against the club will only intensify if no charges are brought against Clattenburg. The PGMO has even been forced to deny rumours that referees will boycott future Chelsea games as a mark of solidarity with their colleague.
Remember what happened the last time the club helped the authorities with an inquiry, following allegations their captain had racially insulted an opponent during a game.
Having found Terry guilty of abusing QPR defender Anton Ferdinand, the damning findings of an independent regulatory commission were that his defence had "no credible basis", with his evidence described as "improbable, implausible and contrived".
Then Chelsea were forced to defend their secretary, David Barnard, after his version of events was described by the same commission as "materially defective" due to his role in the "evolution" of left-back Ashley Cole's evidence to the FA.
This time Chelsea are the accuser rather than the accused but the answers they give to the questions they are asked this week will be under intense scrutiny.
Their conduct during the Terry crisis is irrelevant in the eyes of the law and will be quite rightly disregarded by both the FA and police when examining the Clattenburg case.
But it helps explain why the club has come under such fierce attack within the game and beyond for pursuing a course of action which, when viewed objectively, they had little choice over.
The club received a complaint from a player, with reports naming him as Brazil midfielder Ramires. After that, it was duty-bound to inform the match delegate and then, after a more thorough investigation, the FA through a formal complaint.
Given the pressure football is under right now from Government to apply zero-tolerance to any suspicion of racial discrimination, it is fascinating that Chelsea's decision to proceed - and to be open about the nature of the case after a thorough internal inquiry headed up by a lawyer from the Queen's Counsel - has been met with such distrust and disdain.
However, once again, it is down to context. Many view Chelsea's complaint not in isolation, but in the aftermath of a bitter defeat to United that night. The dissent and fury directed at Clattenburg before the final whistle leads some to suspect that the subsequent complaint would never have happened if the result had been different. That, remarkable as it may sound, it was the ultimate form of sour grapes.
There is also the context of previous fall-outs between Chelsea and referees. In 2005, Uefa called then-manager Jose Mourinho "the enemy of football" after he criticised Swedish referee Anders Frisk following a Champions League tie. Frisk later retired after receiving death threats.
In 2006, Chelsea accused Graham Poll of saying the club "needed to be taught a lesson" when he gave them six yellow cards in a match against Tottenham. Terry was later charged and fined with improper conduct over the allegations.
But it must make some anti-racism campaigners despair that the club's complaint is viewed with such scepticism - and that many want Chelsea punished if charges are not brought. Ultimately, Chelsea were well within their rights to make an allegation if a player was convinced he'd witnessed something untoward.
Their problem is what had come before, both in the months and minutes leading up to that moment.