Talking tactics: Where Arsenal went wrong at Manchester United
Last updated on .From the section Football

In his new BBC Sport column on football tactics, Robbie Savage takes a closer look at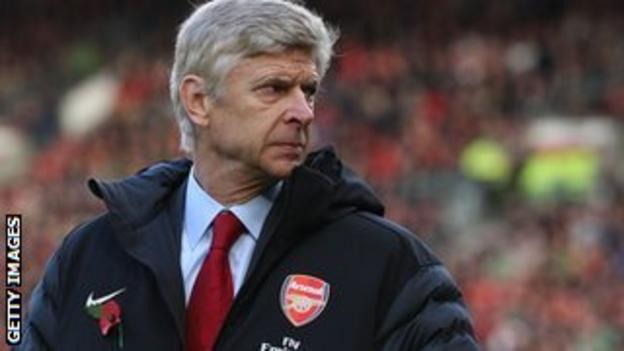 Defensive errors proved costly for the Gunners at Old Trafford on Saturday but that should not mask the fact that their attacking display was the most inept I can remember from an Arsenal team.
Arsene Wenger saw his side's limitations horribly exposed, and things were made worse by his tactics and team selection.
But the answers to some of Wenger's problems in attack and defence could still lie within his current squad, if he picks players who are more suited to his formation.
Wrong players in the wrong formation
When I went to Old Trafford as a player, whether it was with Leicester, Birmingham or Blackburn, we always set ourselves up to try to stop United.
In training matches where we prepared for the game, and the onslaught we would face, we would sometimes play with eight outfield players against 12 or 13 on the other team.
We would be in two banks of four, and they would try to score. We sometimes went 40 or 50 minutes without conceding a goal because, if you are strong in your shape, then you are hard to break down.
Arsenal were the complete opposite on Saturday. The main reason for that was their formation. It just did not suit the team that Wenger picked.
It is bad enough putting square pegs in round holes but even worse when it plays to the strengths of the opposition, which is what Arsenal did against United.
The Gunners lined up in a 4-2-3-1 shape but that often turned into a 4-3-3 with Santi Cazorla dropping deep alongside Mikel Arteta and Jack Wilshere and, in front of them, Aaron Ramsey and Lukas Podolski either side of Olivier Giroud.
I knew as soon as I saw United's teamsheet that they would come forward down the flanks, particularly the right. They always do if Antonio Valencia is playing, so Wenger knew what to expect.
But, from the start, Andre Santos and Podolski looked totally exposed down Arsenal's left and the decision to combine them there was shown to be a big mistake after less than three minutes.
Thomas Vermaelen has been blamed for United's first goal for his hashed clearance but there were plenty of opportunities before then to stop the move.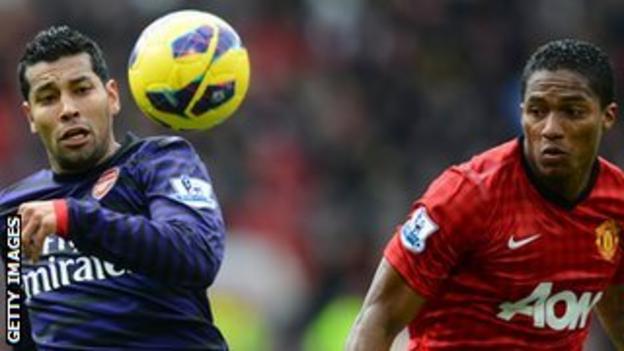 I remember one of my old managers, Mark Hughes, telling us that goals come from consecutive errors - you won't ever eradicate isolated mistakes but you have to ensure you don't keep making them in a row.
Hughes would call us in for ProZone analysis after games where we looked at videos of when we had conceded and it would be a case of 'error, error, error - goal'. That was the case if you look at United's first goal on Saturday.
The first error came when Giroud let Rio Ferdinand get past him too easily.
Then, from Ferdinand's clipped pass, Santos got his positioning wrong when he was unsure whether to close down Valencia near the halfway line and, because Arteta and Podolski had not tracked back down that left flank, Rafael was able to run on to Valencia's flick.
Yes, Vermaelen had a shocker to give the ball straight to Robin van Persie but the goal could be traced back two or three stages in play, and goals like that can be stopped.
Arsenal's attacks end in cul-de-sacs
United did not get a second goal until midway through the second half but they looked completely comfortable throughout. Arsenal had nothing to offer at all.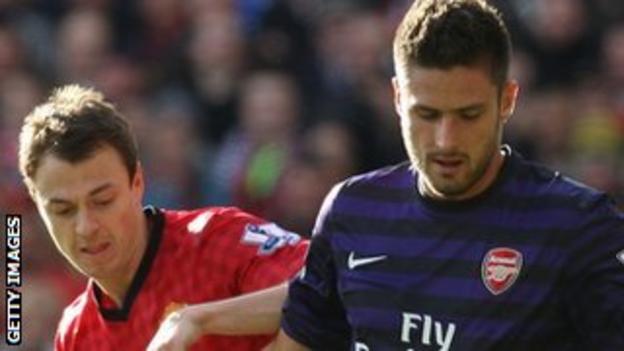 For me, the main reason for that is that when you play 4-2-3-1 or 4-3-3, as Arsenal did, you need your wide-men in midfield and defence to be attack-minded.
The best example I can think of was when I was at the Bernabeu to see Real Madrid, with their winger Cristiano Ronaldo and full-back Marcelo coming forward down their left, beat Manchester City in September.
But at Old Trafford, apart from a couple of occasions in the second half, Santos was scared stiff to come forward down the left and Sagna was also cautious on the other side of the field because he had Ashley Young to deal with.
So there was no overlapping going on when the likes of Podolski and Ramsey got the ball. In addition, that duo and Cazorla were never going to run beyond Giroud.
With their formation, Arsenal needed to get the ball up to Giroud, so he can lay it off and then get in the box to get on the end of a cross.
That did not happen and Giroud was never going to run in behind defenders himself either, even though his movement is decent.
So, whenever Arsenal played the ball up to him, they had nowhere to go, apart from backwards.
Pace would bring more penetration
The biggest difference between this Arsenal team and the ones I used to face in the Premier League is pace, or lack of it.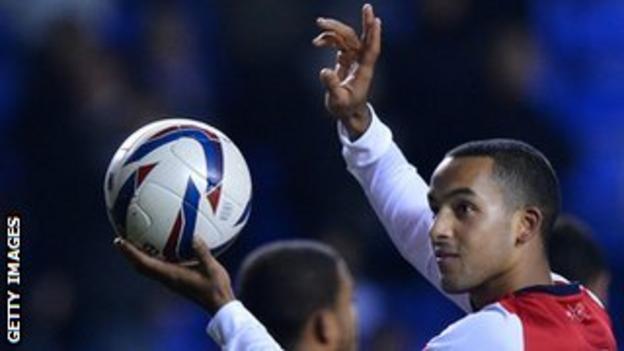 I still look at the side they had in the late 1990s with the likes of Marc Overmars, Dennis Bergkamp, Emmanuel Petit, Patrick Vieira and Nicolas Anelka as the best team I ever played against.
They would keep the ball and keep the ball but then absolutely kill you with the pace they had in the last third of the pitch.
On Saturday, they showed they can still keep the ball but there was nothing else. No pace, no incisive passing. Nothing.
That made Wenger leaving Theo Walcott out of his starting line-up even harder to understand, especially because Ramsey is not a natural right-sided midfielder.
Walcott's pace would have stretched United, and given Giroud somebody to link up with.
But I would have played Walcott as a central striker, especially after his hat-trick in midweek against Reading, because of how Ferdinand and Evans have struggled against pace this season.
If they had been fit, Kieran Gibbs and Alex Oxlade-Chamberlain would also have made a difference down the left against United.
Without them, Wenger did not have players who suited his formation and he definitely did not have a team who looked like being title contenders anytime soon.