Arsenal v Man Utd: Concerns remain despite tighter Gunners
Last updated on .From the section Football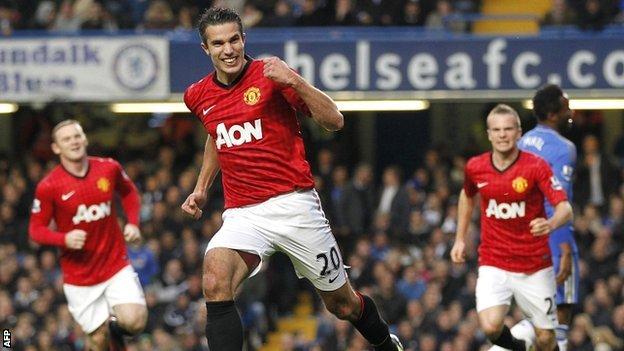 Fresh from an incredible 7-5 victory over Reading, Arsenal return on Saturday to the scene of last season's 8-2 mauling by Manchester United.
Both scorelines would have given former Gunners boss George Graham nightmares and you suspect they will hardly have impressed current coach Steve Bould either - one of the grittiest members of Graham's famously stubborn Arsenal back four in the late eighties, early nineties era.
The 49-year-old former Stoke, Gunners and Sunderland centre-half Bould was brought into manager Arsene Wenger's set-up to improve a defence which was too porous last season.
Arsenal go into the game at United with the tightest defence in the league, letting in just six goals in nine Premier League games, compared with 18 at the same point last season.
They have conceded far fewer shots on goal and the number of tackles they have made has significantly increased too.
Paul Davis, who also played under Graham and chalked up 447 appearances for the Gunners, thinks the defence has gelled as centre-back Per Mertesacker continues to acclimatise to English football and the consistency of right-back Carl Jenkinson improves, although the returning Bacary Sagna is likely to feature on Saturday.
Then there is Bould's influence. Davis, a midfielder who enjoyed a 17-year career at the club, has seen a better shape to the back four and thinks it will improve as the former academy manager increases his authority as assistant manager.
"Steve will have brought some of his experiences with George [Graham] to the current team," Davis told BBC Sport. "Almost every day we did something defensive. It was repetitive and boring, but if it gets results you go with it and you can see the reasoning behind it.
"What was interesting for me is that we have seen Arsenal do zonal marking at set-pieces this season and that's something George never did. So Steve has developed his own ideas. He knows the game and he's learning all the time.
"He's still relatively young working at this level, so he's probably still finding his way to talk to players because he's been working with younger players up until this point and it's a different game altogether.
"It's not as easy as people think; the team is full of internationals, and you have to prove to them you know what you're doing."
However, had the fixture come around sooner, Gunners fans might have approached it with more confidence as recent form has slipped after defeats by Norwich and Schalke.
They conceded just two goals in their first five games, which included a 2-0 victory at Liverpool and a 1-1 draw at champions Manchester City. But then Chelsea exposed flaws in the defence at the Emirates, winning 2-1, and although a win at West Ham restored belief, the picture since the international break has been more worrying.
On Saturday they also face former striker Robin van Persie, who has scored nine goals this season in an ultra-attacking United team, and will be one of the threats Arsenal face at Old Trafford.
One of Van Persie's more impressive traits since moving to Old Trafford has been his link-up play with Wayne Rooney.
Both men are inclined to drop deeper into space to receive the ball, with the Dutchman also adept at drifting into the inside left position. When Van Persie does so, it is Rooney who is often waiting to get on the end of his deliveries.
On the right-hand side, meanwhile, Antonio Valencia has set up Van Persie for goals in his last two league games and will be relishing the prospect of facing Santos, who Davis sees as a "weakness" in the Gunners defence.
Davis says Arsenal need to become a more balanced team in order to provide support for each other in key areas like these.
And while the return of Jack Wilshere to the Arsenal midfield could help free the attack-minded Spaniard Santi Cazorla, the England international's ability to provide cover for the back four could be more crucial against United's multi-faceted forward line.
"I feel you do need at least one defending type of midfielder to protect the back players and we haven't really got that in the Arsenal midfield," Davis added.
"Wilshere is quite a forward-thinking player and I know Mikel Arteta is sat in front of the back four and dictating the play, but he's not known for his defensive skills. Those things matter over the course of the season.
"There has been some improvement but maybe we need some new personnel in there to be a more solid unit. Chelsea, for example, have the likes of Ramires and John Mikel Obi, and [Arsenal midfielder] Abou Diaby has been a big miss since he was injured."
But as Wenger has alluded to, there are also concerns in the creative engine room as opposition teams look to block one of Arsenal's main supply lines.
"Arsenal's good form this season has coincided with Cazorla being in command of games," Davis said.
"But Chelsea, particularly, played well against him, and I think they managed to stifle him. Schalke did too. If he isn't ticking, the team hasn't been attacking that well."
Addressing those areas of concern will be crucial to Arsenal getting a positive result at Old Trafford and help erase the memories from last season.