Matt Bloomfield column: Getting away to rehabilitate

By Matt Bloomfield
Wycombe Wanderers midfielder
Last updated on .From the section Football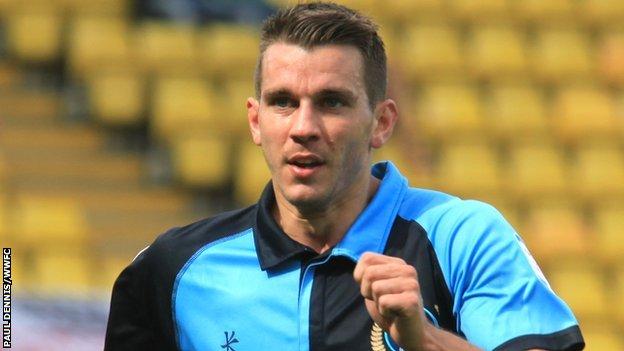 I have spent the past week up at Lilleshall National Sports Centre. I went up there to continue my recovery after suffering an adductor strain earlier in the season.
It's a three-night, four-day residential that is funded by the Professional Footballers' Association (PFA).
The idea is that you can have intensive treatment and rehabilitation.
Phil and Pauline, the physios, have been running the scheme for 26 years and have seen hundreds of footballers in that time and have come across most injuries that a footballer can suffer.
It is great to get another view on your injury and spend a week doing a slightly different rehabilitation programme.
I came up here twice during my recovery from an anterior cruciate ligament reconstruction four years ago and it really helped me physically and mentally. I thought that this was another good opportunity to spend some time here.
A big plus of the week away is to just refresh your mind and it brings a new impetus to your rehab. There is nothing worse than being injured when all you want to do is be out on the pitch with your team-mates fighting for three points on a Saturday afternoon.
Inevitably when you are going through the rehab process there will be good days and bad days, up days and down days.
The key is to try and stay level and not get too down when you are injured. It's something at 28 that I haven't quite yet mastered!
If anyone thinks it's a bit of a jolly and a good excuse to get away and chill out for a week then they are mistaken. The days are hard work and incorporate the usual gym rehab exercises, swimming at a local pool, weights programmes and the renowned nine-mile bike ride along the local roads (and hills!).
I spent my week with Darren Byfield (Telford), Craig Stanley and Ross Worner (both Aldershot), Michael Townsend (Hereford) and Manny Smith (Notts County).
They are all great lads and the good thing is that you are all there with the single goal of working hard to get fit. There isn't the usual distractions like the team outside the window training, so you can focus solely on improving your injury.
Every day is finished with a game and the losing team has to get in early the next morning for a forfeit, usually something like 2000m on the rowing machine.
It's just another way of heightening the camaraderie amongst the boys and adding a little enjoyment to the day.