Oxford United: Adam Chapman plays with burnt nipple
Last updated on .From the section Football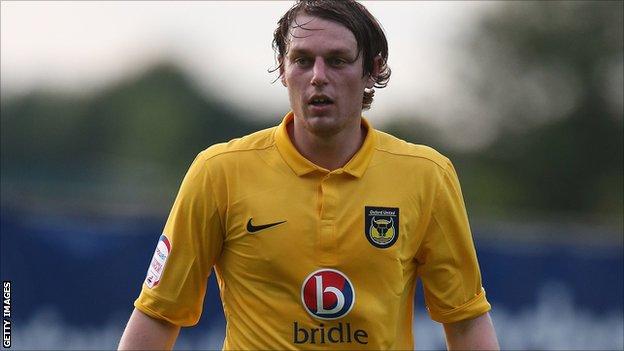 Oxford boss Chris Wilder has revealed how Adam Chapman played through the pain of a burnt nipple on Saturday following an eve-of-game accident.
Midfielder Chapman, 22, was forced to go to hospital on Friday night after pouring boiling milk over his chest.
But despite the unusual injury, Chapman managed to take his place in Saturday's side as Oxford beat Wycombe 3-1.
"It's ridiculous," Wilder told BBC Radio Oxford. "It is a new one for me, hopefully he'll be OK in the future."
Oxford have had their fair share of injuries this season, and Wilder admitted he could well do without players picking injuries up off the pitch.
But he did see the funny side of what was a quite painful incident for Chapman.
"I got out of bed early on Saturday like a good professional, making sure we're all alright for the game," he said.
"I picked up a text on my phone that got sent last night (Friday) from Andy Lord, our physio.
"Adam Chapman, like this good dad he is, was making his baby some milk and he managed to shake the bottle up and down, but he didn't put the lid back on properly.
"He burnt his chest and had to go to hospital for a check up.
"He's burnt all his nipple. It's an unusual injury, but he's managed to play the game. We talk about injuries and what I have to go through in this job."