QPR's resilience against Arsenal should give hope to Mark Hughes
Last updated on .From the section Football

In the first of a new weekly BBC Sport column on football tactics, Robbie Savage takes a closer look at Queens Park Rangers' 1-0 defeat by Arsenal on Saturday.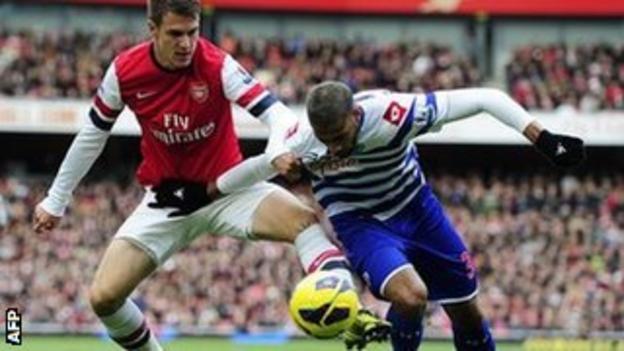 QPR are without a win this season and lie bottom of the Premier League, having conceded an average of two goals a game so far.
They were beaten again on Saturday, but only by a late Arsenal goal after Stephane Mbia was sent off.
Mark Hughes's side have been accused of being poor defensively but in fact their performance at the Emirates was quite the opposite - they were set up perfectly to stop the Gunners but were let down by a moment of madness.
And there were still enough signs to show there is no need to panic at Loftus Road, despite a poor start to the campaign.
Resilience that deserved a reward
QPR knew that, by starting without Theo Walcott or Alex Oxlade-Chamberlain, Arsenal did not have any natural attacking width.
Everything was going to come down the middle and they were ready for it. Hughes's game plan was to hold a defensive line on the edge of the 18-yard box and make Arsenal play in the areas where his side were strong.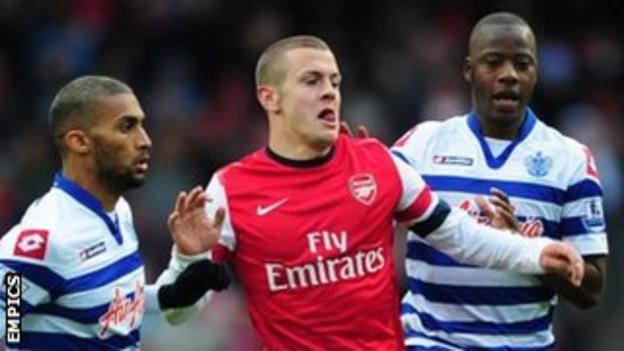 Samba Diakite was very solid in the centre of the QPR midfield but just as important was the support he got from his team-mates.
When I played for Hughes at Blackburn we had a decent record against a very strong Arsenal team. We beat them a couple of times and gave them some difficult games. The key to that was the way we tried to limit the opportunities their creative players had on the ball.
The way Hughes operates when his teams are defending is to use triggers, where you wait for the ball to get into a certain area and then react.
For example, at Rovers, as soon as Arsenal got over the halfway line, the centre-forward and central midfielders were expected to close the ball down, and the centre-backs pushed up to reduce the amount of space their creative players have to operate in.
Hughes would make it clear to us that we could not do it on our own. If I went to close Cesc Fabregas down and Tugay did not go with me, I would be out of the game because Arsenal would just pass around me.
So what Hughes will have said to his QPR players on Saturday is that they have to hunt for the ball in numbers.
When Diakite went to close down Santi Cazorla, Esteban Granero backed him up. Adel Taarabt and Shaun Wright-Phillips were working hard defensively and tracking back too.
Across the midfield they were saying to each other "show them inside" whenever Arsenal had the ball, because that is where all QPR's players were.
The likes of Cazorla, Jack Wilshere and Aaron Ramsey play intricate football but they are far less effective if you make the middle of the pitch congested, which is what QPR did.
It was working too, until Mbia's red card. After that, Rangers were not just down to 10 men, they were without a big tall centre-half in the middle of their defence, which was exactly the area they had been dominating.
By then, Arsenal had brought on Walcott and Andrey Arshavin because they had realised they needed width against a team that was so strong defensively in the central areas. Their goal came from an Arshavin cross.
Rangers rack up the red cards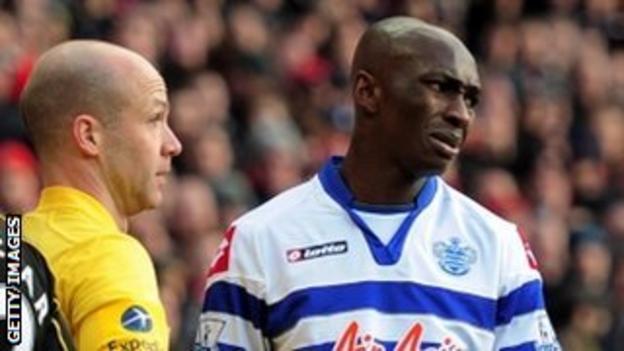 QPR have now had nine players sent off in 2012 but I don't think you can blame their manager for Mbia's ridiculous behaviour.
When I played for him, Hughes did not have a problem if people got sent off for a tackle but his reaction to red cards like Mbia's was always to come down on the player concerned like a tonne of bricks.
I understand what people are saying about QPR but individual idiotic moments like that do not mean the whole team is ill-disciplined. A manager just cannot legislate for a player to react like that.
Hughes certainly is not to blame. He would tell me to go out and make my mark in games but he would never encourage us to go and kick people off the park.
At Blackburn, we were a physical team but not a dirty one. We had a good work ethic and we played good football - and you could say exactly the same about QPR. We had skilful players like Tugay and David Bentley; they have the likes of Taarabt.
Why there is still hope for Hughes
QPR's home game against Reading on Sunday is a huge one but Hughes knows his side are playing well enough to win it.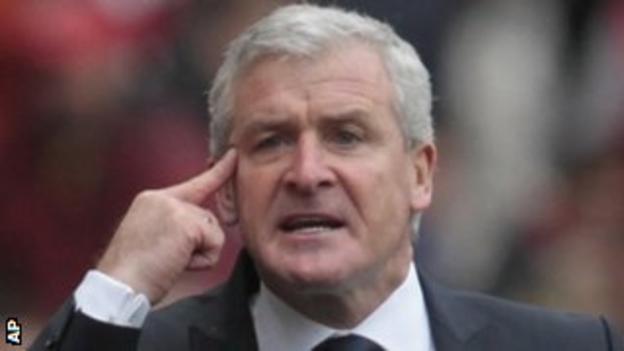 The difference in that game, as opposed to against Arsenal, is that the onus will be on Rangers to attack.
I would expect Hughes to set up his team the same way, with a variation on a 4-4-2 formation, but with the likes of Taarabt and Granero being asked to show more of their attacking qualities.
Bobby Zamora will not be so isolated up front either. Junior Hoilett played off him against Arsenal but whoever is the support striker will be further forward too.
People might look at QPR's results this season and think the worst but I am not worried when I watch them because they are not just defending well, they are playing good football and also creating chances. They managed a few on the counter-attack against Arsenal. The only thing that they did not get was the right result.
In football, you get out what you put in and their luck will change soon, I am sure of it.