Vincent Kompany & Eden Hazard lead the Belgium revolution
By Andy Brassell
European football expert
Last updated on .From the section Football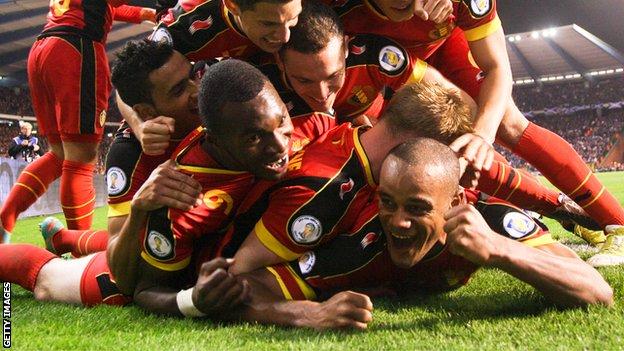 Ask any European football journalist which international team they have been asked about most over the last two years, and the answer will be unanimous. Belgium's current generation is capturing the imagination of football fans worldwide.
Now more than ever, the buzz around Belgium is building on British shores. With Eden Hazard, Jan Vertonghen and Kevin Mirallas joining established stars such as Vincent Kompany, Thomas Vermaelen and Marouane Fellaini, their stock has never been higher.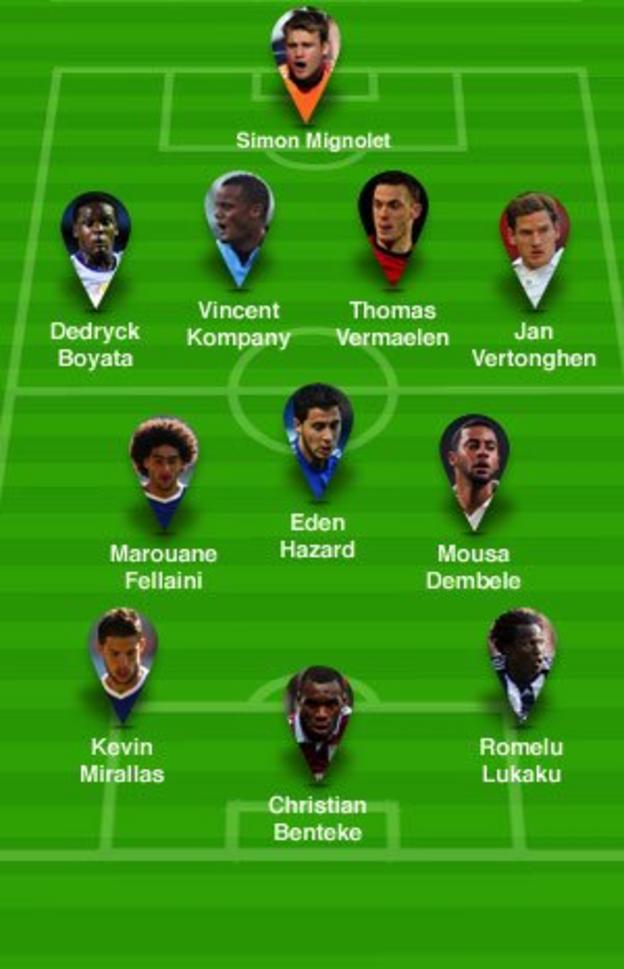 They are back in action of Wednesday when they play a friendly in Romania and are top of their World Cup qualifying group, level on points with Croatia and six clear of Serbia and Macedonia. Scotland and Wales are even further behind.
In total, Premier League clubs currently own an all-time high of 16 Belgian players between them. Their colonisation of England's top flight shows little sign of abating either.
The next batch of Belgian stars are already readying themselves to take on the Premier League. Chelsea appear to be the side which will benefit the most, with winger Kevin de Bruyne and goalkeeper Thibaut Courtois due at Stamford Bridge next summer.
De Bruyne is having a highly productive loan spell at Werder Bremen.
"Kevin's an exceptional player," enthused fellow Werder forward Marko Arnautovic after the Thomas Schaaf's side beat Borussia Moenchengladbach 4-0 in late October. "If he wants to, he can do absolutely anything on the pitch."
Their team-mate Eljero Elia was even more effusive. "He reminds me of someone playing football in the street," he said, "with a great technique with the ball at his feet - and he has physical power too."
Meanwhile, Courtois has been Atletico Madrid's undisputed first choice since originally arriving at the Estadio Vicente Calderon as a teenager last summer, having been loaned immediately after signing for Chelsea.
Now in his second season in the Spanish capital, the goalkeeper's performances have helped the perpetual underachievers into second place in La Liga, behind leaders Barcelona.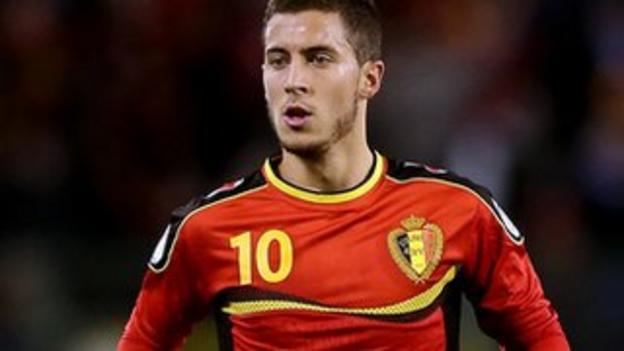 It is not surprising that Andre Villas-Boas had been rumoured to be keen on replacing Petr Cech with Courtois while in charge at Chelsea. A confident and engaging communicator, the 20-year-old regularly holds court with journalists in English and Spanish, as well as French and Flemish.
For now, the Belgian influence in England is strong enough. Nine of the eleven that started Belgium's World Cup qualifying victory in Serbia on 12 October were Premier League-attached.
The immediate impact of Hazard at Chelsea has brought home to English fans just how far Belgium could go in the years to come. That they share a World Cup qualifying group with Wales and Scotland will only accentuate that.
In the qualifiers, Belgium have shown strong signs of morphing from a collection of great players into a great team for the first time. The wins over Serbia and Scotland showed two distinct strings to their bow developing.
In Belgrade, they showed their attacking power with De Bruyne, Everton's Mirallas and Christian Benteke of Aston Villa all on the mark in an impressive 3-0 win. Against the Scots in Brussels, Marc Wilmots' side had to be more patient against resilient opposition before breaking them down - just as they had on their visit to Wales in September.
Whether the current crop is evidence of some sort of youth academy utopia is, however, open to question. Many of the current international side have grown up as footballers outside Belgium.
For example, Hazard went to France to join Lille's academy when he was 14, Mirallas joined the same club at 16 and Vertonghen was the same age when he joined Ajax's youth set-up.
As Belgium have failed to fulfil expectations in recent qualifying campaigns, some have suggested a disconnect exists between the national team and its foreign-based stars.
Hazard, whose younger brother Thorgan is currently on loan from Chelsea to Belgian side Zulte Waregem and enjoying a solid season, is a case in point. While he has dazzled with Lille after making his first-team debut at 16, his development at international level has been more stunted.
It took Hazard until his 19th international appearance to net his first goal for the Red Devils. His current international record stands at two goals in 33 appearances.
The mutual frustration between Hazard and previous coach Georges Leekens was clear. The player felt as if Leekens didn't know where best to use him, and the coach claimed that the youngster was undisciplined.
It came to a head when Hazard was substituted in the June 2011 match with Turkey. He was photographed eating a hamburger with his father Thierry outside the stadium with the game still in progress.
Leekens announced Hazard would receive a three-game suspension, though it was later revoked and he was recalled.
Any gulf between Hazard and his homeland doesn't exist from his perspective. He identifies himself a big Anderlecht fan and would never turn his back on Belgium.
A statement released by his management after Leekens punished him emphasised he "loves his country and the national team shirt far too much to ever give it up."
Under Wilmots, Hazard and his team-mates seem on a far more even keel. The growing stature of Belgium's more experienced players has helped to guide the youngsters.
Kompany's emergence as a leader of genuine substance has certainly helped. The team's reaction to his spectacular goal against Scotland showed just how cherished the captain is.
Everything appears to be in place for Belgium to flourish into a world power. Only a first qualification for a major championship since the 2002 World Cup will suffice.