Europa League: Anzhi Makhachkala's Russian revolution
By Sam Sheringham
BBC Sport
Last updated on .From the section Football

A recent television show on French channel M6 offered an insight into why little-known Russian club Anzhi Makhachkala is proving such a draw with some of the world's top players.
Entitled "the dream life of Samuel Eto'o", the programme followed the Cameroon striker and his architect as he sized up a potential new apartment in downtown Moscow.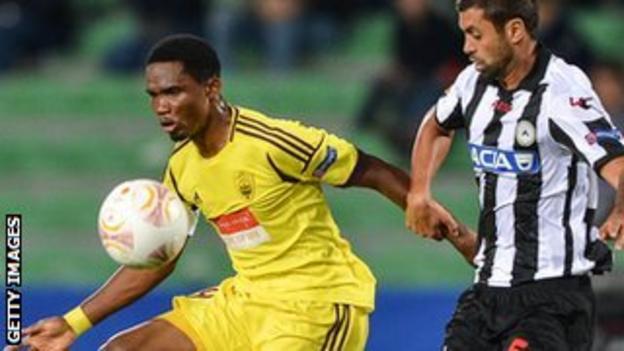 Eto'o, the highest paid player on the planet who is reported to be on £350,000 per week, nodded approvingly at the private lift, 360 degree views, sauna and swimming pool before baulking at the size of the wall-mounted television in his living room.
A brief exchange follows in which Eto'o makes it clear that he wants a screen at least three metres wide, prompting the documentary-makers to ask who will pay the bill. "I will, then the club will pay me back," is the player's matter-of-fact reply.
Last year's capture of former Barcelona and Inter Milan striker Eto'o, a three-time Champions League winner and still only 30 at the time, was the moment the world woke up to the revolution taking place in a region of southern Russia better known for poverty and violence.
Since they were taken over by local billionaire Suleiman Kerimov in January 2011, Anzhi have splashed out more than £110m to bring in the likes of former Brazil left-back Roberto Carlos - now the club's team director - ex-Chelsea full-back Yuri Zhirkov, former Arsenal and Real Madrid midfielder Lassana Diarra and ex-Blackburn defender Christopher Samba.
Under the astute management of veteran Dutch coach Guus Hiddink, the club, who were in the Russian second tier as recently as 2009, have climbed to the top of the Premier League after 12 games and are unbeaten in this season's Europa League going into Thursday evening's group game with Liverpool at Anfield.
Congolese defender Samba, who was linked with moves to Tottenham and Arsenal before plumping for the Russian side, rejects the idea that players are purely motivated to join the club for monetary gain.
"This is a very ambitious club and we have attracted a lot of players," Samba, 28, told BBC Sport. "This is not just about money - this is a proper sports project.
"People don't come here just to chill and win a pay cheque. We are putting in a shift on the pitch and at the moment it's working."
Founded in 1991, Anzhi had yo-yoed between the Russian first and second divisions before Kerimov's takeover.
The billionaire, who made his fortune from potash and gold, was granted control of the club by the president of Dagestan in exchange for a commitment to regenerate a region where violent clashes involving insurgents, criminal gangs and local police are a regular occurrence.
The volatility means players such as Eto'o and Samba live and train in Moscow before flying 1,250 miles to Dagestan for home games in their rickety 16,000-seat stadium in Makachkala.
"It's not a problem because the club puts you in the best conditions," says Samba. "It's a two-hour first-class flight.
"We are trying to improve the connection with the region by spending more time there and doing a little bit more with the population and the fans. This will come in time."
Igor Rabiner, author of several books on Russian football, says the Anzhi story is as much about football as it is about social change.
"Kerimov will take an active part in the building of a new city just outside Makhachkala, where the club will compete in a new 45,000-seat stadium," he says.
"They want to build artificial pitches all over the region and set up Anzhi academies for local kids. They want to change the image of the region."
Anzhi's meteoric rise has fostered resentment among their rivals. When they took on Dutch side AZ Alkmaar in the Lokomotiv Stadium in August, fans of Moscow clubs turned up in force to chant nationalist abuse at the Anzhi players and booed the Lokomotiv club president when she took her seat in the stands.
When Russia played Serbia last August at the same stadium, Zhirkov's every touch was booed by supporters resentful of his decision to spurn the Moscow clubs in favour of Anzhi's advances.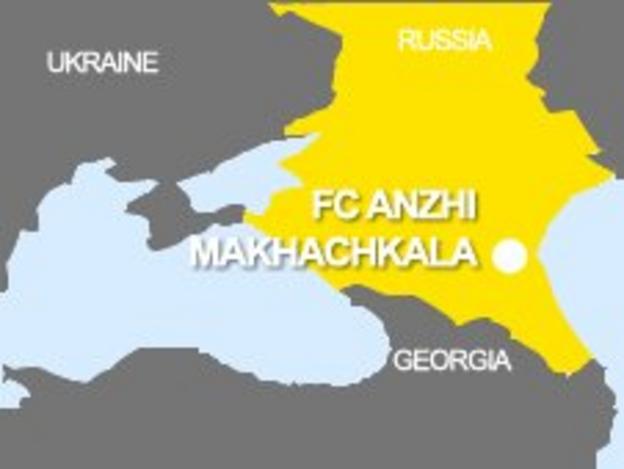 "Anzhi are hated by other fans, especially by radical fans of the Moscow clubs and Zenit St Petersburg," says Rabiner.
"It's like a mixture of national hate and financial hate. Anzhi represents the Caucasus mountains and the south of Russia - and there is very little warmth towards them from Russian nationalists."
Anzhi's impressive performances this season have done little to endear them to their rivals and suggest Liverpool are in for a tough assignment.
They have scored 24 goals in 12 league games, beating Dinamo Moscow and Spartak Moscow in their last two outings to move two points clear of CSKA.
Eto'o has scored 14 times in all competitions while Samba has marshalled a defence that has conceded only once in eight Europa League games.
The former Ewood Park favourite is happy for the resentment to continue as long as the team keeps up its winning momentum.
"We are unpopular because people can't understand how a club that won the second division [three years ago] are now title contenders," adds Samba.
"But there are billionaires everywhere. Look at Manchester City. Did they achieve something? Yes, they became champions. What about Chelsea? Did they become a big club? Yes.
"People have to accept that we are here and we are going to fight to stay where we are."