Walsall defender Dean Holden driven by family heartache
Last updated on .From the section Football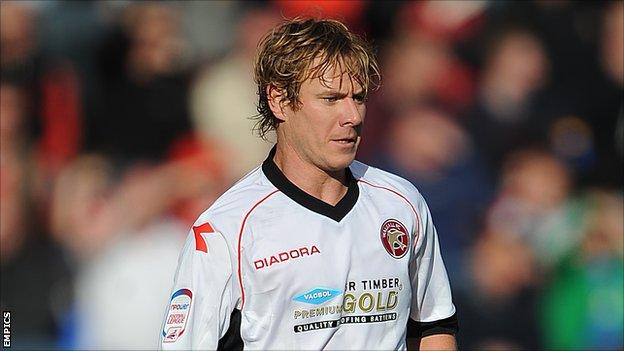 Last May the lives of Walsall defender Dean Holden and former television presenter Danielle Nicholls were turned upside down.
Their 17-month-old daughter Cici, the youngest of the couple's three children, died during a family holiday in Lanzarote after contracting meningococcal sepsis - a rare bacterial blood infection.
"I've suffered emotions that I never thought I could have in my body," Holden, 33, told BBC Radio Manchester.
Five months on, Dean and Danielle admitted they are still struggling to deal with their tragic loss.
"It's like being in a scary movie," said Danielle. "It's absolutely terrifying. Nobody should ever have to go through this.
"You expect to lose your parents and your grandparents, but to lose your children is just wrong. You have two choices - you crumble, or you fight."
Dean, who has played for nine clubs, including Bolton, Oldham and Rochdale, continued: "We go to monthly meetings and it's with other mums and dads who have lost their children, and I really look forward to them.
"For some reason, you feel a bit more normal because you're surrounded by like-minded people who are going through what you're going through and feeling these emotions.
"When I'm playing football, I'm in the now. I'm playing the game, I'm going up for that tackle, going up for that header or shouting at him because he's not tracked his runner.
"All my life I've risen to challenges, and the challenge for me is to keep my marriage as special as it was before this happened, and not letting it come between myself and Danielle.
"It could be quite easy to go out drinking, or go on a night out and then feel even worse. I'm not allowing myself to do that and neither is Danielle.
"Danielle and her sister have edited a video and we've got two hours of video clips from the 17 months Cici was alive.
"I don't want the kids growing up and saying 'up until Cici died we had so much fun'. We have as much fun as we can with our kids and I don't want them to think that, after Cici died, all of a sudden we became depressed.
"It's getting harder for me because every day is another day that I'm missing her, but we're getting through it and I'm proud of us for where we've got to up to now."
The support of family, friends and the football community has offered a degree of solace, with collections and events at Walsall and some of his former clubs raising thousands of pounds for good causes in Cici's memory.
And on the field, Holden is enjoying a new lease of life at the heart of Walsall's defence.
Although he was sent off in Tuesday's defeat at Sheffield United, his form for the Saddlers has quickly made him a favourite at the Banks's Stadium.
"I think he enjoys his football more now because he's seen how bad life can be," added Danielle. "When I see him at Walsall, he's playing amazing, probably some of the best football of his career.
"I think there's almost an element of freedom that's come into his game.
"The team are doing really well and the people there have been very warm and friendly. His manager [Dean Smith] is such a nice bloke. He's really gone out of his way with me and the kids and the whole club has shown such warmth and compassion towards us."
Hear Ian Cheeseman's extended interview with Dean Holden and Danielle Nicholls in BBC Radio Manchester's "In The Spotlight" programme from 18:00 BST on Thursday, 25 October and online for the subsequent seven days.