John Terry decides not to appeal against four-match ban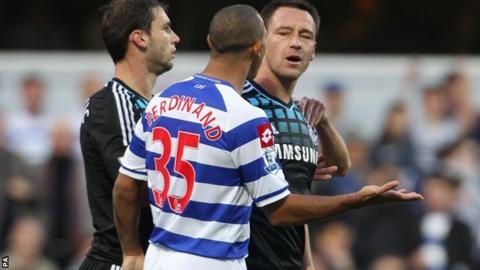 John Terry has decided not to appeal against his four-game ban for racially abusing Anton Ferdinand and issued an apology for his actions.
The Chelsea captain, who will miss the club's next four domestic matches, said: "I want to apologise to everyone for the language I used in the game."
An independent Football Association panel found Terry guilty of racially abusing the QPR defender during a game at Loftus Road on 23 October, 2011.
Terry has been disciplined by Chelsea.
However the club is keeping the details of its action confidential.
In a statement, the club added: "John Terry has made the correct decision by not appealing against the FA judgment.
"Chelsea also appreciates, and supports, John's full apology for the language he used. The club firmly believes such language is not acceptable and fell below the standards expected of John as a Chelsea player."
In his apology statement, 31-year-old Terry, who was also fined £220,000, said: "Although I'm disappointed with the FA judgment, I accept that the language I used, regardless of the context, is not acceptable on the football field or indeed in any walk of life.
"As I stated in the criminal case, with the benefit of hindsight my language was clearly not an appropriate reaction to the situation for someone in my position. My response was below the level expected by Chelsea Football Club, and by me, and it will not happen again."
Anti-racism campaign group Kick It Out has welcomed Terry's apology but in a statement, chairman Lord Ousley added: "We are disappointed there hasn't been an acknowledgement in it of the hurt experienced by the many people caught in crossfire during the past 12 months.
"It does however form the basis of bringing closure to the matter sometime in the near future."
Terry will miss Chelsea's Premier League fixtures against Tottenham, Manchester United and Swansea as well as a League Cup fourth-round tie against Manchester United.
But the centre-half will be available for next week's Champions League group game against Shakhtar Donetsk.
Following Terry's guilty verdict, the FA described his defence as "improbable, implausible and contrived" and said it was "satisfied" his comments were used as an insult.
However, the panel's report stressed that he was "not a racist".
Terry was charged by the FA despite being cleared by Westminster Magistrates' Court of racially abusing Ferdinand.
Terry argued that he had only been repeating words he thought the Rangers defender had accused him of saying.
But the independent panel's report said a "more plausible" explanation was that Terry was "angry" at both the way the game was going as well as Ferdinand's taunts about an affair Terry was reported to have had with the ex-partner of former team-mate Wayne Bridge.
Terry added: "I will continue to do my part in assisting the club to remove all types of discriminatory behaviour from football. I am extremely grateful for the consistent support of Chelsea FC, the fans and my family."
Terry ended his England career as a direct result of the FA's decision to charge him, claiming the move had made his position "untenable".