Price of Football: Premier League recognises fans want more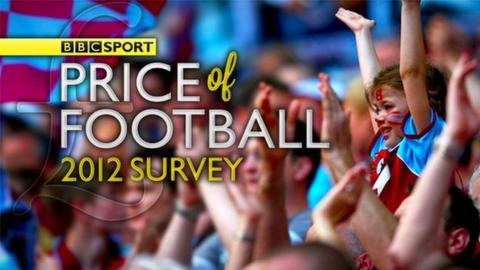 There are a huge number of reasons why people go to football matches and there are many different types of football supporter.
The Premier League and its member clubs are working harder than ever to understand why fans attend games and how we can make their match-day experience as positive as possible.
Fans tell us that the overall experience is what is important, because it is what stays with a family or a first-time fan long after the final whistle has been blown and is what makes them come back again and again.
Every fan knows the result of a match is never guaranteed, but if someone wants their child to start following their team, then having a fantastic time - win, lose or draw - is what may count.
These are challenging times economically and supporters have never been more conscious of what they are spending their money on and what they are getting in return.
With that in mind, Premier League clubs have never been more determined to appreciate fans and avoid taking them for granted.
Price is a major factor in any supporter's decision when it comes to attending a game of football, but it is not always the most important one.
For many years, the expectations of core fans when they went to a match was very low, beyond what happened on the field of play.
But what we have begun to see in the past five years is a genuine recognition from clubs that the match-day experience goes much further than purely the 90 minutes on the pitch. Now clubs are saying: "We know you don't expect this, but we are going to deliver it anyway."
We are seeing a number of really key initiatives, such as bespoke family sections and fan zones, while clubs are celebrating their history with appropriate signage and imagery.
All of this is making a real difference to the match-day experience and giving fans something they simply did not have in the past - and perhaps did not expect.
This is where we can learn from other entertainment industries, with the aim of creating an experience that exceeds expectations.
Arsenal are extremely proactive in ensuring their fans are well-catered for in every sense, while Manchester City have led the way with their City Square entertainment zone.
Not all clubs have the kind of space that City have around their ground, yet they are still trying to improve the experience for supporters.
Liverpool have just opened a new fan park for families who might have struggled for somewhere to go and something to do before the match kicked off in the past.
Now they can take their kids to a family zone, where they can post match reports, write messages to their favourite players and much more on top.
But is not just about facilities. It is about people and a culture, too.
Supporters are now being put first and being given a voice within their clubs, working alongside directors to improve the match-day experience for those they represent.
Stewarding is getting better, too. Where once they were there just to eject unruly fans, now they are being encouraged to provide a warm welcome, too, making sure supporters have a good time.
Things are moving very quickly and will continue to move quickly over the coming months and years. Facilities will improve, the grounds will look and feel a lot more welcoming, while fans will continue to get more for their ticket than just a game of football.
We would never want to see the fundamental nature of football change, or alter the passion and tribalism that makes the game so special, so different and so compelling.
But we want to help clubs ensure people enjoy not only the football, but also the experience of going to a match.
We like to think the Premier League represents the best experience for football fans across the world, but we still have a lot to learn and we want to aim even higher in the years ahead.