Oxford United boss Chris Wilder laments 'step back'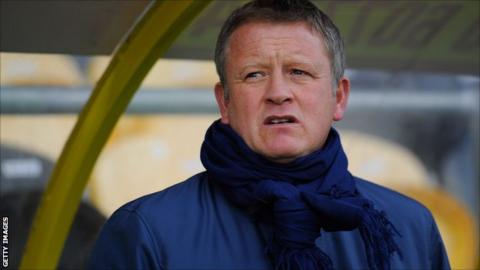 Oxford United manager Chris Wilder said they were "found out" in the 3-0 defeat at Port Vale.
Wilder was again forced to shuffle his team because of injuries and the defeat leaves them 19th in the table.
"We're just getting found out a little bit," he told the club website.
"It's certainly a step back. I tipped it a little bit at the start of the season, even when we were going well, but we'll just have to get ourselves going again."
With the game being shown on live television, promotion contenders Vale were comfortably the better team and goals from Tom Pope, Ashley Vincent and Sam Morsy gave them a win that leaves them only three points behind League Two leaders Gillingham.
"In the first half hour we were well in the game, but after that it was disappointing, because we're miles better than that," insisted Wilder, whose problems were exacerbated when experienced midfielder Peter Leven had to withdraw before the game with a swollen knee.
"In the last 20 to 25 minutes we looked very sorry for ourselves, but that's what it is in terms of what I've got to go with. It's not been helped with Lev not being available, and [right-back] Damian [Batt] because I would have liked to have gone with Damian [on the right] and Johnny Mullins at centre-half.
"I think it's a pretty open league, but we can't afford to keep shooting ourselves in the foot by conceding poor goals. I think the manner of the second goal just knocked the stuffing out of us, because from what I'm looking at that's going behind for a goal kick but it ends up in the back of our net."
While there was little consolation for Wilder to take from the performance, he said he was delighted that midfielder Andy Whing, who came on as a late substitute, should be available for next Saturday's home fixture against Accrington Stanley.
"He's the type of character we need sooner rather than later," said Wilder.
Leven is also expected to be available for the game.