Price of Football - Why Fleetwood are thriving in League Two
By Karen Fazackerley
BBC Sport
Last updated on .From the section Football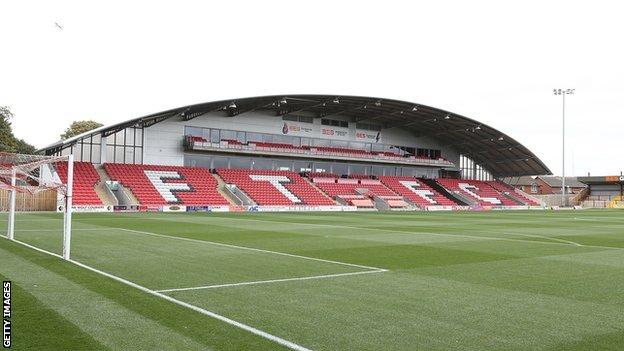 The price of League football? £10m and counting if you are the chairman of Fleetwood Town.
That is the amount Andy Pilley has invested in taking his club five divisions from the North West Counties League to the Football League in only seven seasons.
And with the club's fanbase having grown from 100 to 3,000 since he took over in 2003, the Fylde coast side are clearly doing something right.
In addition to the four new stands at their Highbury ground there are also new floodlights and a pitch as green as it was on the opening day of the season - and that despite the best efforts of the notoriously changeable Lancashire weather.
Though getting the punters through the turnstiles is very important, Pilley said building a viable club is about more than just that.
"What people need to realise is your crowds are but one of the revenue streams," he said. "There are lots of other ways you can create revenue to ensure that you are competitive as a football club."
That means making money from other sources than the club shop, matchday hospitality and soccer schools.
Pilley says he requires "each square foot or outlet at Fleetwood to make the best return".
Pilley got married in the club's Parkside Suite a couple of years ago and, in addition to weddings and christenings, the club's hospitality boxes are used for business meetings during the week, while the chairman has one of his companies located in the Parkside Stand.
"I've got my business based at the club and we're hoping to submit plans for a lot more office space to make available within the stands and all that extra revenue will assist Fleetwood to be totally sustainable without external investment," explained Pilley.
But a club is nothing without people to support it and Pilley said Fleetwood's fans are "loyal, knowledgeable and growing".
"I think in my first game there were less than 100 people there to watch. We're now probably averaging around 3,000 and we're working hard to constantly do everything we can to increase those gates further still," he continued.
A day out at Fleetwood, consisting of the cheapest adult ticket available, a programme, pie and cup of tea, costs £21.60 - making them one of the least expensive in League Two.
"We've thought long and hard and we speak all the time about 'what do fans want on their Saturday afternoon?'" explained Pilley.
"They need to feel wanted, they need to feel appreciated, they need to be thanked for their support and hopefully if you have a good manager, and we do, you can put a good show on the pitch and people enjoy their experience and come back for more."
Pilley jokes that "according to his accountant" he has invested more than £10m as he looks to build something "sustainable".
"We don't need to set any targets that create pressure on us, we want to progress, we want to improve as a club and finish as high as we can," he insisted.
"I think there is every chance that we can be sustainable because I've got my business here, we've got lots of different revenue streams coming into the club and that will only increase further in the future."