Liverpool come to realisation that home is where the heart is
Last updated on .From the section Football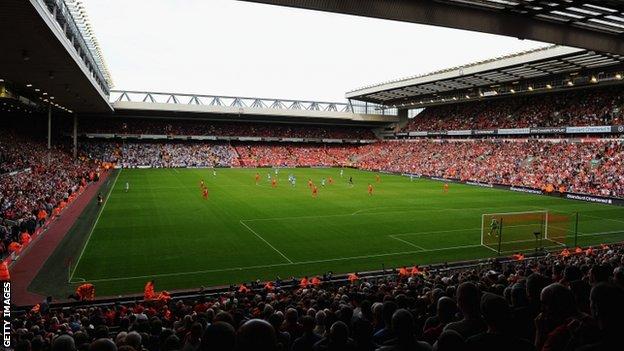 This time there were no false promises about shovels going into the ground within 60 days.
Two years to the day since Fenway Sports Group (FSG) took control of Liverpool, this was confirmation the club now believes the key to their long-term future has been lying under their feet all along.
Liverpool are staying put. The club's bond with Anfield, its spiritual home since 1892, is to be preserved, along with the memories of those spine-tingling moments synonymous with a famous history.
For John W Henry and Tom Werner, Liverpool's principal owner and chairman respectively, the decision is in keeping with their experience at the Boston Red Sox.
When they bought the historic baseball franchise in 2002, it was assumed the priority would be to move to a shiny new stadium, following the example of their great rivals the New York Yankees. Instead Henry sought to protect the atmospheric, evocative Fenway Park, adding 3,500 seats and improving corporate facilities.
"I was the person who showed John around Anfield the first time he ever came to Liverpool," managing director Ian Ayre told BBC Sport.
"We were in the tunnel at Anfield and he said to me 'why would you want to build a new stadium? This is like Fenway, this is the home of Liverpool Football Club.'"
The vision is bold, even romantic, but Liverpool have been here before. Press conferences have been held, promises made and glitzy plans unveiled over the past decade and more, all without an end product. The story of Liverpool's stadium project is one of lost years and money - a symbol of a failure to keep pace with rivals.
Countless promises have been made and broken dating back to 1999. The most famous came in 2007, when former owner George Gillett Jr promised the club would have a spade in the ground within 60 days as bold plans for a new stadium were revealed. The issue has been a millstone around the neck of a club and a city.
"We can blame previous leadership of the club, or even the past three owners," Liverpool mayor Joe Anderson said on Monday. "But dealing with the administration of the club now and trying to deal with the previous owners is like chalk and cheese. There is trust, respect and collaboration."
There is a unity between club and city council this time around. And yet past failures have left Liverpool playing catch-up.
Match-day revenue in the 2010-11 season was £41m - Chelsea, with a smaller ground capacity, made £68m, Arsenal made £93m, while Manchester United led the way with £109m. Liverpool believe a regenerated Anfield, with 60,000 seats and enhanced corporate facilities, could raise almost £100m in annual match-day revenue.
Have Liverpool been left behind? "Absolutely," Ayre added.
"The game of football today is one driven by finance. You don't need me to tell you that Manchester United and Arsenal, teams with a greater capacity, clearly have a greater match-day revenue. It is one of the two or three key revenue streams that drive any major football club these days.
"If you want to compete then you have to have as full a pot from those areas as possible. Since I have been here we have always been focused on setting that straight. But it has to be done right. As we found out only two years ago, getting decisions wrong around the finances of the club can lead to major problems.
"We are here to compete. It is unrealistic for us to create a sustainable business if we don't compete on the same sort of levels as our rivals."
Liverpool believe a redeveloped Anfield will allow them to step from a glorious past into a more vibrant future. It represents the cheaper option and those who have worked hard to explore a number of exciting options presented to the club around new stadia on Stanley Park will be left disappointed.
"Today is just the start," Ayre added. "There are so many other issues still to discuss and resolve, so many consultations and processes to go through, that we are not absolutely guaranteeing things. We can't. Certainly we are not setting unrealistic deadlines or talking about over-ambitious or fanciful timescales."
Liverpool fans know better than to get carried away. A complicated planning process and the feelings of the long-standing residents who do not want to move home will provide obstacles that will need to be negotiated sensitively.
But this is a just first step in the right direction. Liverpool now must hope it represents the light at the end of a long, dark tunnel.