Nigeria want Shola Ameobi to join Nations Cup squad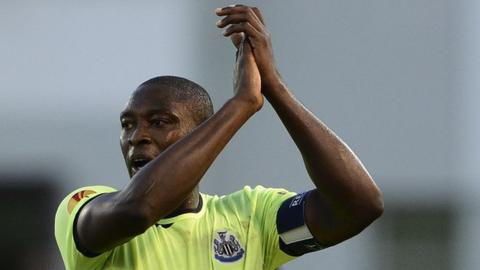 Nigeria coach Stephen Keshi says he will give striker Shola Ameobi a chance to represent his country of birth at the 2013 African Cup of Nations.
The Newcastle striker has played for England Under-21s but has not featured for the senior team and was cleared by Fifa in November to switch nationality.
And Keshi is eager to persuade the 31-year-old to be part of his plans.
"Shola is a good striker and he has a chance to be on the plane to South Africa," Keshi told BBC Sport.
"I've been watching him closely and he's got something unique. He will definitely bring something different to the attack.
"I have Shola and [Everton striker] Victor Anichebe in my striking plans.
"I will give them, Obinna Nsofor, Obafemi Martins, Chinedu Obasi and others a chance to fight for a place alongside other strikers."
Keshi's side qualified for next year's Nations Cup after beating Liberia 6-1 on Saturday to record an aggregate 8-3 win.
And the coach is clearly intent on optimising the Super Eagles' chances of success by trying once more to get Ameobi on board.
Ameobi, who was born in Zaria, northern Nigeria, before moving to England with his parents at the age of five, was first called up by Nigeria 11 years ago but rejected the chance to play for them.
However, he recently changed his mind and he was in line for his Nigeria debut in February 2011 in the botched friendly against Guatemala but stayed away because Fifa was considering his nationality switch application.
The way is now clear after Fifa removed the age limit for players who want to switch national allegiance. Previously, players who had represented one country at youth level had to make the choice to change by the age of 21.
Meanwhile, Stephen Keshi also revealed that he will use November's friendly against Venezuela in Miami, Florida to sort out several problems plaguing his side.
The Super Eagles' defence and midfield has come under severe criticism from local media, a fact not lost on the coach.
"We are still rebuilding the team. There's a lot of work to be done before the Nations Cup and it starts from the game against Venezuela in Miami," he said.
"It is true that our fans expect us to win and do well in South Africa, so we need to correct the lapses in the team."