Colin Lee revelling in Notts County coaching role
By Owen Phillips
BBC East Midlands Sport
Last updated on .From the section Football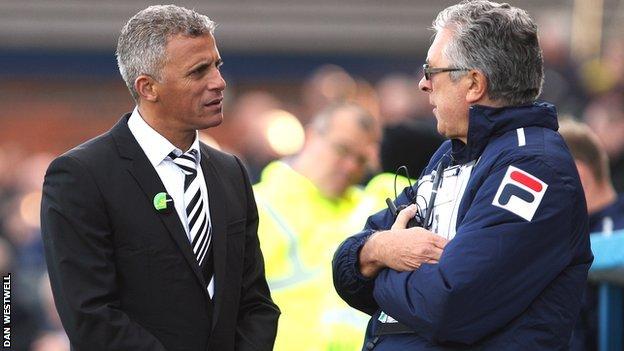 Having worked in just about every conceivable role on the management side of a football club, Notts County first-team coach Colin Lee is in no doubt he has found his calling at Meadow Lane.
"I just love coaching," the former Wolves manager told BBC Sport. "It's just something that really appeals to me. Since the age of 31 or 32 when I first started, that is the job I have enjoyed the most."
Coach, assistant coach, manager, a spell as director of football and even time as a chief executive. They all appear on Lee's lengthy management CV.
Now, having returned to the training ground after an 21-month spell out of the game following his exit from Torquay in the summer of 2010, the 56-year-old is helping to plot County's attempts to win promotion from League One.
And things are going pretty well, despite Tuesday's depressing FA Cup defeat at the hands of League Two promotion-chasers Rotherham and some shaky home form in the league.
A magnificent club-record, 21-game unbeaten away run, which stretches back to February, has seen the Magpies climb to eighth in the table, just two points off the play-off spots and six points behind leaders Tranmere.
As one of two coaches assisting former England international Keith Curle, Lee is revelling in his role. And although he has not ruled out a return to management, it is certainly not something at the forefront of his mind.
"The supporting act is something I enjoy more," said Lee, who works alongside Colin West.
"You would never say never if the right opportunity came along, but the thing I love in football is coaching and I said to myself if ever I got the opportunity to come back into football, what position did I enjoy the most apart from playing?"
Lee, who had a 16-year playing career which included a seven-year spell at Chelsea, is quick to answer his own question.
"I enjoy working with players, trying to improve players and I enjoy setting out teams and setting out tactics," he said.
"I found it difficult being the same coach when I was a manager.
"I worked with Mark McGhee for a long time and had massive success with Mark. He allowed me to express myself in the coaching department. He wanted to play football - that was his philosophy and that is Keith's philosophy too."
That approach, and the fact that Lee's relationship with Curle goes back a long way, seems to be working despite the team only winning once in eight games at Meadow Lane.
"It's been really, really smooth," said Lee. "Keith has given us a directive to organise the coaching programme and I must say it has worked really, really well.
"If I ever went back into management it would be something I would look closely at because it has been a big success. I think we have a good management team.
"Having had Keith as a player and managed him and then given him an opportunity at management at Torquay, I felt he had a good understanding of the way the game should be played and a good understanding of tactical awareness.
"The thing with coming to Notts was to support him and help him be successful and have a job which I enjoyed doing. I can give everyone around the place my experience and I have always liked to help coaches."
The hands-on approach has certainly taken the pressure off Curle - and eased the workload.
And Lee believes Curle, who has himself talked about the need to be more relaxed, has learned a great deal from his first foray into management.
The former England defender managed Mansfield, Chester and Torquay before joining ex-County boss Neil Warnock's coaching staff at Crystal Palace and QPR,
"He has talked to me and he didn't want to manage the way he did before," Lee said.
"Previously, he was a coach and a manager and it's very difficult to be the same person and do both. I think he has recognised that.
"Keith has taken a lot of pressure away from the players. He is very laid back, but there is a line of 'do it properly' and I think he gets that balance really well.
"He doesn't criticise often. His way of working is to encourage. One of his strengths is he can recognise when things need to be changed - that is a big, big plus.
"When you are in the technical area with 25,000 people - who are all great managers - shouting at you when it is not quite going right, it is a big skill being able to change a player or make a tactical switch."
Tuesday's FA Cup exit probably signals the toughest test yet for the Notts coaching team and it is a pivotal time in the season for the club if they wish to maintain their promotion challenge.
Curle and Lee's concern about the squad's depth still remains. But as Lee said: "On our day we can beat anyone.
"Whether we can get the best team out on the pitch to succeed and get promotion only time will tell."