Rain washes out England's qualifying match with Poland
Last updated on .From the section Football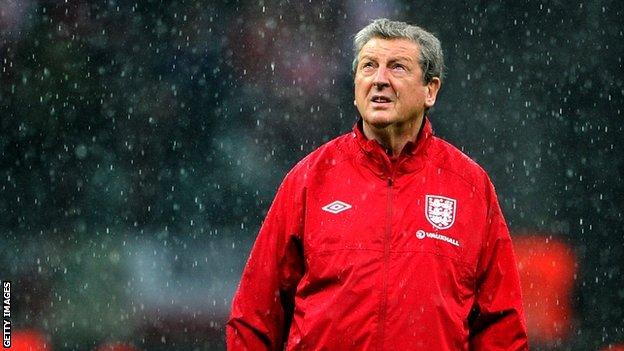 England's World Cup qualifying match against Poland has been rescheduled for Wednesday after heavy rain forced a postponement of the original fixture.
Storms engulfed Warsaw on Tuesday afternoon, soaking the playing surface at the £400m national stadium.
The referee inspected the pitch twice before calling the game off. It will now be played at 1600 BST on Wednesday.
"It was the only decision that could be made," England manager Roy Hodgson said. "Water is lying on the surface."
Despite rain being forecast, officials in Warsaw decided the stadium's retractable roof would not be needed. It was finally deployed at around midnight local time, just hours after Hodgson admitted he was concerned the pitch would require intensive work if it was to be fit to host the rearranged match.
"I'm rather hoping they will get it [the roof] closed now as quickly as possible and start to do some work on the pitch because, at the moment, the pitch is in very poor condition," Hodgson told ITV1. "It's going to need a lot of attention if it's going to be playable tomorrow afternoon."
Under Fifa rules, both sides must attempt to replay the game within 24 hours if a match is postponed in these circumstances. If that is not possible, the tie must be played on a date agreed by both associations.
"There're no other possibilities," Hodgson added. "You can't find dates at international level. The dates that are available are all taken up, so you can't just suddenly decide we'll play it another time."
Polish officials have yet to decide on how tickets will be reallocated but they have confirmed spectators will be allowed in the stadium.
Following Tuesday's postponement the Football Association formally requested the match be played under the roof.
With it finally being brought into action hopes have been raised that the game will go ahead without incident on Wednesday and BBC Sport's Richard Conway reported on Tuesday night that the pitch appeared to be draining well.
BBC Weather presenter Simon King said Warsaw would experience a drier Wednesday, although the roof will be closed in the national stadium.
"The weather system that brought the heavy rain across central and eastern Poland on Tuesday, eventually cleared from the north east of the country on Wednesday morning bringing better prospects for today," said King.
"A ridge of high pressure will be dominant throughout bringing plenty of dry weather and even some sunny spells."
Jeers and cat-calls were heard around the stadium on Tuesday night as supporters began to realise the extent of the problems - many of the 2,000 England fans were due to fly out of Warsaw on Tuesday night.
The 55,000-seater stadium was purpose-built for Euro 2012, which Poland hosted in June, along with neighbouring Ukraine.
The role of Italian referee Gianluca Rocchi is likely to come under scrutiny and questions asked about why the weather problems were not monitored more closely.
Hodgson had earlier named an England side captained by Steven Gerrard and including Ashley Cole, both of who had been due to win their 99th caps.
"What you have to do is to try to organise to get the game played as quickly as possible," Hodgson added.
"We'll have to go back to the hotel. We're disappointed. We prepared well for this start tonight, as no doubt the Poles have too, but now we've got to do it all over again and hopefully we'll be as prepared tomorrow as we were tonight."
The England manager had made a total of six changes, with Glen Johnson, Joleon Lescott, James Milner and Jermain Defoe back in the starting line-up.
Defenders Kyle Walker, Gary Cahill and Leighton Baines, midfielder Alex Oxlade-Chamberlain, striker Danny Welbeck and the injured Theo Walcott made way.
Fifa rules allow both managers to alter their line-ups, but Hodgson hopes to name the same side.
"I have chosen the team to start the game and I have no intention of changing it unless someone falls ill tomorrow," he said.