Walsall's Dean Smith faces derby reunion with Graham Turner
By Ged Scott
BBC Midlands Sport
Last updated on .From the section Football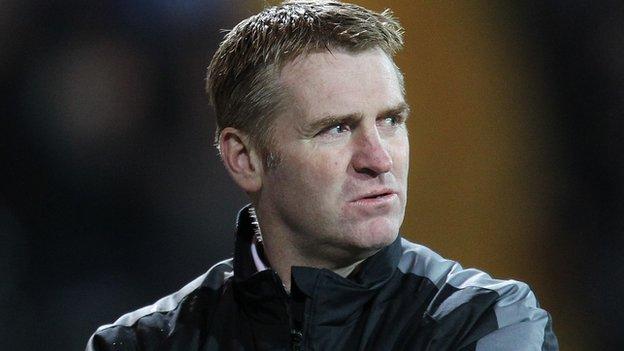 Shrewsbury Town versus Walsall is not, at first glance, top of most football fans' lists when it comes to analysing the game's great derby matches.
But there will certainly be plenty of competitive edge when the Saddlers travel the 37 miles up the motorway for their first visit to Greenhous Meadow in the League One clash on Sunday afternoon.
Not surprisingly, given the fact that he was twice a winner there in his Walsall playing days, Saddlers boss Dean Smith has mostly happy memories of the Shrews' former home, Gay Meadow.
"I remember getting my lip split open there and having a few stitches put in," he recalls.
"But I always used to enjoy playing at the old Meadow and it will be interesting to get to the new one for the first time."
It will also be interesting for Smith, 41, who is in only his second full term in management, to come up against a seasoned old stager like 65-year-old Graham Turner, now in his second spell at Shrewsbury after a 34-year managerial career that has also taken in Aston Villa, Wolves and Hereford United, where he also doubled up as the chairman.
It was at Edgar Street where Smith first became acquainted with Turner, who chose him to be his Hereford captain.
And Turner has followed his upward career path since.
"I've got a lot of time for Dean Smith," Turner told BBC Radio Shropshire.
"He was a good lad, a good competitor, a good skipper to have in your club.
"I know he was coaching down at Orient for a while. But to get into management you need a little bit of luck.
"He got a chance looking after the young lads at Walsall and has done extremely well."
Now, having helped his team make such a bright start to the new League One season, Smith has the job of getting his side back on the rails after three successive setbacks (two 2-1 home defeats followed by a Johnstone's Paint Trophy exit to Port Vale).
And Walsall go there boasting one of the better derby records, having not lost to Shrewsbuy in nine meetings - one of the main factors in there being such needle in this fixture.
"I know there's a bit of history between the two clubs," Walsall captain Andy Butler told BBC WM. "The fans seem to dislike each other and we've sold out our allocation. That shows how important it is.
"But we beat them in the JPT last season and hopefully we can show on national TV what we're about."
The rivalry that has built up between them extends right back to Shrewsbury's early days in the Football League when they played each other almost every season over a 30-year period from 1951 up until Turner took Town to Division Two in May 1979.
But, with West Bromwich Albion and Wolves having been so infrequently at the Saddler's level, and Shrewsbury having risen above their old border rivals Wrexham, Chester and Hereford, who are all now back in non-league football, this is the only fixture left standing.
"I must have been away longer than I thought," admits Smith, who having been a player at Walsall spent 15 years away from the club before returning in 2009. "I never realised there was quite such an edge to it."
But, for his opposite number, all Turner hopes for is a return to the Midlands derby form they showed when they battered Coventry City 4-1 to earn their last win a month ago.
"It should be a good crowd, a good atmosphere," added Turner. "What more do you want?
"It's a good day to be a professional footballer. They should want to play in games like this and let's hope we respond to that."