Michael Owen blames foreign players for diving increase
By Ben Smith & David Ornstein
BBC Sport at the Leaders in Football conference
Last updated on .From the section Football530
Stoke striker Michael Owen has blamed the growth of diving on the influx of foreign players - but admitted he has also gone to ground unnecessarily.
"It's worse than 10 years ago with the influence of players coming from South America, Spain and Italy," said Owen.
But he admitted he went down to win a penalty during a game against Argentina in the 1998 World Cup finals.
He told BBC Sport: "I was running flat out, got a nudge, went down. Could I have stayed up? Yeah, probably."
And he added: "Four years later I got a penalty, again against Argentina, and again I could have stayed on my feet."
The 32-year-old, speaking at the Leaders in Football conference, said the problem had "definitely" worsened over the course of his 15-year career and that English players had been influenced by those players signed from abroad.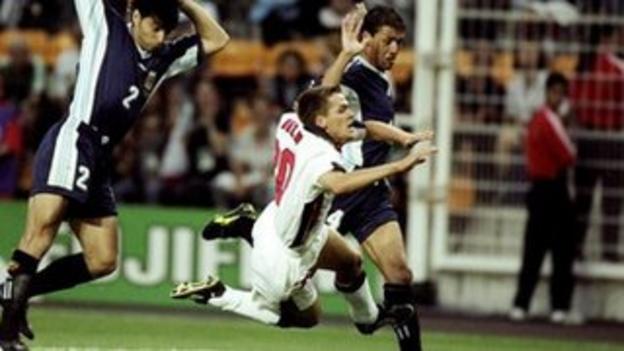 "It's a very difficult subject to talk about, especially to people who haven't played the game, because there is a major skill in trying to outwit an opponent," added the former Liverpool, Newcastle and Real Madrid forward, capped 89 times by England.
"It's a skill to get someone one-on-one or isolated. No-one is for blatantly diving, but there is a part of a striker, of anyone, that actually tries to entice the leg to come out to try to win the penalty.
"It's a skill that's been done for years and years, and I don't think things like that will ever leave the game.
"That's not to say diving won't, because I'm totally against diving. I've never sought to get a penalty without actually being touched, but certainly virtually any player I know has gone down when they probably could have stayed on their feet.
"It's worse than it was 10 years ago with the foreign influence of players coming from South America, Spain and Italy. When I was kid and I used to watch Italian football you would see a lot of simulation," said Owen.
"You didn't really see it in England. Now, it's a worldwide problem, not just for the Premier League. Now English players are as guilty as foreign players of doing it."
A series of high-profile incidents involving Luis Suarez, Gareth Bale and Chelsea's Brazilian playmaker Oscar have led to calls, notably from Stoke manager Tony Pulis, to ban players who are caught diving.
But Owen stopped short of calling for the same punishment. "Diving is in our game and it's very, very difficult to manage.
"The game is happening so fast now that it's virtually impossible to see with the naked eye.
"You've got to look back on replays to see whether there was contact and I would go as far as to say when you're talking about a penalty decision or fouls in general, I'd say that 75%-plus of people could stay on their feet."
Owen earlier said he had not given up hope of playing for England again, despite not having played for his country since 2008. "Some people think I've retired from football full stop," he said.
"I'd never do that [retire from international football] really. You think about what could happen in the future."