Dean Thomas resigns as Hinckley United manager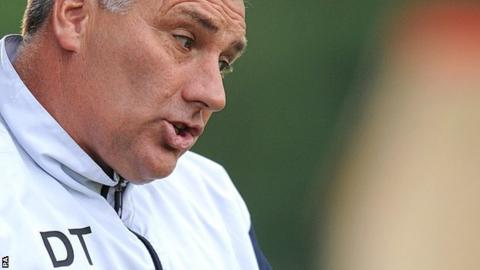 Dean Thomas has resigned as manager of Blue Square Bet North club Hinckley United after 16 seasons.
Thomas, 50, was appointed when the club was formed in 1997 and has been in charge for almost 1,000 games.
Hinckley have been hit by financial problems in recent seasons, are currently bottom of the league and were eliminated from the FA Cup on Tuesday.
The Knitters were relegated last season but were re-instated following Darlington's demotion.
The north east club were relegated four divisions to the Northern League Division One from the Blue Square Bet Premier on the recommendation of the Football Association because of serious financial problems.
But despite Hinckley's survival, Thomas admitted that the financial issues surrounding his own side had been instrumental in the club's poor form this season and his decision to leave the side.
"Like every manager, we like to see improvements every season but unfortunately this just has not been achievable," he said.
"I tried tirelessly to improve this squad but unfortunately our reputation has gone before us and seen many non-league players through the summer refuse to join us and go elsewhere.
"The last three seasons have been a constant battle against massive financial problems both for me personally, the players and the club, which have been well documented.
"Myself and my staff have stayed loyal and worked tirelessly to overcome these issues on a regular basis and remained professional at all times but retaining only three regular players from last season's squad compiled the problem after a mass exodus [of players] for unpaid wages."
Thomas added: "We have all experienced some wonderful times and also battled through some dark days.
"I believe I have been backed and supported throughout by the majority of our band of loyal supporters for which I am extremely grateful.
"But it is with great sadness that I feel I can no longer take this club forward."