Football Association to launch England player code of conduct
Last updated on .From the section Football300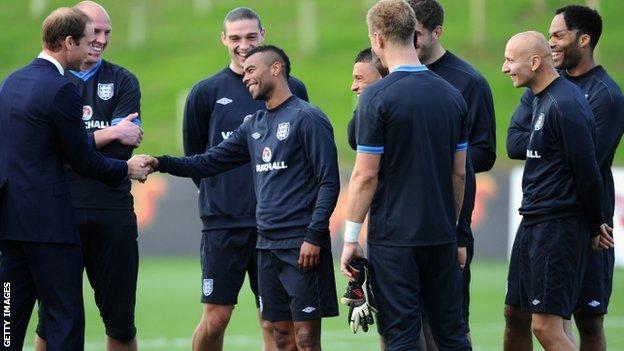 Football Association chairman David Bernstein is to bring in a code of conduct for England players.
The move follows a number of recent indiscretions by internationals, most notably defender Ashley Cole.
Those players who break the code could be suspended from England duty.
"They are incredible role models with incredibly high profiles and their behaviour is extremely important," said Bernstein. "This really should have been brought in years and years ago."
Cole found himself in trouble after posting a Twitter message that insulted the FA in the wake of the hearing into club-mate and fellow defender John Terry.
The 31-year-old left-back later deleted the tweet and apologised to Bernstein before meeting Prince William when the Duke and Duchess of Cambridge officially opened the FA new centre of excellence at St George's Park on Tuesday.
But the Chelsea player, who has 98 caps for his country, still faces an FA charge and has until 16:00 BST on Thursday, 11 October to respond.
Bernstein, Club England managing director Adrian Bevington, FA general secretary Alex Horne and the FA's director of football development Sir Trevor Brooking have given the senior England squad a 10-minute bullet point presentation on what they expect in terms of behaviour.
"I came into this position as chairman with five things I'd identified, one of which was respect, in its wider sense, not just towards referees but player-to-player, the whole respect agenda," said Bernstein, who took up his role in January 2011.
The former Manchester City chairman added: "I'm beginning to think it's the most important thing I've got to deal with as chairman of the FA."
He added that action to help improve the conduct of players was overdue.
"These guys share a desire to play for England," he said. "They really do value it. But the FA is a complicated organisation. Having the whole regulatory side alongside Club England has created a degree of confusion. There has been a lack of clarity and the fact we haven't sat down with them has led to a bit of fuzziness."
Players have not been banned from using Twitter by the FA but there will be punishments if they break the rules which will soon come into force.
"If someone transgresses in a way that brings the integrity of the team or themselves or the organisation into question, we have the ability to warn them or to suspend them from England," said Bevington.