Terry Butcher says derby win will boost game in the Highlands
Last updated on .From the section Football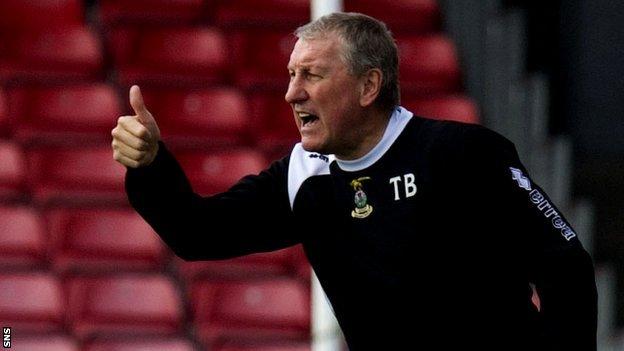 Terry Butcher believes football in the Highlands was the real winner after his side's win over Ross County.
And Butcher said the entertaining match could only enhance enthusiasm in the north of the country.
"There's tremendous passion for football in the Highlands, we've two sides here who should stay in the SPL, who will stay in the SPL," he said.
"This club, this city, this area is thriving at the moment, and both teams play wonderful football too.
"What a great game of football - end-to-end stuff.
"We always score as well. That's my 100th SPL game in charge of Caley Thistle and what better way than to beat our nearest rivals.
Butcher was pleased by the determination shown by his players as they survived a second-half County onslaught after captain Richir Foran was taken off injured.
"It was a massive blow losing Richie Foran early in the second half," said Butcher.
"When you lose your captain and leader like that the boys had to dig in very well, which I thought they did.
"Ross County made a real game of it in that second half, put us under pressure and our boys stood firm.
"What a wonderful goal to finish on from Aaron Doran and we needed that goal, because Ross County were well in the game and looked as though they were going to get the equaliser.
The former England captain was all effusive in his praise for the young players who dominated the early stages of the match.
"We've got good young boys," he said.
"We had a lot of teenagers out there, but we had a lot of players who came alive tonight.
"These boys train hard, they work hard; they've taken a barrowload of criticism this season early on, we lost a lot of goals.
"But we always look as though we're going to score, and we always feel we're going to score.
However, the suspended Butcher had to watch the match form the stands and faced a wait before he was allowed into the dressing room to join in the post-match celebrations.
"That was the worst 90 minutes of my life," he said.
"I've got another 14 minutes before I'm allowed down there to congratulate my players.
"They'll be saying to me I should stay up here all the flipping time!"